printer friendly version
Does integration deliver value?
August 2012 Integrated Solutions, Healthcare (Industry)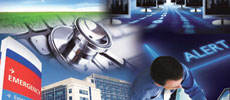 Hospitals, by their very nature, are large, open public spaces that don't immediately conjure up images of a highly secure environment, however, an integrated approach to security is rapidly becoming the norm as more and more 'digital hospitals' are being introduced. There are a number of threats and risks that now apply to healthcare facilities, and appear to be on the rise over recent years. Some of these include but are not limited to:
* Verbal and serious physical assault, criminal damage and arson.
* Theft, vandalism or damage to assets, equipment and property.
* Protective security of sensitive patient information.
Design of a security solution to address these issues requires a balancing act between safety and service, quality of care and regulatory compliance. The evolution of security in health facilities must now also match the latest changes to the model of care and new operating philosophies. No longer is security viewed as the sole responsibility of the security manager; it now warrants a more integrated approach incorporating more contemporary functions of planning, management and people-focused services. Security, along with safety and emergency management should be a key consideration during the initial planning process to ensure that workflows are seamlessly integrated with technology to deliver the most cost effective outcomes for the facility.
The emergence of the digital hospital has seen an increasing reliance on technology as an integral and fundamental part of the business strategy, enabling the organisation to leverage its potential for delivering higher quality care in increasingly efficient ways through the use of IT and process redesign. This approach goes beyond advanced clinical systems and includes additional integration between IT, medical, communication and building technologies to create a real-time hospital information environment. It is in this context that an integrated approach to security should be taken – offering not only the traditional restricted access to the facility, or CCTV monitoring to reduce incidents – but also enabling an enhanced ability to respond to OH&S issues, emergency evacuation events or limiting the spreading of infectious diseases. The integrated security system becomes much more than simply security – it is an incident and response management system with an in-built audit trail and detailed reporting capabilities.
So how might an integrated security system actually be used within a hospital? There are, of course, the traditional security management aspects of access control to ensure that the right people have the right levels of access to the right areas; or CCTV to identify visitors or to monitor unpatrolled areas such as the car park. However, that same access control system may now use smartcard technology, providing access not only to the facility itself but also taking advantage of the in-built digital credentials to gain access to the hospital's IT systems, drug safes or even for cashless vending in the cafeteria.
The CCTV system can now be linked with the fire system for example, meaning that in the event of a fire alarm the cameras can provide an instantaneous view of the area under threat to properly ascertain the degree of risk. Similarly, expensive clinical equipment or even infants can be tagged with Radio Frequency Identification (RFID) tags reducing the risks associated with misplacement or theft. When integrated with the building management system, the security system can be used to isolate part of the hospital in the event of an outbreak of infectious disease – the opportunities are endless. These systems and others such as visitor management, time and attendance, and mobile duress can all be managed from a single console view with a full audit trail available.
There are clear benefits to be derived from an active, strategic approach to security management and the implementation of an integrated security infrastructure. By taking a holistic view towards risk management and compliance, health departments can reap the rewards of systems that have lower costs of administration and support.
Those seeking to embark on such a strategy need to be clear on the outcomes expected, and ensure that buy-in is gained at all levels; these strategies need to be closely aligned with business objectives, and not be viewed as simply an IT or security project.
There is clearly a paradigm shift in the way security systems are viewed; no longer is it a necessary evil but rather a vital tool to drive efficiencies and manage the flow of information, all resulting in a more safe and secure environment for patients, staff and visitors alike.
For more information contact Honeywell Building Solutions, +27 (0)11 695 8000, [email protected], www.honeywell.com
Further reading:
31 percent of all IoT SIMs managed with third-party IoT CMPs
News Integrated Solutions
Berg Insight recently released new findings about the market for IoT connectivity management platforms (CMPs), a standard component in the value proposition from mobile operators and IoT MVNOs around the world.
Read more...
---
Creating a safe, smart city environment
Integrated Solutions
As more governments around Africa start embracing the smart city concept, significant investments will be required to strengthen the underlying infrastructure essential to keep systems and data safe.
Read more...
---
Smart car parking solution eases traffic flow
Dahua Technology South Africa CCTV, Surveillance & Remote Monitoring Integrated Solutions Products
Ethiopia's first smart parking lot, designed to improve traffic flow and management efficiency, has been built and installed using Dahua Technology's smart parking solutions.
Read more...
---
VMS 7.2 supports the investigation process and adds cloud capabilities
CCTV, Surveillance & Remote Monitoring Integrated Solutions Products
Qognify has launched the second release of its VMS, including extended support for body-worn video, additional functionalities to support investigations, and a new web client architecture. VMS 7.2 addresses the increasing use of body-worn video (BWV) across many sectors.
Read more...
---
Hytera and KZN Police Service roll out digital call handling system
Government and Parastatal (Industry) Asset Management, EAS, RFID Integrated Solutions
Hytera Communications announced that the municipality of Ray Nkonyeni in the KwaZulu-Natal province of South Africa is now using its digital call handling system for the reporting and recording of crimes.
Read more...
---
Cyber resilience is more than cybersecurity
Technews Publishing Editor's Choice Cyber Security Integrated Solutions IT infrastructure
Hi-Tech Security Solutions held a round-table discussion focusing on cyber resilience and found that while the resilience discipline includes cybersecurity, it also goes much further.
Read more...
---
Johnson Controls releases IQ4
Perimeter Security, Alarms & Intruder Detection Integrated Solutions
New lower cost panel leverages Qolsys IQ Platform targeting residential, SMB, builder, MDU/multi-family and wellness market segments.
Read more...
---
SuperVision biometric access control
Integrated Solutions Access Control & Identity Management Products
SuperVision is a time & attendance (T&A) biometric access control system Fourier IT has been developing and enhancing for 18 years.
Read more...
---
Shift to online driving retail transformation
Retail (Industry) Integrated Solutions
There is a growing demand from retail for an end-to-end solution that helps their digitisation process, integrating finance, procurement, warehouse management, pricing, stock management, point of sale and more.
Read more...
---
AI in video analytics
CCTV, Surveillance & Remote Monitoring Integrated Solutions
AI (artificial intelligence), has been developed and debated ever since the first computers were invented, and while the most revolutionary incarnations are not yet here, AI-based technologies are widely used today.
Read more...
---