printer friendly version
Does integration deliver value?
August 2012 Integrated Solutions, Healthcare (Industry)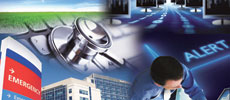 Hospitals, by their very nature, are large, open public spaces that don't immediately conjure up images of a highly secure environment, however, an integrated approach to security is rapidly becoming the norm as more and more 'digital hospitals' are being introduced. There are a number of threats and risks that now apply to healthcare facilities, and appear to be on the rise over recent years. Some of these include but are not limited to:
* Verbal and serious physical assault, criminal damage and arson.
* Theft, vandalism or damage to assets, equipment and property.
* Protective security of sensitive patient information.
Design of a security solution to address these issues requires a balancing act between safety and service, quality of care and regulatory compliance. The evolution of security in health facilities must now also match the latest changes to the model of care and new operating philosophies. No longer is security viewed as the sole responsibility of the security manager; it now warrants a more integrated approach incorporating more contemporary functions of planning, management and people-focused services. Security, along with safety and emergency management should be a key consideration during the initial planning process to ensure that workflows are seamlessly integrated with technology to deliver the most cost effective outcomes for the facility.
The emergence of the digital hospital has seen an increasing reliance on technology as an integral and fundamental part of the business strategy, enabling the organisation to leverage its potential for delivering higher quality care in increasingly efficient ways through the use of IT and process redesign. This approach goes beyond advanced clinical systems and includes additional integration between IT, medical, communication and building technologies to create a real-time hospital information environment. It is in this context that an integrated approach to security should be taken – offering not only the traditional restricted access to the facility, or CCTV monitoring to reduce incidents – but also enabling an enhanced ability to respond to OH&S issues, emergency evacuation events or limiting the spreading of infectious diseases. The integrated security system becomes much more than simply security – it is an incident and response management system with an in-built audit trail and detailed reporting capabilities.
So how might an integrated security system actually be used within a hospital? There are, of course, the traditional security management aspects of access control to ensure that the right people have the right levels of access to the right areas; or CCTV to identify visitors or to monitor unpatrolled areas such as the car park. However, that same access control system may now use smartcard technology, providing access not only to the facility itself but also taking advantage of the in-built digital credentials to gain access to the hospital's IT systems, drug safes or even for cashless vending in the cafeteria.
The CCTV system can now be linked with the fire system for example, meaning that in the event of a fire alarm the cameras can provide an instantaneous view of the area under threat to properly ascertain the degree of risk. Similarly, expensive clinical equipment or even infants can be tagged with Radio Frequency Identification (RFID) tags reducing the risks associated with misplacement or theft. When integrated with the building management system, the security system can be used to isolate part of the hospital in the event of an outbreak of infectious disease – the opportunities are endless. These systems and others such as visitor management, time and attendance, and mobile duress can all be managed from a single console view with a full audit trail available.
There are clear benefits to be derived from an active, strategic approach to security management and the implementation of an integrated security infrastructure. By taking a holistic view towards risk management and compliance, health departments can reap the rewards of systems that have lower costs of administration and support.
Those seeking to embark on such a strategy need to be clear on the outcomes expected, and ensure that buy-in is gained at all levels; these strategies need to be closely aligned with business objectives, and not be viewed as simply an IT or security project.
There is clearly a paradigm shift in the way security systems are viewed; no longer is it a necessary evil but rather a vital tool to drive efficiencies and manage the flow of information, all resulting in a more safe and secure environment for patients, staff and visitors alike.
For more information contact Honeywell Building Solutions, +27 (0)11 695 8000, Kevin.pearman2@honeywell.com, www.honeywell.com
Further reading:
Integrated transportation security
Guardian Eye AI & Data Analytics Integrated Solutions Logistics (Industry)
HG Travel installs an AI-powered camera system integrated across 115 vehicles throughout a fleet comprising 160 vehicles of different sizes, along with predictive and self-monitoring tools to track tyre condition, fuel consumption and theft, and overall vehicle maintenance.
Read more...
---
Embracing next-generation surveillance for safer cities
Surveillance Integrated Solutions AI & Data Analytics
With the South African government highlighting the importance of building smart cities by integrating advanced technologies to make them more resilient and liveable, the role of next-generation network video and surveillance technologies cannot be ignored.
Read more...
---
Gallagher Security releases Command Centre v9
Gallagher News & Events Access Control & Identity Management Integrated Solutions
Richer features, greater integrations, with the release of Gallagher Security's Command Centre v9 security site management software designed to integrate seamlessly with various systems and hardware.
Read more...
---
Paxton's Net2 secures medicinal cannabis facility
Paxton Access Control & Identity Management Healthcare (Industry) Videos
Paxton's Net2 access control has been installed at Highlands Grow, a fully licensed industrial-scale cultivator, producing cannabis for medicinal and recreational use.
Read more...
---
Zero Trust in 2024
Mantis Security Integrated Solutions IoT & Automation
The rapid development of artificial intelligence (AI) applications and uses in 2024 will profoundly impact security operations and AI-driven analytics, which can enhance threat detection, anomaly identification and predictive maintenance.
Read more...
---
Integrating farming and security solutions for productivity
Security BIS Agriculture (Industry) Integrated Solutions
Security challenges are a harsh reality in South Africa, particularly for those in remote areas. Sadly, recurring rural crimes like farm attacks and livestock theft are part of the farming community's lives.
Read more...
---
Optimise operations in healthcare
Cathexis Technologies Integrated Solutions
Hospitals can see thousands of people gathering daily to provide medical care, seek help, visit loved ones, or undertake essential support or administrative work. Protecting everyone is critical to maintaining a safe environment.
Read more...
---
Hikvision unveils range of network speakers
Hikvision South Africa Integrated Solutions
Hikvision has recently unveiled its latest audio product line, featuring various advanced network speakers. Each product is designed to meet different application needs, ensuring flexibility and adaptability across numerous environments.
Read more...
---
HDR multi-camera solution for autonomous mobility
IoT & Automation Integrated Solutions
e-con Systems has launched the STURDeCAM31, a small form factor camera that has been engineered to make autonomous mobility safer by ensuring reliable and superior imaging quality even in challenging outdoor lighting conditions.
Read more...
---
Integrating control rooms and response
WatchManager Integrated Solutions Residential Estate (Industry)
Control rooms have become a standard in large estates, and remote control rooms are finding a home even in smaller estates due to cost efficiencies and the increasing reliability of analytics and artificial intelligence.
Read more...
---