printer friendly version
On the wards in Chartres
August 2012 CCTV, Surveillance & Remote Monitoring, Healthcare (Industry)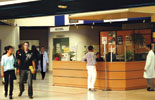 Hikvision's network speed dome cameras and 4CIF IP cameras are being used at the Louis Pasteur Hospital in the city of Chartres in northern France to protect patients, staff and visitors.
This district general hospital, situated to the southwest of Paris, is a 528-bed facility offering general surgery, convalescence and a maternity unit. There is also emergency in-patient accommodation and a specialist respiratory department.
The Hikvision products being used here offer real-time compression, allow network transmission to multiple clients simultaneously and have the flexibility of optical performance – including wide dynamic range (WDR) – required at a site with activity as varied as that of a hospital.
At the Chartres application, Hikvision's technology partner, ARGOS Technologies, has integrated the cameras with its own NVR and multiplexer solutions to enable hospital authorities to monitor visitor activity, alert on possible intruders and assess the efficiency of hospital logistics including patient admission and use of emergency vehicles.
All hospitals present broad video surveillance requirements, with camera footage being used to record interaction between patients and reception staff, monitor flow of people and use of ambulance bays, and protect crucial high-value items such as controlled drugs in pharmacies.
Many of the Hikvision network speed domes are located in foyer and reception areas where extremes of shadow and highlight have presented a major challenge.
Similarly, the 4CIF IP box cameras are being used externally at approach areas, on walkways and in car parks, all on a 24/7 basis and thus with varying illumination. The hospital therefore required cameras offering true day-night functionality which could accommodate IR focus switch, trigger alarms on motion detection in areas prone to loiterers and allow control of saturation, brightness and contrast through client software. Problems associated with fluctuating lighting conditions, even during the day, and the hospital's requirements as to the graduation of exterior to interior light levels have been solved by the versatility of the Hikvision speed dome cameras.
Features such as 128x WDR have allowed the integrator to provide hospital management with clear images and filter out the 'noise' caused by contrast between bright sunlight and muted interior lighting. As with other hospitals, lighting contrast has been increased by the presence of large glazed doors which are crucial to allow surgical teams and wheelchair-users easy access.
With 36x zoom and horizontal resolution of up to 540TVL, the speed dome cameras also help to observe interaction between patients and staff – to the point of capturing a clear image of people's faces and close analysis of incidents.
The Hikvision 4CIF network cameras are benefiting hospital security staff. In remote car park areas and the hospital perimeter, the cameras can operate in B/W mode at very low light levels. The camera's IR cut filter ensures the correct focal shift as the transition is made from day to night operation. In addition to motion detection, security officers at the hospital can receive alarms on video loss, network disconnection, IP address conflict and storage exceptions.
The camera footage is recorded on ARGOS' own 'MUX' dual-redundant network video recorder (NVR) and images are viewed on ARGOS's SEFVMX 4232 multiplexer with mouse-driven or joystick control. The MUX recorder is an open-protocol solution which operates with IP and megapixel cameras as well as encoded streams from analogue devices. The ARGOS NVR allows precise PTZ control over IP, and offers high-capacity storage on disk with easy export to removable media including USB devices.
Polo Cai, vice president of Hikvision, said: "Few organisations make more complex demands on their security equipment than hospitals or are more aware of social obligations in ensuring that best-of-breed technology protects patients and staff. Installed by one of our trusted technology partners, the Hikvision cameras are forming part of a versatile and robust solution."
For more information contact Hikvision, +86 571 8700 6060, wulin@hikvision.com, www.hikvision.com
Credit(s)
Further reading:
Securing perimeters of secure locations
November 2019, Axis Communications SA, Modular Communications, Hikvision South Africa, Nemtek Electric Fencing Products, Technews Publishing, Stafix , Government and Parastatal (Industry), Perimeter Security, Alarms & Intruder Detection, Integrated Solutions
Hi-Tech Security Solutions asked a number of companies offering perimeter security solutions for their insights into protecting the boundaries of national key points.
Read more...
---
Drones and cybersecurity?
October 2019 , CCTV, Surveillance & Remote Monitoring
Hacker drones can eavesdrop electronically on conversations, can perform network attacks, or can create fake wireless access points.
Read more...
---
Body-worn cameras transforming security
October 2019 , CCTV, Surveillance & Remote Monitoring, Security Services & Risk Management
Police Service Northern Ireland now has over 7 000 officers using 2 500 cameras covering approximately 173 000 incidents each year.
Read more...
---
Camera Selection Guide 2019
CCTV Handbook 2019 , CCTV, Surveillance & Remote Monitoring
The Camera Selection Guide 2019 includes a range of IP, analogue, thermal and speciality cameras aimed at a broad range of surveillance functions.
Read more...
---
Intelligent analytics and the brains to match
September 2019, Bosch Building Technologies , CCTV, Surveillance & Remote Monitoring, Integrated Solutions
What if the brains behind our security cameras could be trained to improve their cognitive ability to pay attention, learn, and problem-solve according to specific rules and situations?
Read more...
---
AI-powered autonomous Drone-in-a-Box
September 2019 , CCTV, Surveillance & Remote Monitoring, Integrated Solutions
Organisations in the mining, energy and industrial, oil and gas, ports and terminals sectors can optimise security and business operations, whilst reducing risks and operational costs
Read more...
---
Cybersecurity for video surveillance systems
September 2019, Mobotix , Cyber Security, CCTV, Surveillance & Remote Monitoring
Video surveillance systems are increasingly accessible over any IP network, which has led to the rise of potential cyberattack.
Read more...
---
What are the cybersecurity issues in video surveillance?
November 2019, Axis Communications SA , Editor's Choice, CCTV, Surveillance & Remote Monitoring, Cyber Security
he importance of the data captured by surveillance cameras – and what can be done with it – has led to a new breed of cybercriminals, looking for insights to steal and sell.
Read more...
---
The safe city and its need for interoperability
November 2019 , Integrated Solutions, CCTV, Surveillance & Remote Monitoring
Interoperability continues to present one of the greatest challenges, particularly with video management systems, video recording devices and cameras.
Read more...
---
A platform approach to safer and smarter cities
November 2019, Milestone Systems , CCTV, Surveillance & Remote Monitoring
Selecting the right platform to manage the vast data collected from smart and safe cities is critical to the ultimate success of the project.
Read more...
---