printer friendly version
Bidvest Magnum Technology: Intimate client knowledge = successful projects
August 2012
Integrated Solutions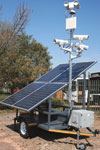 Bidvest Magnum Technology is a division within the Bidvest Magnum Group security cluster, together with BidTrack, ACTS, Bidvest Magnum and Bidvest Magnum Mining. The company focuses on integrated security services in order to provide clients with effective solutions based on the integration of technology and manpower.
Bidvest Magnum Technology (BMT) is the result of the creation of the abovementioned cluster within the Bidvest Group, with a solid 20 years' experience in the market.
BMT provides a conceptualisation to commissioning service offering for intrusion and perimeter detection, IP, intercoms, secondary intrusion, access control, CCTV, fire and HVAC, combined in a building management platform.
Kevin Monk, technical director for the company, explained that system integrators should be able to readily match customers' needs with existing products.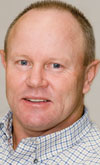 Kevin Monk
"Systems integration includes a substantial amount of diagnostic and troubleshooting work. The ability to research existing products and software components is also helpful. This ability allows BMT to supply a turnkey project service to clients, including all design work. On occasion, we will subcontract smaller work parcels, such as the wire pulling and trenching, to a third-party."
Monk pointed out that in order to provide a successfully integrated project, the company's involvement begins with a complete familiarisation with the client's business and a risk assessment of their assets. "A comprehensive, customised service level agreement (SLA) results from these actions and highlights the specific key performance areas (KPA) that we need to address within the project.
"We have an holistic attitude towards security systems and while we aim to incorporate technology wherever possible, we acknowledge the need to utilise the services of fully-trained, registered security officers," says Monk.
This Level 3 BBBEE company meets all the statutory requirements of the Private Security Regulatory Authority (PSIRA), and is fully OHS Act compliant. "BMT acknowledges that the health, safety and wellbeing of its own employees as well as those of its clients are paramount. Investment in safety systems that follow the guidelines of the Department of Labour ensure that personnel are happier and more productive. This ultimately results in a better return on investment for our clients," says Monk.
A national footprint that covers systems integration, support and service capabilities in Pretoria, Johannesburg, KwaZulu-Natal, Cape Town, East London and Port Elizabeth, is backed by 108 motivated and highly-trained and experienced personnel.
"We believe in acquiring the best people in the industry and we further invest in their career development through a rewards programme and extensive training and upskilling. In addition, we have implemented a performance management plan and succession planning forms an integral part of our business philosophy," says Monk.
"By ensuring that our technical team is equipped with the latest knowledge and expertise in the systems we are installing and commissioning for our clients, we are able to offer our clients the latest in benchmark technology implementation."
BMT has a number of blue chip projects under its belt, including one for an alluvial diamond concession in Africa valued at over R16 million. "This project involved the supply, installation and commissioning of an IP system incorporating mobile wireless video surveillance cameras, a mobile control room, X-ray body and luggage scanners and an IP access system.
"This installation was a mobile solution and that allowed for a quick installation, setup and commissioning of the system, ensuring a speedy resolution to protection of the Red Zone and its perimeter. Bidvest Magnum Technology, managed to deploy the mobile units within six weeks from date of order, to positioning the devices on site and thus protecting the perimeter of the alluvial deposit," Monk concluded.
Credit(s)
Further reading:
Gallagher Security releases Command Centre v9
Gallagher News & Events Access Control & Identity Management Integrated Solutions
Richer features, greater integrations, with the release of Gallagher Security's Command Centre v9 security site management software designed to integrate seamlessly with various systems and hardware.
Read more...
---
Zero Trust in 2024
Mantis Security Integrated Solutions IoT & Automation
The rapid development of artificial intelligence (AI) applications and uses in 2024 will profoundly impact security operations and AI-driven analytics, which can enhance threat detection, anomaly identification and predictive maintenance.
Read more...
---
Integrating farming and security solutions for productivity
Security BIS Agriculture (Industry) Integrated Solutions
Security challenges are a harsh reality in South Africa, particularly for those in remote areas. Sadly, recurring rural crimes like farm attacks and livestock theft are part of the farming community's lives.
Read more...
---
Optimise operations in healthcare
Cathexis Technologies Integrated Solutions
Hospitals can see thousands of people gathering daily to provide medical care, seek help, visit loved ones, or undertake essential support or administrative work. Protecting everyone is critical to maintaining a safe environment.
Read more...
---
Hikvision unveils range of network speakers
Hikvision South Africa Integrated Solutions
Hikvision has recently unveiled its latest audio product line, featuring various advanced network speakers. Each product is designed to meet different application needs, ensuring flexibility and adaptability across numerous environments.
Read more...
---
HDR multi-camera solution for autonomous mobility
IoT & Automation Integrated Solutions
e-con Systems has launched the STURDeCAM31, a small form factor camera that has been engineered to make autonomous mobility safer by ensuring reliable and superior imaging quality even in challenging outdoor lighting conditions.
Read more...
---
Integrating control rooms and response
WatchManager Integrated Solutions Residential Estate (Industry)
Control rooms have become a standard in large estates, and remote control rooms are finding a home even in smaller estates due to cost efficiencies and the increasing reliability of analytics and artificial intelligence.
Read more...
---
The difference between a SOP and a SOP
Residential Estate (Industry) Integrated Solutions Security Services & Risk Management Risk Management & Resilience
SOPs are a touchy issue that need careful attention and automation to ensure they deliver the desired security results. Beyond design and automation, implementation is the ultimate road to success.
Read more...
---
The benefits of centralised management
Gallagher Integrated Solutions Products & Solutions
Integrating multiple services within one central operating platform allows for fast, effective responses to any security event; it also enables operators to efficiently manage other estate operations from one platform.
Read more...
---
Ensuring peace of mind
Fang Fences & Guards Editor's Choice Integrated Solutions Residential Estate (Industry)
With the rapid advance of technology and artificial intelligence, electronic security systems are not only extremely reliable in safeguarding properties, but a well-designed, implemented and maintained system will prevent crimes before they can happen.
Read more...
---