Mimecast extends cloud-email security market lead
August 2012, News
Mimecast has been recognised as the leader in hosted e-mail management and security solutions according to research group BackChannel. This announcement follows Mimecast's emergence as the frontrunner in South Africa's managed e-mail security market in late 2011.
According to BackChannel's bi-annual Hosted e-mail Security Report, Mimecast continues to make significant headway within the sector, expanding overall market share from 28,4% in January 2012 to 31,2% in July 2012.
Significantly, Mimecast has now overtaken its competitors by a considerable margin, netting a greater market share than a number of prominent service providers, combined.
"We are pleased with our continued development as an organisation. Mimecast's global presence and superior product offering not only made it possible to achieve majority market share at the beginning of 2012, but also to extend this lead in the following six months," says Garth Wittles, MD at Mimecast South Africa.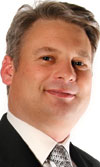 Garth Wittles
"The South African cloud security market is growing more swiftly than ever before; we look forward to capitalising on a marked increase in the uptake of managed e-mail services and will continue to work towards extending local presence throughout the remainder of 2012 and beyond."
These results are supported by BackChannel's rigorous survey process. In order to accurately quantify South Africa's cloud-based e-mail security market the organisation electronically surveyed over 3600 organisations, identifying a number of pertinent market trends.
Chief amongst these was a 40% increase in South African cloud-based e-mail services between 2010 and 2012. Significantly, technology adoption rates for Mimecast increased by 170% during the same period.
As part of this study, Steve Barnett, director at BackChannel Research noted that South Africa is particularly forward thinking when it comes to adopting new technology or services. "The market penetration for cloud-based e-mail technology is particularly high in South Africa. In fact, the country is up there with First World territories such as the United States of America and Scandinavia, which are well known for their openness towards new services."
For more information contact Mimecast SA, +27 (0)11 555 5461, www.mimecast.co.za