printer friendly version
ADT honours fallen colleagues at Wall of Remembrance
August 2012
News
A Wall of Remembrance was officially opened at the ADT Head Offices in Sandton in July this year. Family members were invited to attend and, along with ADT staff, reflected on the lives of 14 staff members who died in the line of duty over the past six years. The deceased commemorated on the wall include 11 reaction officers, two security guards and a technician.
Acting HR regional manager ADT Central's Ashleigh Larthe was instrumental in this long-awaited memorial wall coming into being. "A reaction officer said to me one day that he felt it unfair that when a colleague dies we all go to the funeral and then that person becomes nothing but a memory. This is unfortunately true and I knew we could do more to honour staff we had lost in the line of duty; and so the Wall of Remembrance came into being."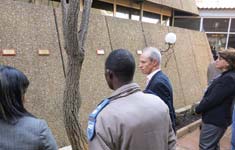 Danna Strydom, managing director ADT South Africa, with staff at the opening of the Wall of Remembrance.
In an address to the guests, Lucas Zulu, ADT Reaction Force manager, Edenvale, said the deceased ADT reaction officers protected their clients, triumphed over brutal criminals and liberated our communities against crime. "Each of them knew what their duty was, but surely each of them also dreamed of going home to people they loved and the life they cherished. To the families of the loved ones who defended our communities in the war against crime, we owe a debt we can never fully repay. ADT will not forget their sacrifice and dedication in fighting for a peaceful and free country."
Zero Harm, an ADT initiative to improve safety standards and increase environmental awareness in the business, remains a strong focus for ADT. Roy Rawlins, MD, ADT Residential & Small Business, commended those involved in this initiative. "Let our Wall of Remembrance be a stark reminder of how important safety is and let us work together to meet our Zero Harm targets."
For more information contact ADT, 0860 100 911.
Further reading:
Spend on cloud to accelerate across Africa in 2023
News
More than two-thirds of companies using cloud computing across major African markets plan to increase their spending on cloud services in 2023.
Read more...
---
ChatGPT's impacts will be social, not technical
News
ChatGPT is truly a remarkable achievement, an artificial intelligence (AI) that you can have a conversation with and ask to do everything from writing essays to coding computer programs.
Read more...
---
Artificial intelligence in Africa: levelling the narrative
News
While AI can benefit multiple industries, in Africa the key sectors that stand to gain are financial services (specifically fintech) and agriculture.
Read more...
---
Improving data security for a hybrid society
News
Researchers from Tokyo University of Science develop a method that can perform computations with encrypted data faster and at a lower cost than conventional methods, while also improving security.
Read more...
---
Cybersecurity in 2023: The latest trends and developments
News
In 2023, experts predict that several trends will shape the cybersecurity landscape, including the growing use of artificial intelligence (AI), the increasing focus on the Internet of Things (IoT), and the rise of quantum computing.
Read more...
---
SAN market set for growth
Technews Publishing News IT infrastructure
Storage-area network (SAN) market to hit US$ 26,86 billion in revenue by the end of 2029 due to factors like widespread adoption of Hybrid SAN-NAS solutions.
Read more...
---
Enterprise threats in 2023
News Cyber Security
Large businesses and government structures should prepare for cybercriminals using media to blackmail organisations, reporting alleged data leaks, and purchasing initial access to previously compromised companies on the darknet.
Read more...
---
Trends in the proptech industry for 2023
News
By mixing real estate with technology to optimise industries, create new ones, and generate efficiencies or capabilities that improve revenue generation, something as fundamental as the concept of parking has been turned on its head.
Read more...
---
31 percent of all IoT SIMs managed with third-party IoT CMPs
News Integrated Solutions
Berg Insight recently released new findings about the market for IoT connectivity management platforms (CMPs), a standard component in the value proposition from mobile operators and IoT MVNOs around the world.
Read more...
---
Off-highway vehicle telematics systems
News
The installed base of off-highway vehicle telematics systems to reach 12.2 million units worldwide by 2026, says Berg Insight.
Read more...
---