printer friendly version
Network infrastructure, technologies and security
July 2012
IT infrastructure
Poorly configured and unprotected IP networks expose organisations to unnecessary security risks and present opportunities to those with malicious intent to misuse resources, gain unauthorised access to confidential data and introduce any number of viruses and spyware programs.
To ensure a safe and efficient network, businesses need to adopt a comprehensive approach to identifying, controlling and securing access to critical network communications and business services. Well architected network access control (NAC) solutions are able to decide whether a trusted user, a guest or a device can connect to a network and what they are authorised to do once they are connected.
Such a solution will evaluate each access request based on policy criteria such as device and user identity, business role, time of day, location and the health of the end system. Comprehensive NAC solutions employ a variety of assessment technologies, together with proactive and reactive policy enforcement to provide a solid pre-connect and post-connect end system security offering.
Today's NAC solutions leverage a number of important functions, including authentication, assessment, authorisation and remediation, enabling IT organisations to best align NAC with business needs. These needs are increasingly related to the management and control of personally-owned devices such as tablets, laptop PCs and smartphones linking to the corporate network.
With the BYOD (bring your own device) phenomenon gaining momentum, many organisations are now deeply concerned about these devices violating long-held operational rules when connected to the network. The more vigilant companies have instructed their IT departments to introduce technologies to formalise the linking of BYODs to the corporate network.
These solutions must be capable of increasing the levels of intelligence of the corporate network infrastructure to the point where it is able to quickly and easily determine which end-users and what mobile devices are on the network – and whether their users are in compliance with established policies both prior to connection, and after connection.
Enterprise-wide visibility into the current status of all network devices (including BYODs), the end-points and end-users is required, as is a common management view of relevant information and events in context, together with the ability to automatically enforce predetermined policies. The challenge facing organisations today is to accept that new-generation technology is fundamental to network authentication and identity-based systems.
To achieve peace of mind organisations must deal with vendors capable of not only recognising the business advantages presented by increasingly sophisticated BYODs, but able to provide NAC through policies that include unified protection for the wired and wireless edge of heterogeneous infrastructures.
This functionality must be deeply integrated into the networking workflows and embrace appropriate policy options for control, virtualisation flexibility, as well as 'anytime, anywhere' management.
Already, many opportunities have been identified for the further development of NAC solutions and technologies. In fact, vendors are moving beyond NAC to deliver 'application services engines' that provide security, control and manageability of all wired and wireless end systems including BYODs. Not only do these solutions include more deployment modes, deeper integration with IT and security management systems, and enhanced application control to handle device proliferation, they provide better device-type granularity allowing different levels of network access to be granted to managed and non-managed BYODs.
With IT departments being called upon to track, manage and secure a broad range of BYODs on all the major mobile operating platforms, these application services engines provide solutions capable of the automatic discovery and provisioning of users and their devices based on a broadening range of criteria, including access location and operating system used.
This data will facilitate context-based management; enabling users to leverage only the most relevant network and corporate resources while giving IT managers greater visibility of the activities of employees, guests and their devices. While these new-generation solutions already alert managers should any BYOD be inappropriately used, it will not be long before they will be able to remotely 'wipe' any device clean of sensitive corporate data if it falls into the wrong hands.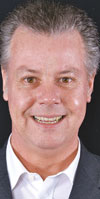 Martin May
For more information contact Enterasys Networks, +27 (0)11 234 2230, mmay@enterasys.co.za, www.enterasys.co.za
Further reading:
AI and self-healing
Issue 7 2020 , IT infrastructure
Storage infrastructure that has in-built capacity as well as the ability to self-heal and self-tune is critical.
Read more...
---
Understanding the need to secure your SD-WAN platform
Issue 7 2020 , IT infrastructure
SD-WAN functions need to be virtualised to keep up with evolving security threats and to control the cost of updating and upgrading security elements.
Read more...
---
Software-defined everything
Issue 7 2020 , IT infrastructure
BCX prepares businesses for the future with the launch of its Multi Domain Software Defined Network, applying intent-based networking throughout the enterprise.
Read more...
---
Beating the recessionary blues
Issue 6 2020 , IT infrastructure
Most companies are looking to eke out savings by sweating technology assets a bit longer and by trimming operating costs.
Read more...
---
Designing a modern security network
Issue 6 2020, Regal Distributors SA , IT infrastructure
Traditionally security networks have served us well, but with the rapid advancements in technology it may be time to review the requirements for your security network.
Read more...
---
Home-grown, cloud-based safety and security solutions
Residential Estate Security Handbook 2020 , IT infrastructure, Integrated Solutions
BeSecure has taken security and communications technologies and turned them into what is best described as care and safety solutions for the estate community in South Africa.
Read more...
---
Bringing the wonders of fibre to your estate
Residential Estate Security Handbook 2020, Vox Telecom , IT infrastructure
The Hi-Tech Security Solutions' Residential Security Conference in Durban was a magnificent event where Vox showcased its visitor management solution.
Read more...
---
Protecting your electrical equipment
Residential Estate Security Handbook 2020, BFR Digital, PSS Distributors , IT infrastructure
Load shedding is a constant danger as the surges that occur when the lights come on cause damage to electronic equipment, including security equipment, unless it is protected.
Read more...
---
Hunting for backdoors in counterfeit Cisco devices
Issue 5 2020 , IT infrastructure
F-Secure's investigation highlights challenges facing organisations that discover counterfeit devices in their IT infrastructure.
Read more...
---
5G brings immediate opportunities for SA
Issue 6 2020 , IT infrastructure
The recent launch of 5G technology in South Africa presents several highly attractive opportunities for consumers, carriers and industry at large.
Read more...
---