printer friendly version
Reinforcing network security
July 2012
IT infrastructure
Are traditional password controlled access credentials providing sufficient protection for your company's corporate assets? Advanced security solutions distributor, Powell Tronics, has introduced network security based protection for corporate IT systems.
Melissa Jacobs of Powell Tronics says that this latest solution effectively manages access to the network by replacing passwords and PINs with fingerprints. It should also manage the software and hardware inventory of each computer on the network. For some time now, IT has needed to catch up with advances in physical security, however, according to Jacobs, this has not been possible – until the introduction of these network security based products:
"IT professionals are aware of the huge risks created by credentials like cards, PINs and passwords. They are not secure, simply because I can use your password or card and vice versa, and then there is the issue of installing prohibited software which brings additional security risks".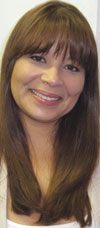 Melissa Jacobs
Although Jacobs is also quick to add that South Africa is well advanced on the biometric learning curve: "Local organisations have learned two things: fingerprints are the way to go."
Although identity theft and fraudulent EFT payments get a lot of attention, far greater losses are occurring through the cyber theft of secret and confidential data, such as deal negotiations, strategic plans, operational processes, financials and R&D. According to Jacobs, the available research shows that most cyber crime is based on the abuse of normal IT access credentials, and that this happens so frequently because it is so easy to exploit cards, PINs and passwords: They are no longer an effective barrier to unauthorised access.
With the value added benefit of an inventory control application installed on computers, this innovative application will effectively manage each computer's software and hardware inventory. Protecting the integrity of applications on the network minimises risk and ensures that an immediate alert is sent out, rather than trying to recover losses after the fact. Should one of the computers be lost, stolen or destroyed in a fire, the loss of intellectual property often amounts to more than the cost of the actual computer – but by having an inventory of all the software applications on the device, it is easier to report on what was installed and have all your licenced software replaced rather than being forced to invest in new licences.
For more information contact Powell Tronics, +27 (0)21 448 0156, sales@powelltronics.co.za, www.p-tron.com
Credit(s)
Further reading:
AI and self-healing
Issue 7 2020 , IT infrastructure
Storage infrastructure that has in-built capacity as well as the ability to self-heal and self-tune is critical.
Read more...
---
Understanding the need to secure your SD-WAN platform
Issue 7 2020 , IT infrastructure
SD-WAN functions need to be virtualised to keep up with evolving security threats and to control the cost of updating and upgrading security elements.
Read more...
---
Software-defined everything
Issue 7 2020 , IT infrastructure
BCX prepares businesses for the future with the launch of its Multi Domain Software Defined Network, applying intent-based networking throughout the enterprise.
Read more...
---
Management of PPE allocation made simple
Issue 7 2020, Powell Tronics, Technews Publishing , Editor's Choice
Of all the roadblocks and challenges COVID-19 has introduced us to over the past few months, one of the tasks organisations have to manage is the issuing of PPE to staff.
Read more...
---
Beating the recessionary blues
Issue 6 2020 , IT infrastructure
Most companies are looking to eke out savings by sweating technology assets a bit longer and by trimming operating costs.
Read more...
---
Designing a modern security network
Issue 6 2020, Regal Distributors SA , IT infrastructure
Traditionally security networks have served us well, but with the rapid advancements in technology it may be time to review the requirements for your security network.
Read more...
---
Home-grown, cloud-based safety and security solutions
Residential Estate Security Handbook 2020 , IT infrastructure, Integrated Solutions
BeSecure has taken security and communications technologies and turned them into what is best described as care and safety solutions for the estate community in South Africa.
Read more...
---
Bringing the wonders of fibre to your estate
Residential Estate Security Handbook 2020, Vox Telecom , IT infrastructure
The Hi-Tech Security Solutions' Residential Security Conference in Durban was a magnificent event where Vox showcased its visitor management solution.
Read more...
---
Granting visitor access securely
Residential Estate Security Handbook 2020, Technews Publishing, Powell Tronics, GLOVent Solutions, Suprema, neaMetrics, Entry Pro , Access Control & Identity Management
Visitor management is a critical part of estate security that should secure residents and property while providing access that is almost seamless and as fast as possible.
Read more...
---
Protecting your electrical equipment
Residential Estate Security Handbook 2020, BFR Digital, PSS Distributors , IT infrastructure
Load shedding is a constant danger as the surges that occur when the lights come on cause damage to electronic equipment, including security equipment, unless it is protected.
Read more...
---