printer friendly version
Risky assessments
July 2012
Security Services & Risk Management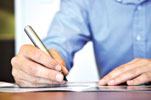 The risk assessment is a nebulous concept in our security industry. While it should be a process of discovering security vulnerabilities in your home or business and developing a plan to deal with them, it is more often than not simply seen a sales opportunity by security service providers.
The reason for this is that most people approach a security company and ask them to come in and tell them what they need. Andre Mundell, a director at Alwinco says this is the wrong approach.
"A security company will develop a risk assessment based on the products and services it sells," says Mundell. "Hence the result is often more of a selection of what it sells, such as an alarm, PIRs and armed response services that are supplied without an SLA (service-level agreement), than a true analysis of what the client needs."
Often, the result cost of the assessment is also tailored to what the security operator thinks the client can afford. A middle-class home will deal with the costs of installing an alarm and PIRs, but will generally not be keen to have cameras installed. In addition, the client will probably not know what options are available when it comes to an alarm and will let the security operator put in an alarm system it prefers.
Mundell says the solution recommended should ensure the client remains in control and not only the security service provider. "For example, an alarm system that sends an SMS message directly to the client as well as notifying the armed response unit is far more effective as it allows the client to warn his family or employees about the danger immediately. It should be a standard part of any alarm system, but is rarely recommended."
Independent assessments
"When opting for an independent risk assessment, the client can be assured that the assessor has no financial stake in the final solution," notes Mundell. "His job is to develop a solution that will secure the client, taking all the vulnerabilities in his environment into account."
Once completed, the client can then choose to implement the complete plan, or, on his own responsibility, only implement part of the plan. In many instances, clients balk at the cost of a complete solution and are prepared to allow some vulnerabilities they consider less risky, while dealing with the more dangerous ones.
A proper risk assessment also guides the client in building a reliable security platform that can be expanded as required without creating more expense when certain elements of a standard security installation turn out to be incompatible with new additions. There is no reason a well-designed security plan should not allow for expansion and new products to be added over time. In fact, Mundell says the risk assessment should ensure that the client can adapt to changes in the security environment with ease.
Get what you need, not what you are given
Once the assessment is completed, the client should then approach the security service provider with a plan of what she wants. This leaves the client secure in the knowledge that the plan will actually deliver the security benefits required, not what a service provider wants to do with the products that happen to be in the storeroom.
From the security service provider's perspective, Mundell says a proper, independent risk assessment will actually provide more income over time. Done properly the assessment will almost always recommend more than the standard installations these companies provide. And if the platform is installed correctly, the client can expand the services implemented over time.
"Perhaps the problem lies in the fact that security companies continually push their sales people to sell, looking for new clients and increased revenues," says Mundell. "This leaves little time for ensuring each client gets a security installation that meets their needs; in fact it leaves no time to accurately understand what the client wants.
"It is also a result of clients not knowing what threats and solutions are out there, putting their trust in their service provider in the incorrect assumption that the operator will install a solution designed to solve her particular security problem."
An independent risk assessor must focus on each client, providing solutions they need in their environment because that is their livelihood. If they are truly independent, they make no money from the products and services provided, only from ensuring their clients have a comprehensive risk assessment and security plan that works.
Says Mundell, "A security risk assessment is a realistic, thorough and intelligent approach to security as a preventative measure against crime. It gives a comprehensive mechanism that ultimately gives clients the compass of what they are up against in terms of security risk."
In future issues, Alwinco will discuss the various aspects to include in a comprehensive risk assessment.
Further reading:
Three new portable power stations to ease load shedding
News Security Services & Risk Management Products
EcoFlow has launched three portable power stations that provide sufficient power for consumers wherever they are; the DELTA 2 and RIVER 2 Series are feature-filled power solutions to the volatile electricity supply.
Read more...
---
You cannot bribe a computer
Access Control & Identity Management Security Services & Risk Management
Corruption is a cancer that destroys the prospects and stability of countries and businesses. It widens wealth gaps and punishes the poor. It costs countries many billions in lost revenue.
Read more...
---
How much protection does cyber insurance really give businesses?
Cyber Security Security Services & Risk Management
If organisations don't meet even the minimum requirements of security and data protection, insurance will do them little good. Instead, it needs to be just one part of the digital resiliency toolbox.
Read more...
---
Off-grid power solution for residential estate
Editor's Choice Security Services & Risk Management Residential Estate (Industry) Products
Coral Beach Estate, an upmarket residential estate based in East London, has been struggling with load shedding and power outages due to South Africa's energy crisis, as well as the vandalism of its power infrastructure.
Read more...
---
SafeCity Guarding rolls out across 14 suburbs in Johannesburg
News Security Services & Risk Management
In a major drive to provide communities across Johannesburg with additional safety, Vumacam, in partnership with Fidelity ADT and other security providers across the region, rolled out the innovative SafeCity Guarding initiative in 14 suburbs.
Read more...
---
FleetDomain underpins Afrirent's value proposition
Logistics (Industry) Security Services & Risk Management
Afrirent, a 100% female black-owned fleet management company, has been relying on FleetDomain software for a number of years to help it deliver outstanding service to a growing number of clients.
Read more...
---
Choosing an inferior lithium battery can be detrimental and unsafe
Uniross Batteries Security Services & Risk Management Products
South Africans looking to mitigate the impact of load shedding by installing a solar system for their home must do so through an accredited installer or electrician to avoid insurance claims being rejected.
Read more...
---
Employee screening, a hiring necessity or an invasion of privacy?
Security Services & Risk Management
There is a fine line between checking a potential employee's qualifications and references, and investigating aspects of their lives that have nothing to do with their job application.
Read more...
---
Keeping students, staff and communities safe
Vumacam News CCTV, Surveillance & Remote Monitoring Security Services & Risk Management
South African schools are facing increasing security challenges, making effective surveillance systems more important than ever. To address this issue, Vumacam is offering advanced security solutions with security partners, aimed at keeping students, staff, and the community safe.
Read more...
---
Technology is key to securing physical and cybersecurity
Education (Industry) Security Services & Risk Management
The interpretation of security in educational institutions depends on whom you are talking to and whether their focus is on the physical security of the institution, its assets and its people, or its information and communication technology perspective.
Read more...
---