printer friendly version
Risky assessments
July 2012
Security Services & Risk Management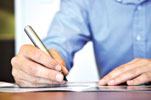 The risk assessment is a nebulous concept in our security industry. While it should be a process of discovering security vulnerabilities in your home or business and developing a plan to deal with them, it is more often than not simply seen a sales opportunity by security service providers.
The reason for this is that most people approach a security company and ask them to come in and tell them what they need. Andre Mundell, a director at Alwinco says this is the wrong approach.
"A security company will develop a risk assessment based on the products and services it sells," says Mundell. "Hence the result is often more of a selection of what it sells, such as an alarm, PIRs and armed response services that are supplied without an SLA (service-level agreement), than a true analysis of what the client needs."
Often, the result cost of the assessment is also tailored to what the security operator thinks the client can afford. A middle-class home will deal with the costs of installing an alarm and PIRs, but will generally not be keen to have cameras installed. In addition, the client will probably not know what options are available when it comes to an alarm and will let the security operator put in an alarm system it prefers.
Mundell says the solution recommended should ensure the client remains in control and not only the security service provider. "For example, an alarm system that sends an SMS message directly to the client as well as notifying the armed response unit is far more effective as it allows the client to warn his family or employees about the danger immediately. It should be a standard part of any alarm system, but is rarely recommended."
Independent assessments
"When opting for an independent risk assessment, the client can be assured that the assessor has no financial stake in the final solution," notes Mundell. "His job is to develop a solution that will secure the client, taking all the vulnerabilities in his environment into account."
Once completed, the client can then choose to implement the complete plan, or, on his own responsibility, only implement part of the plan. In many instances, clients balk at the cost of a complete solution and are prepared to allow some vulnerabilities they consider less risky, while dealing with the more dangerous ones.
A proper risk assessment also guides the client in building a reliable security platform that can be expanded as required without creating more expense when certain elements of a standard security installation turn out to be incompatible with new additions. There is no reason a well-designed security plan should not allow for expansion and new products to be added over time. In fact, Mundell says the risk assessment should ensure that the client can adapt to changes in the security environment with ease.
Get what you need, not what you are given
Once the assessment is completed, the client should then approach the security service provider with a plan of what she wants. This leaves the client secure in the knowledge that the plan will actually deliver the security benefits required, not what a service provider wants to do with the products that happen to be in the storeroom.
From the security service provider's perspective, Mundell says a proper, independent risk assessment will actually provide more income over time. Done properly the assessment will almost always recommend more than the standard installations these companies provide. And if the platform is installed correctly, the client can expand the services implemented over time.
"Perhaps the problem lies in the fact that security companies continually push their sales people to sell, looking for new clients and increased revenues," says Mundell. "This leaves little time for ensuring each client gets a security installation that meets their needs; in fact it leaves no time to accurately understand what the client wants.
"It is also a result of clients not knowing what threats and solutions are out there, putting their trust in their service provider in the incorrect assumption that the operator will install a solution designed to solve her particular security problem."
An independent risk assessor must focus on each client, providing solutions they need in their environment because that is their livelihood. If they are truly independent, they make no money from the products and services provided, only from ensuring their clients have a comprehensive risk assessment and security plan that works.
Says Mundell, "A security risk assessment is a realistic, thorough and intelligent approach to security as a preventative measure against crime. It gives a comprehensive mechanism that ultimately gives clients the compass of what they are up against in terms of security risk."
In future issues, Alwinco will discuss the various aspects to include in a comprehensive risk assessment.
Further reading:
Three ways to prevent non-delivery
Security Services & Risk Management
By using an escrow platform, you can pay for the item, but the funds are held in a trust account until you receive the item and are happy it's what you ordered.
Read more...
---
Look before you leap into a back-up power solution
Editor's Choice Security Services & Risk Management
Before you rush into purchasing a back-up power solution, you need to take a considered and long-term view of how to get yourself as close to grid independence as possible.
Read more...
---
All-mobile people management solution with facial recognition
Editor's Choice Integrated Solutions Security Services & Risk Management Products
The new mobile Incident Desk People Management platform with facial recognition combines identification data on suppliers, staff, sub-contractors and even people on watch lists, for less than the cost of traditional service management tools.
Read more...
---
Passion, drive and hard work
Technews Publishing Editor's Choice CCTV, Surveillance & Remote Monitoring Security Services & Risk Management
Colleen Glaeser is a leader in the security market, having made her mark in the male-dominated security industry through determination and hard work, along with a vision of making the world a safer place.
Read more...
---
Are you your insider threat?
Technews Publishing Editor's Choice Security Services & Risk Management Commercial (Industry)
Insider threats are a critical aspect of risk management today, but what happens when it is the owner of the company acting fraudulently and making sure none of his staff can catch him?
Read more...
---
Trackforce Valiant acquires TrackTik Software
News Integrated Solutions Security Services & Risk Management
Trackforce Valiant, a provider of security workforce management solutions, announced the acquisition of TrackTik Software, a cloud-based security workforce management provider.
Read more...
---
Minimise the cost and impact of protest activity
Thorburn Security Solutions Security Services & Risk Management Industrial (Industry)
Strikes and protest actions are common in South Africa and businesses need to prepare for the worst while working for the best outcome that benefits all parties.
Read more...
---
SA Security becomes a part of Fidelity ADT
Fidelity Services Group Security Services & Risk Management
Fidelity ADT has announced that it has concluded an agreement with SA Security Alarms & CCTV and has taken over the monitoring and armed response contract from 1 July 2022.
Read more...
---
Risk reduction and cybersecurity
Security Services & Risk Management Cyber Security
How should risk managers think about cyber risk? What are the main considerations and red herrings? How do you know you're mitigating cyber risk?
Read more...
---
Virtual crime in a virtual world of work
Technews Publishing Security Services & Risk Management Cyber Security
Managers, directors and board members must become more involved in ensuring that best practices are implemented and reviewed regularly as the technological landscape continues to change.
Read more...
---