printer friendly version
Luxurious security
July 2012
Security Services & Risk Management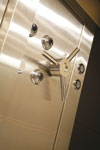 When you walk into the Sandton Square branch of International Vaults (IV), you could be excused for thinking you have just entered a luxurious, although very secure hotel.
IV offers clients a series of safety deposit boxes (the kind we often see on TV) for rent. Ranging from R200 per month up to R600 per month depending on the size of the box, clients are able to store valuables and documents in the secure vault. Each box is secure and private, its contents known only to the client.
Access to IV is made from the Sandton Square mall via an inconspicuous entrance most people would miss. The company also has a private parking area for its clients that lead directly into the vault area.
Access is strictly controlled by both technology and operators, ensuring that only authorised clients gain access to the vault area. Access to the individual boxes is controlled by a master key, held by the company, and an individual, unique key for each box, which the client holds. Jadoonandan says the company does not keep a copy of the client's key, so if it is lost the only way to access your box is to drill the lock open, a long process.
Access control
Access to the vault area starts with a biometric fingerprint scan linked to a surveillance camera. The client is then also manually verified by an operator located behind strengthened glass via an identity document – which is visually compared to the surveillance image.
Then the client enters the secure area via a mantrap. A guard allows one person at a time into the mantrap. Once inside, another biometric scan is done and a surveillance camera takes another image of the individual's face to allow the operators to once again confirm his/her identity compared to an image on file.
From the point clients enter the company, they are under constant CCTV surveillance. A secure control room is located on the premises where a guard monitors all the feeds. As can be expected, the vault is contracted to armed guarding companies to handle unexpected events.
The surveillance system extends into the vault itself, except for the private viewing booths where the client can add or remove items from their boxes. There are, naturally, other security measures in place to ensure the security and privacy of the clients as well as their belongings.
Jadoonandan says the vault concept has proved popular in KwaZulu-Natal as well as in Gauteng by clients who choose to keep their valuables and important documents in a 24x7 secure vault instead of carrying the risk of keeping them at home.
Credit(s)
Further reading:
A contact-free hotel experience
Issue 7 2020, Technews Publishing , Access Control & Identity Management
Check-in and go straight to your room without stopping at the reception desk at Hotel Sky in Sandton and Cape Town.
Read more...
---
Industrialisation or imperialism?
Issue 7 2020 , Security Services & Risk Management
4IR has to be a matter of national agenda; national economic and political sovereignty and national security - necessitating commensurate prioritisation.
Read more...
---
Management of PPE allocation made simple
Issue 7 2020, Powell Tronics, Technews Publishing , Editor's Choice
Of all the roadblocks and challenges COVID-19 has introduced us to over the past few months, one of the tasks organisations have to manage is the issuing of PPE to staff.
Read more...
---
No downtime for transport security
Issue 7 2020, Secure Logistics, Technews Publishing , Logistics (Industry)
After a brief downturn in crime due to the COVID-19 lockdown, the transport sector is once again at the centre of a crime spree.
Read more...
---
Warehouse security and the pandemic
Issue 7 2020, Technews Publishing , Logistics (Industry)
The warehousing industry is under intense attack from organised, armed criminal syndicates following the lockdown.
Read more...
---
From the editor's desk: Waiting for PoPI
Issue 7 2020, Technews Publishing , News
A while ago we heard of yet another cyber breach, this time from Experian.
Read more...
---
An exciting journey in security
Issue 7 2020, Technews Publishing, BTC Training Africa , Editor's Choice
Errol Peace describes his 40-plus year career in the security industry where he was and is a great proponent of training as an "exceptionally exciting journey".
Read more...
---
PCI DSS can be your PoPIA security blueprint
Issue 6 2020, Galix Group , Security Services & Risk Management
Some of the requirements of PCI DSS can also be used to comply with PoPIA, South Africa's data privacy law.
Read more...
---
Secure IoT devices and networks
Issue 6 2020, Technews Publishing , Cyber Security
Check Point Software's IoT Protect solution secures IoT devices and networks against the most advanced cyber-attacks.
Read more...
---
Monopoly: AI edition
Issue 6 2020 , Security Services & Risk Management
Due to the inherent nature of artificial intelligence (AI), AI-powered industries naturally tend towards monopolisation.
Read more...
---