printer friendly version
Remote residential monitoring
July 2012
CCTV, Surveillance & Remote Monitoring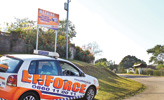 Time and information are the biggest factors when responding to a crisis triggered by criminal activity. With the rampant rise in crime, residential and business communities are turning to every possible resource to protect the lives of their loved ones, their belongings and their business assets.
Watchmen, a new service by Enforce Security, is aimed at meeting the security needs of homes, business or communities that are reliant on either a 24-hour armed response service or guard patrols. By combining the technology of remote video verification and virtual patrols, Watchmen is able to provide crucial information and time saving to solve security breaches for both residential and business communities.
High-end camera technology is used in conjunction with the Enforce control room to provide a 24/7 facility. These cameras are designed to activate on breach and provide instant visual information operators, who immediately analyse the situation. They are able to then zoom in on small details to assist in identifying the perpetrators, vehicle registrations and any crucial information that will assist in solving the crime that has taken place.
In this way, Watchmen can identify if an alarm activation is false or set off deliberately as a decoy while an offence takes place elsewhere. It allows for the control room to communicate with the armed response vehicle, offering the best approach to a crime scene by blocking escape routes and to determine the severity of the situation, or call for SAPS backup if necessary.
Watchmen can be used in communities that require the use of day and night guards. These surveillance cameras reduce manpower, thereby offering residents a cost-effective and technologically advanced security option that is not affected by bad weather, strikes, labour issues or sleeping personnel.
Home security
Cameras, connected to security poles, are strategically located at identified residential hot spots such as notorious cable and motor vehicle theft spots or entrance and exit points. While the cameras are continuously recording, the control room simultaneously logs into each camera on system-defined intervals.
Every resident who is part of the community initiative has his or her home alarm linked to the camera. Should the alarm be activated, the control room will be instantly notified over and above the set hourly monitoring intervals. In this way, any suspicious activity, person or theft syndicate vehicles that may have triggered the alarm can be immediately identified through the visuals sent by the cameras on the residential premises, as well as the visuals from the street cameras.
"Watchmen is a cost-effective alternative aimed at community initiatives that rely on physical guarding or armed reaction services. The cost of a day and night guard per day costs community forums on average R16 000 per month. It is a more affordable alternative with an initial setup cost of ±R10 000 per camera and thereafter a monitoring fee of R850 per month. The saving means that the initial capital deployed for cameras from the cost saved on reducing guards is quickly recovered and four cameras would save ±R12 000 a month for the community.
Residentially remote
The concept originates from Enforce's existing business called remote video verification (RVV), where surveillance cameras, linked to a client's business or home alarm, are strategically positioned to provide visuals of alarm activations or to monitor the patrols of the physical guards. Since the implementation of RVV two years ago, Enforce has identified a growing need for a similar service as part of a community initiative. The concept has since been adapted to include the home alarm link and successful trial tests have been implemented in the Upper Highway area, at Gillitts Park and The Woods.
"Watchmen has proved successful in assisting residential communities to not only reduce crime, but also through video footage retrieve vital information that has led to arrests for theft," said Ashley Aitken, MD, Electronics, Enforce Security Services.
For more information contact Enforce, +27 (0)31 573 7600, jaysonw@enforce.co.za
Further reading:
Efficient storage for security
Issue 7 2020, Dell EMC , CCTV, Surveillance & Remote Monitoring
There is a dramatic increase in the amount of storage and computing power required to support today's safety and security systems.
Read more...
---
Safe restaurant reopening technology
Issue 7 2020, Dahua Technology South Africa , CCTV, Surveillance & Remote Monitoring
Denmark's Arkaden Food Hall makes use of Dahua People Counting and Flow Control solution for safe reopening.
Read more...
---
Forbatt SA invests in South Africa's security industry
Issue 7 2020, Forbatt SA , CCTV, Surveillance & Remote Monitoring
Forbatt SA is set to offer an improved service to the industry by making sure it has the products and solutions the industry needs, as well as a new showroom.
Read more...
---
Analytics with your existing cameras
Issue 7 2020, Secutel Technologies , CCTV, Surveillance & Remote Monitoring
With SecuVue from Secutel Technologies, it is possible for any business to monitor their offices, warehouses or stores remotely, from any part of the world.
Read more...
---
Consolidating control rooms and service delivery within a COVID-19 environment
Issue 6 2020, Leaderware , CCTV, Surveillance & Remote Monitoring
It is essential to have informed, coordinated and professional responses within control rooms at this time of increasing turmoil.
Read more...
---
Technology driving the healthcare industry
Issue 6 2020, Duxbury Networking , CCTV, Surveillance & Remote Monitoring
Seeing cameras as sensors opens up new possibilities, and each one of them responds to typical demands inside a hospital, clinic or nursing home.
Read more...
---
Turn cameras into traffic sensors
Issue 6 2020, Duxbury Networking , CCTV, Surveillance & Remote Monitoring
Safer communities and cities are achieved through a mixture of technology and human resources, working together in a holistic manner.
Read more...
---
Mobotix thermal technology increases security
Issue 6 2020, Duxbury Networking , CCTV, Surveillance & Remote Monitoring
Installations, machinery, equipment and material available on company premises require effective and cost-efficient protection. In addition, operational safety, optimisation of workflows and protection ...
Read more...
---
Getting a visual on Covid-19 screening
Issue 6 2020, Graphic Image Technologies , CCTV, Surveillance & Remote Monitoring
Should organisations be investing in thermal camera technology to simply contain and limit the spread of the virus?
Read more...
---
Flexible temperature screening options for challenging times
Issue 6 2020, Hikvision South Africa , CCTV, Surveillance & Remote Monitoring
A thermal imaging camera is an effective screening device for detecting individuals with elevated skin temperature. This type of monitoring can provide a rapid screening approach in high-traffic areas.
Read more...
---