printer friendly version
Alarms that add value
July 2012
CCTV, Surveillance & Remote Monitoring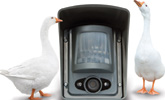 Some claim the first burglar alarm dates back to 1852. Others argue that the first intrusion alarm dates back to 390 BC when Rome was saved by an organic alarm system of cackling geese as invaders attempted to climb the wall. In any event, the security industry exists because consumers are convinced that an alarm system that detects intruders and brings a timely response is a worthwhile investment.
The time of cackling geese is past and hopefully the alarm industry has evolved with advances of technology but the industry still struggles with three main challenges:
1. False alarms: Over 98% of alarms in most monitoring stations are false alarms.
2. Installation costs: The price of installation is often close to the total cost of the alarm system.
3. Declining RMR (recurring monthly revenue) for monitoring station and maintenance services.
New cordless/wireless video alarm systems overcome these obstacles and bring new value to the security industry and its customers. However, some in the industry are still reluctant to embrace new video technologies and many monitoring stations are still addressing the consequences of false alarms rather than addressing the cause of them.
Caught in the act
The big push towards wireless video verification is now coming from outside the alarm industry and the success of video alarms is due to two factors, more arrests and fewer false alarms. Law enforcement, armed response companies and consumers value arrests and capturing the intruder in the act. Video alarms make this happen because there is immediate confirmation of a crime-in-progress instead of a standard alarm signal.
Law enforcement forces and armed response companies give higher priority to alarms where they believe they will make an arrest. Some governments are going even further and are adopting laws forcing monitoring stations to visually verify their alarm before they can expect any sort of police response at all. What is certain is that law enforcement supports video alarms, and consumers using them will have a greater degree of protection.
In France, the police are likely to respond to a call from a monitoring station, but if it is a false alarm they fine the monitoring station €450. This fine is sent directly to the monitoring station that can pass it to the end-user. Such a heavy fine can kill any business that cannot verify an alarm properly. Response and fines are now key selling points in Europe and the industry has been very aggressive in proposing video alarms to their prospective customers, both residential and commercial.
Blind alarms or with video
Since April 2010, the New South Wales Police in Australia have enforced a law that was passed in December 2008. Some companies had been using the local police and saving their own security personnel, to the detriment of Sydney's taxpayers. Now a fine of AU$200 has been introduced but the goal is the same; the police want to catch bad guys, but not work as a runner for false alarms. In 2009, statistics from the NSW police showed that only 6% of all alarm activations they attended were genuine alarms.
Up to now there has been a lot of frustration between law enforcement and monitoring stations. Proven results and increasing public awareness are making video alarm systems a new paradigm for both residential and commercial security.
Efficient resources
Now it is not just all about the police responding to false alarms. Let us have a look at our local market where the police seldom respond to alarms and where most of the response is done by a few large guarding companies as a part of an alarm package. The main concern is not with the number of guards, but making armed response as efficient as possible.
With every premises being equipped with one alarm system you can expect a lot of false activation. Video verification is the best way to prioritise armed response, especially in high crime areas. Prompt response by armed response teams saves lives or critical infrastructure instead of wasting time with nuisance alarms. Once your alarm has been visually verified, it becomes a 'crime in progress' and not just another 'blind alarm' activation.
More security companies are following this global trend towards video intrusion alarms and the reasons are quite simple – more arrests, more efficiency and cost savings. In time of recession, with increasing crime and budget reductions, police forces are being stretched beyond their limits. Charging a monitoring station for a false alarm is a quick solution but does not maximise public safety. Video alarm systems that confirm a crime-in-progress are the obvious answer for both the government and the consumer to maximise public safety.
For more information contact Wynand Beneke, Security Viewer, +27 (0)72 456 1934, sales@videofied.co.za, www.videofied.co.za
Further reading:
Efficient storage for security
Issue 7 2020, Dell EMC , CCTV, Surveillance & Remote Monitoring
There is a dramatic increase in the amount of storage and computing power required to support today's safety and security systems.
Read more...
---
Safe restaurant reopening technology
Issue 7 2020, Dahua Technology South Africa , CCTV, Surveillance & Remote Monitoring
Denmark's Arkaden Food Hall makes use of Dahua People Counting and Flow Control solution for safe reopening.
Read more...
---
Forbatt SA invests in South Africa's security industry
Issue 7 2020, Forbatt SA , CCTV, Surveillance & Remote Monitoring
Forbatt SA is set to offer an improved service to the industry by making sure it has the products and solutions the industry needs, as well as a new showroom.
Read more...
---
Analytics with your existing cameras
Issue 7 2020, Secutel Technologies , CCTV, Surveillance & Remote Monitoring
With SecuVue from Secutel Technologies, it is possible for any business to monitor their offices, warehouses or stores remotely, from any part of the world.
Read more...
---
Consolidating control rooms and service delivery within a COVID-19 environment
Issue 6 2020, Leaderware , CCTV, Surveillance & Remote Monitoring
It is essential to have informed, coordinated and professional responses within control rooms at this time of increasing turmoil.
Read more...
---
Technology driving the healthcare industry
Issue 6 2020, Duxbury Networking , CCTV, Surveillance & Remote Monitoring
Seeing cameras as sensors opens up new possibilities, and each one of them responds to typical demands inside a hospital, clinic or nursing home.
Read more...
---
Turn cameras into traffic sensors
Issue 6 2020, Duxbury Networking , CCTV, Surveillance & Remote Monitoring
Safer communities and cities are achieved through a mixture of technology and human resources, working together in a holistic manner.
Read more...
---
Mobotix thermal technology increases security
Issue 6 2020, Duxbury Networking , CCTV, Surveillance & Remote Monitoring
Installations, machinery, equipment and material available on company premises require effective and cost-efficient protection. In addition, operational safety, optimisation of workflows and protection ...
Read more...
---
Getting a visual on Covid-19 screening
Issue 6 2020, Graphic Image Technologies , CCTV, Surveillance & Remote Monitoring
Should organisations be investing in thermal camera technology to simply contain and limit the spread of the virus?
Read more...
---
Flexible temperature screening options for challenging times
Issue 6 2020, Hikvision South Africa , CCTV, Surveillance & Remote Monitoring
A thermal imaging camera is an effective screening device for detecting individuals with elevated skin temperature. This type of monitoring can provide a rapid screening approach in high-traffic areas.
Read more...
---