printer friendly version
Shrinking shrinkage
July 2012
Integrated Solutions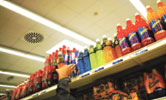 According to the Institute of Security Studies shoplifting in South Africa has seen an 11,6% decrease since 2009/10, despite the economic recession. The Western Cape stands out as having the highest ratio of shoplifting in the country with 359,2 cases per 100 000 or 18 763 reported cases, while Gauteng has a rate of 221,3 cases per 100 000 which accounts for 24 767 reported cases or one third of all shoplifting cases nationally.
Recently in the USA, a product as innocuous as Tide laundry detergent was being used as a form of payment for cocaine and this was the reason for the high amount of theft of the product. One day the target can be laundry detergent and the next day the target might be tea and coffee, and the next potentially stationery items. The recently completed 24th Annual Retail Theft Survey in the USA stated that their participants in the survey had apprehended over 1 million shoplifters and dishonest employees in 2011, and recovered more than $161 million from those apprehensions.
In 2011, both the apprehensions and recovery dollars from shoplifters and dishonest employees rose; up 5,8% and 11,4% respectively. The shoplifter apprehensions rose 6% and dishonest employee apprehensions rose 3,3%. The seriousness of retail theft is a much greater problem than many people realise. These theft losses are driving retail prices higher and putting some stores out of business. The report highlighted:
* One out of every 36 employees was apprehended for theft from their employer in 2011. (Based on comparison data of over 2,8 million employees.)
* Apprehensions: Survey participants apprehended 71 505 dishonest employees in 2011, up 3,3% from 2010.
* On a per case average, dishonest employees steal almost six times the amount stolen by shoplifters ($665,77 versus $113,30).
Some of the main reasons for these increases were:
* Increased organised retail crime (ORC) activity.
* The poor economy is causing more shoplifting to take place.
* Less store supervision and staffing.
"I believe that the real answer to shoplifting is the same as all commercial or corporate crime – prevention and pro-active security measures," says Jenny Reid, of iFacts. "The statistics are proof that simply catching shoplifters and prosecuting them is doing nothing to reduce the rate of that crime. Prosecutions also do not appear to prevent re-offenders from striking again, a tendency known as recidivism in the industry.
"Prosecutions lead to all sorts of hidden expenses which do not show up initially. For example, no companies we know of do a time and cost calculation of their security officials having to take time off to attend court cases."
Usually, an outlet's security policy is based on a monitoring and swoop and seizure type policy, with the police being called in to take the offender away. "This is an entirely re-active policy, and retailers should start giving serious attention to preventative methodologies instead," Reid says.
There are a host of practical steps which can be taken to prevent shoplifting, but of course the best ones can only be undertaken once a complete security audit of the company in question has been undertaken. A full risk assessment of any outlet should encompass the five main areas of any risk assessment.
* Physical Security
* Technology
* Manpower
* Intelligence
* Management
All of the areas should be analysed by an independent party to ensure that the risk profile of the store or the area of the store is understood and that the security measures being put in place actually address the risk. Far too often security measures are put in place because a good salesman recommended them. The actual risk is not analysed and the solution does not work.
Once the systems have been implemented they should be tested regularly to ensure that they are addressing the risk. Mystery shoplifters should be employed to see if items can in fact still be stolen.
Good customer service is a fantastic deterrent because shoplifters want and need privacy. Have employees walk the sales floor, keep them visible, and keep displays neat and organised (so missing items can be more easily noticed).
Make sure that the shop floor is visible and do not have high stacks of items blocking high value goods. Make sure that the surveillance equipment can track these items.
Limit high-value items on sales floor and encourage customers to know that the items can be asked for if they are not available. This will reduce vulnerability to large losses of these items and make it easier to identify missing items.
Know your business and your customers. This is especially true for highly popular items, high value items, what is stolen most often and what is easily stolen. Study why items are taken, evaluate their locations and packaging and then make the changes.
Training and awareness: Invest in loss prevention training and awareness programmes for all employees and contractors and consider implementing a reward programme for employees who report dishonest activities.
Further reading:
Keep your distance with PeopleCounter and DistanceGuard
Issue 6 2020 , Integrated Solutions
Using 2D and 3D LiDAR sensors from SICK, people can easily uphold the recommended minimum distance in public and pre-defined spaces.
Read more...
---
Critical control management
Issue 5 2020 , Integrated Solutions
The critical control management process is an excellent practical approach to ensure effective controls over potentially catastrophic events.
Read more...
---
Adjusting to a new reality
Issue 5 2020, Technews Publishing , Integrated Solutions
COVID-19 to accelerate adoption of technology-enabled smart city resilience approaches: robotics, digital twins, and autonomous freight.
Read more...
---
Remote oversight imperative for smart buildings
Issue 5 2020 , Integrated Solutions
Duran Viera, CEO of Amecor, says one of South Africa's biggest drivers for smart building development is security.
Read more...
---
Shaping today's smart cities
Issue 5 2020, ZKTeco , Integrated Solutions
As our physical and digital worlds become intertwined, the absorption of new technologies in smart cities is inevitable.
Read more...
---
The evolution of security in residential estates
Residential Estate Security Handbook 2020 , Editor's Choice, Integrated Solutions, Security Services & Risk Management
Two large estates discuss their security processes and the ever-expanding scope of responsibilities they need to fulfil.
Read more...
---
Home-grown, cloud-based safety and security solutions
Residential Estate Security Handbook 2020 , IT infrastructure, Integrated Solutions
BeSecure has taken security and communications technologies and turned them into what is best described as care and safety solutions for the estate community in South Africa.
Read more...
---
Integrated security management system
Residential Estate Security Handbook 2020, Protoclea Advanced Image Engineering , Products, CCTV, Surveillance & Remote Monitoring, Integrated Solutions
Phorcas is a security information system developed by Protoclea designed to integrate multiple sub-systems into a powerful crime fighting solution.
Read more...
---
Critical control management is essential for quality surveillance
Issue 6 2020 , Integrated Solutions
The demand for effective surveillance remains a priority for security and line management involved with the day to day protection of assets.
Read more...
---
Your partner in contemporary business continuity
Issue 3 2020 , Integrated Solutions
Horizon Risk Management aims to provide optimum contemporary, but affordable, business continuity techniques for business in South Africa and abroad through stable, durable and incorruptible practices.
Read more...
---