printer friendly version
Holistic security solutions
July 2012
CCTV, Surveillance & Remote Monitoring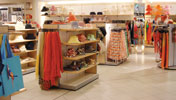 Security technology specialist, TVMS, prides itself on its ability to offer customers an holistic security solution designed for the protection and enhancement of assets, investments and people. Established in 1998 and BEE-accredited, TVMS seeks to maximise client profit while reducing business risk. The company has a national footprint, with established branches in Johannesburg, Durban and Cape Town.
'Our ultimate objective is to give our customers the freedom to concentrate on their core business without the angst of security-related concerns," says TVMS CEO, Jayson Gouws. "From consulting, design, installation and maintenance to management and monitoring of systems on and off the site, our aim is simple, to exceed the expectations of our clients by providing high quality value-for-money solutions and outstanding service delivery."
With expert knowledge of the commercial, industrial, retail and hospitality sectors, TVMS is able to provide real peace of mind solutions. "From A-Z, we manage and limit the business risks of our customers," Gouws explains. "Our customers are reassured by our solid reputation as a knowledgeable, reliable and competitively priced service provider. We keep them coming back by always looking after their best interests."
TVMS is a leading provider of IP video surveillance solutions throughout Africa and has several large successfully completed systems under its belt. The provision of value added smart retail intelligence products, such as effective CCTV camera based people counting, heating mapping, dwell time measurements, and intelligent parking flow management, keeps TVMS at the forefront of the security industry.
In a recent demonstration for a well-known national cellular retail chain, TVMS implemented a camera-based people counting solution. In the first week of analysis it was found that the retail store had the second highest amount of visitors on a Monday, but the lowest sales conversion ratio. Further investigation revealed that the retailer had a reduced staff complement on Mondays. From this information, it was deduced that potential customers were leaving as a result of non-attendance by store assistants. This has since been rectified and the retailer is showing a marked improvement in sales figures.
People counting
People counting quantifies foot traffic. It is enabled by fully embedded standard ceiling mounted network cameras and automatically counts in real-time the number of people passing under the camera and in which direction. It is a stand-alone people counting application that is embedded directly into a standard network camera. All counting is done directly on the camera – at the edge – giving a cost efficient, scalable, and very easy-to-use solution for people counting.
Heat mapping
Heating mapping is a visual tool for measuring customer traffic patterns inside retail stores. The product gives instant access to where and when shoppers go in the store making it a perfect tool to optimise store layout. Heat mapping is fully embedded in standard network cameras and should be mounted in the ceiling or on a wall overlooking the store. A camera running heat mapping can simultaneously be used as a standard surveillance camera. This dual-functionality has the potential to reduce the total project hardware cost.
Parking
The TVMS parking solution is a milestone in parking management and embedded video analytics. The entire system is 100% IP network-based using only standard network cameras and IP-supported displays for counting and displaying traffic entering and exiting parking facilities. The system requires no auxiliary PC or PLC, no inductive loops and no costly pavement work.
For more information contact TVMS, 0861 867 8867 (TVMS), sales@tvms.co.za, www.tvms.co.za
Further reading:
Efficient storage for security
Issue 7 2020, Dell EMC , CCTV, Surveillance & Remote Monitoring
There is a dramatic increase in the amount of storage and computing power required to support today's safety and security systems.
Read more...
---
Safe restaurant reopening technology
Issue 7 2020, Dahua Technology South Africa , CCTV, Surveillance & Remote Monitoring
Denmark's Arkaden Food Hall makes use of Dahua People Counting and Flow Control solution for safe reopening.
Read more...
---
Forbatt SA invests in South Africa's security industry
Issue 7 2020, Forbatt SA , CCTV, Surveillance & Remote Monitoring
Forbatt SA is set to offer an improved service to the industry by making sure it has the products and solutions the industry needs, as well as a new showroom.
Read more...
---
Analytics with your existing cameras
Issue 7 2020, Secutel Technologies , CCTV, Surveillance & Remote Monitoring
With SecuVue from Secutel Technologies, it is possible for any business to monitor their offices, warehouses or stores remotely, from any part of the world.
Read more...
---
Consolidating control rooms and service delivery within a COVID-19 environment
Issue 6 2020, Leaderware , CCTV, Surveillance & Remote Monitoring
It is essential to have informed, coordinated and professional responses within control rooms at this time of increasing turmoil.
Read more...
---
Technology driving the healthcare industry
Issue 6 2020, Duxbury Networking , CCTV, Surveillance & Remote Monitoring
Seeing cameras as sensors opens up new possibilities, and each one of them responds to typical demands inside a hospital, clinic or nursing home.
Read more...
---
Turn cameras into traffic sensors
Issue 6 2020, Duxbury Networking , CCTV, Surveillance & Remote Monitoring
Safer communities and cities are achieved through a mixture of technology and human resources, working together in a holistic manner.
Read more...
---
Mobotix thermal technology increases security
Issue 6 2020, Duxbury Networking , CCTV, Surveillance & Remote Monitoring
Installations, machinery, equipment and material available on company premises require effective and cost-efficient protection. In addition, operational safety, optimisation of workflows and protection ...
Read more...
---
Getting a visual on Covid-19 screening
Issue 6 2020, Graphic Image Technologies , CCTV, Surveillance & Remote Monitoring
Should organisations be investing in thermal camera technology to simply contain and limit the spread of the virus?
Read more...
---
Flexible temperature screening options for challenging times
Issue 6 2020, Hikvision South Africa , CCTV, Surveillance & Remote Monitoring
A thermal imaging camera is an effective screening device for detecting individuals with elevated skin temperature. This type of monitoring can provide a rapid screening approach in high-traffic areas.
Read more...
---