printer friendly version
Nextivity CEL-FI ROAM R41 boosts your cell signal
Issue 7 2023 IoT & Automation, Products & Solutions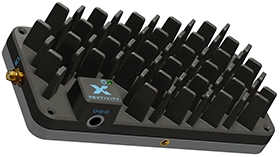 Nextivity has released its CEL-FI ROAM R41 plug-and-play cellular coverage solution that ensures cellular access for people in remote areas. This first release in the Nextivity ROAM line addresses nomadic applications; to provide cellular coverage on the move, while on the road or a boat, without incurring additional charges.
The ROAM R41 continues the legacy of the CEL-FI GO G31 and GO G32 mobile repeaters to deliver enterprise-grade performance in solving poor cellular coverage while enabling dependable calling, texting, and data while away from the home or office. The system can be easily installed under seats or in discrete locations inside any vehicle or boat.
Designed for cars, trucks, and boats, the CEL-FI ROAM R41 is the industry's most powerful cellular coverage solution for on-the-go applications. It features the latest proprietary 4th generation IntelliBoost chip to deliver channelised coverage for mobile network operator (MNO) signals. The ROAM R41 can be set up, powered on, and improve cellular signal within minutes. It also supports seamless operator switching through the intuitive Nextivity WAVE mobile app.
"The CEL-FI ROAM R41 is an important product for Nextivity, applying our latest enterprise-grade technology and expertise to the on-the-move mobile market. Rural residents, adventurers, and fleet managers will all benefit from the system's performance and easy-to-use design. So, whether you are embarking on a road trip through the Kalahari or streaming music on your weekend boating adventures on the Vaal, you can rest assured that you will remain connected," said Nextivity CCO Stephen Kowal.
CEL-FI ROAM R41 is available in South Africa through Duxbury Networking.
Further reading:
SA fleets face internal and external pressures
IoT & Automation Transport (Industry) Logistics (Industry)
Thousands of trucks clog South African border points and ports, causing shipping companies to levy congestion surcharges; fleet managers must enforce safety rules, develop comprehensive training programmes focusing on early warning systems and AI-powered technology
Read more...
---
A simple system for complex protection
Surveillance AI & Data Analytics IoT & Automation
Reconeyez is a company that provides autonomous wireless visual verification systems with built-in artificial intelligence. Running on batteries, each device includes communication capabilities, creating a mesh network between the various devices, linking them to the control room.
Read more...
---
Zero Trust in 2024
Mantis Security Integrated Solutions IoT & Automation
The rapid development of artificial intelligence (AI) applications and uses in 2024 will profoundly impact security operations and AI-driven analytics, which can enhance threat detection, anomaly identification and predictive maintenance.
Read more...
---
Regal fusses over Fluss
Regal Distributors SA IoT & Automation Smart Home Automation
When the team from Fluss brought their Bluetooth-enabled device to Regal's research team, they were hooked. Effortless in its simplicity, the Fluss device means no more losing remotes, endless waiting at the gate for visitors, scanning fingerprints, etc.
Read more...
---
Revolutionising networking technology for the future
Infrastructure IoT & Automation
[Sponsored] In the fast-evolving landscape of networking technology, RUCKUS Networks stands out as a trailblazer, offering innovative solutions that redefine connectivity experiences across various industries.
Read more...
---
Effective access control
Flow Systems Access Control & Identity Management Products & Solutions
Flow Systems has introduced its new Extra Heavy Duty Industrial Rising Vehicle Barrier, which provides a high level of protection. It is a traditional-looking control barrier with the benefits of high-level physical protection.
Read more...
---
Expanding cellular IoT applications in the SA energy sector
IoT & Automation Power Management
Cellular IoT is a way of connecting physical devices to the internet through cellular networks. This is not a new technology, but it has the potential to revolutionise the energy sector in the country.
Read more...
---
How finance services can help the IoT industry foster consumer trust
IoT & Automation
The Internet of Things (IoT) has risen across the tech industry and has become more prominent in our daily lives by connecting devices and enabling seamless automation. There are still, however, many significant challenges when it comes to building consumer trust.
Read more...
---
Simplify AARTO compliance for fleets
Guardian Eye IoT & Automation Asset Management Transport (Industry) Logistics (Industry)
While there are challenges around the management and implementation of the AARTO Amendment Act, there are also benefits that need to be understood today to ensure compliance and value tomorrow.
Read more...
---
SafeQuip introduces lithium fire extinguishers
Fire & Safety Products & Solutions
With the use of Lithium batteries increasing in many types of portable devices and battery storage solutions, SafeQuip, in partnership with AVD Lithex, is introducing a fire extinguisher aimed at suppressing and extinguishing, and also preventing re-ignition of lithium fires.
Read more...
---