printer friendly version
SA enterprises can benefit from AI-driven cybersecurity
Issue 7 2023 AI & Data Analytics, Information Security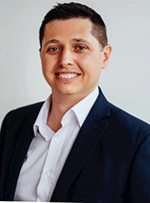 Steven Kenny.
South Africa leads the rest of Africa when it comes to cybercrime. In 2022, 230 million threats were detected in the country, surpassing Morocco in second place with 71 million. South Africa also had the highest targeted ransomware and business email compromise attempts and is home to the third-highest number of cybercrime victims worldwide at an annual cost of R2,2 billion.
Cybercrime is big business, and threat actors are deploying cutting-edge tools to carry out their attacks. Fortunately, cybersecurity is constantly evolving to meet the ever-changing needs of individuals and organisations, and to counter the threats they face.
Enterprises have access to and leverage cutting-edge solutions to reinforce their security resilience. Artificial intelligence (AI), something that is influencing all spheres of business activity, can help secure enterprises' growing attack surface area and identify and mitigate vulnerabilities without the need for additional human intervention. As with any business change, part of deploying AI-driven solutions is having a robust strategy in place, one that considers the long-term feasibility and requirements of those solutions.
Threats of escalating severity
For many threat actors, cybercrime is a business like any other. As a result, they are inclined to adopt the latest trends and use the latest technologies to carry out their attacks. The various features of AI and machine learning (ML) that enterprises are starting to explore are the same features criminals are misusing.
There are several examples of this. For instance, generative AI tools such as ChatGPT and Google's Bard can provide criminals with marketing messages for phishing emails. AI automation tools can create automated interactions with a large pool of potential victims. Algorithms trained on personal data can be used to build profiles of victims and prioritised lists, minimising the resources needed while increasing the accuracy of attacks.
The misuse of AI goes beyond straightforward phishing attempts using ChatGPT. AI-powered malware can leverage advanced techniques to evade detection by security software and use metamorphic mechanisms to change operations based on their environment. Consider DeepLocker, an AI-powered malware developed by IBM research as an experiment. It conceals its intent until it reaches a specific victim, potentially infecting millions of systems without detection. It is critical that enterprises stay one step ahead of malicious innovation like this, and they can do this by properly integrating AI-powered systems and countermeasures into their security strategies.
First responders
Having AI-enabled security systems requires an overhaul of organisations' inner security workings. In other words, given the technological, legal, and ethical implications of those systems, companies need to provide adequate training and education for their security teams and conduct due diligence with their respective IT suppliers and partners.
From there, the critical factor is data. AI programs can identify patterns, detect anomalies, and analyse vast amounts of data throughout an organisation's network and infrastructure. This applies to infrastructure regardless of its scope and circumstance. Case in point: AI can detect vulnerability in hybrid or remote environments where systems are decentralised. These programmes serve as the 'first responders' in countering any malicious activity, and they help organisations assume a more proactive, forward-looking risk posture.
AI is also a force for reducing organisations' security workloads. For example, AI-powered automated patching can track and patch important software in real time and minimise potential exposure to threat actors. Remember that businesses should not become over-reliant on these systems or leave them susceptible to data breaches. Organisations must implement solid policies and guidelines regarding data access, monitoring, and analytics to avoid this.
We need to embrace the future
According to Microsoft-IDC research, 39% of companies in South Africa plan to address security concerns by improving the automation of processes and integration of their technologies. This is a step in the right direction, but it is only the beginning for many organisations and their efforts to overhaul their security setups.
AI represents a turning point in how we approach security, among many other business functions. Its implementation may come with unanticipated consequences, but organisations must be prepared to adopt it, lest they fall behind their competitors or only see its value too far down the road.
Further reading:
Integrated transportation security
Guardian Eye AI & Data Analytics Integrated Solutions Logistics (Industry)
HG Travel installs an AI-powered camera system integrated across 115 vehicles throughout a fleet comprising 160 vehicles of different sizes, along with predictive and self-monitoring tools to track tyre condition, fuel consumption and theft, and overall vehicle maintenance.
Read more...
---
Embracing next-generation surveillance for safer cities
Surveillance Integrated Solutions AI & Data Analytics
With the South African government highlighting the importance of building smart cities by integrating advanced technologies to make them more resilient and liveable, the role of next-generation network video and surveillance technologies cannot be ignored.
Read more...
---
A simple system for complex protection
Surveillance AI & Data Analytics IoT & Automation
Reconeyez is a company that provides autonomous wireless visual verification systems with built-in artificial intelligence. Running on batteries, each device includes communication capabilities, creating a mesh network between the various devices, linking them to the control room.
Read more...
---
Lock down your access control with Alcatraz AI
C3 Shared Services Healthcare (Industry) Access Control & Identity Management AI & Data Analytics
Alcatraz AI, represented in South Africa by C3 Shared Services, changes access control by harnessing the power of artificial intelligence and analytics at the edge, where facial recognition becomes the essential credential autonomously.
Read more...
---
All aspects of data protection
Technews Publishing Editor's Choice Information Security Infrastructure AI & Data Analytics
SMART Security Solutions spoke to Kate Mollett, Senior Director, Commvault Africa, about the company and its evolution from a backup specialist to a full data protection specialist, as well as the latest announcements from the company.
Read more...
---
First telemedicine platform for South Africa
Guardian Eye Healthcare (Industry) AI & Data Analytics
South African employees often struggle to receive timely, affordable, and accessible healthcare. The challenge for many healthcare initiatives within organisations is the melting pot of cultures.
Read more...
---
Projections for 2024's Advanced Threats Landscape
News & Events Information Security
Kaspersky Global Research and Analysis Team (GReAT) experts offer insights and projections for 2024 in the Kaspersky Security Bulletin, with a focus on the evolution of Advanced Persistent Threats (APT).
Read more...
---
Data quality essential in training ChatGPT
AI & Data Analytics
Willem Conradie, CTO of PBT Group, reflects on the significant usage and adoption of ChatGPT, noting that the rise of ChatGPT has highlighted significant concerns, from biased outputs, question misinterpretation, inconsistent answers, lack of empathy, and security issues.
Read more...
---
SAP turns every developer into a generative AI developer
AI & Data Analytics
At the SAP TechEd event in 2023, SAP unveiled innovations in generative AI application development and vector database capabilities, as well as new learning opportunities for developers in the era of AI.
Read more...
---
Trellix detects collaboration by cybercriminals and nation states
News & Events Information Security
Trellix has released The CyberThreat Report: November 2023 from its Advanced Research Centre, highlighting new programming languages in malware development, adoption of malicious GenAI, and acceleration of geopolitical threat activity.
Read more...
---