printer friendly version
Protecting narrow areas in warehouse and logistics sites
Issue 7 2023 Facilities & Building Management, Transport (Industry), Logistics (Industry)
Logistics facilities, warehouses and distribution centres are critical to the supply chain and any company's business operation and assets. Any disruption can have enormous consequences, both functional and financial. Indeed, in September 2022, the Transported Asset Protection Association (TAPA) released its 18-month Cargo Crime Report, which highlighted thefts or attempted thefts of products from supply chains valued at more than €171 million during the period across Europe, the Middle East and Africa (EMEA) regions.
Security can play a critical role when it comes to keeping loading bay and warehouse operations running smoothly, maintaining production levels, and avoiding unnecessary and costly downtime. An effective security system is paramount to protect against threats from unauthorised entry and theft of goods and assets, but also criminal activity targeted to loaded vehicles or vandalism to the site. For the system to be effective, it is crucial to consider and assess all areas, all possible intrusion points, as well as all possible threats. It also needs to suit the needs and requirements of your site and environment. There is not a one-size-fits-all solution that will work for everyone.
The TAPA's annual cargo theft report for 2022, co-authored with the BSI and TT club, highlighted a growing increase in cargo of basic goods such as food and beverages. The report also highlights that although criminals continue to target the trucks themselves, an increasing number are targeting fuel theft, with diesel remaining a top target. Trucks and other vehicles parked close to the perimeter line at industrial and logistics sites represent one of the main challenges for intruder detection technologies. Security systems that rely on analytics cameras face the issue of slow reaction time and visual occlusions. 2D LiDAR sensors are the optimal alternative to effectively and consistently solve this problem and have been successfully deployed across various logistics sites to provide the solution.
Protecting narrow corridors
Several technologies struggle to adequately protect narrow corridors for several reasons. The first challenge in these areas is the short distance, sometimes just a couple of metres, and with occlusions that could block the field of view.
If a target is moving fast and entering/exiting the detection area in seconds, many sensors and camera analytics would not have enough time to classify objects. Therefore, no alarm would be triggered.
To solve this issue and prevent missing genuine threats, one common approach is to set very high sensitivity in the detection devices. The problem this then generates is the triggering of nuisance alarms by any moving objects; in a rural site, for instance, rabbits, foxes and other small wildlife crossing the detection area could generate a very high level of false alarms.
A further challenge in narrow areas is occlusions or blockages, usually vegetation or building structures, that provide a hiding place for the intruder and reduce the detection field of view. To address this and avoid all blind spots can require the installation of multiple devices and technologies, which can be hugely costly.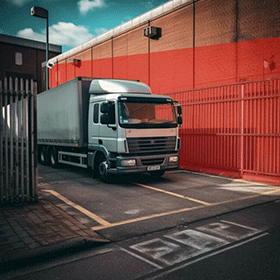 Solving the challenge with LiDAR
The OPTEX 2D REDSCAN LiDAR technology can be mounted vertically, angled or horizontally, providing extremely accurate and ultra-fast detection in just 100 milliseconds, significantly faster than similar technologies, such as radar and video analytics.
To protect the perimeter line effectively, even in challenging narrow spaces, REDSCAN sensors can be mounted on a pole by the perimeter line and generate a vertical or angled laser wall to detect any attempts of crossing through. In a fenced perimeter, it creates an additional security layer. In an open perimeter, it generates a virtual perimeter wall to ensure no vulnerable gaps and provides early alerts of any intrusions. Different zones can be defined within the LiDAR detection area with an accuracy of up to 20x20 cm according to the environment. They can be customised to protect specific spaces while masking false alarm sources.
The classification criteria can be configured for each zone, for instance, on target size, distance from the ground and time of exposure to the laser, and it is therefore easy to ignore moving vegetation and wildlife, which could be a significant cause of false alarms for other technologies.
The intelligence of REDSCAN sensors is such that it allows not only the detection of intruders, but also classifies the targets that meet the specific criteria. This means that the sensors can alert the system of genuine intrusions almost in real-time, enabling a swift security response, whether it is deterrent events such as security lighting or audio alerts, or dispatching security guards.
Where there are occlusions, a further advantage of REDSCAN is that it helps remove the need to use additional sensors to cover blind spots. When installed vertically, LiDAR sensors can detect objects right below and on both sides. The entire REDSCAN range is integrated with all major VMS platforms, allowing operators to understand the situation.
For more information, contact sales-sa@optex-europe.com, www.optex-europe.com
Credit(s)
Further reading:
SA fleets face internal and external pressures
IoT & Automation Transport (Industry) Logistics (Industry)
Thousands of trucks clog South African border points and ports, causing shipping companies to levy congestion surcharges; fleet managers must enforce safety rules, develop comprehensive training programmes focusing on early warning systems and AI-powered technology
Read more...
---
Integrated transportation security
Guardian Eye AI & Data Analytics Integrated Solutions Logistics (Industry)
HG Travel installs an AI-powered camera system integrated across 115 vehicles throughout a fleet comprising 160 vehicles of different sizes, along with predictive and self-monitoring tools to track tyre condition, fuel consumption and theft, and overall vehicle maintenance.
Read more...
---
FM Expo highlights industry trends and challenges
Securex South Africa News & Events Facilities & Building Management
Keeping tabs on what is happening within the building/facilities management arena can be frustrating, however, a quick way to find out what current trends, challenges, and solutions are available can be found at the Facilities Management Expo.
Read more...
---
Protect remote sites with volumetric thermal detectors
OPTEX Perimeter Security, Alarms & Intruder Detection
Remote sites have always been more vulnerable to opportunistic intrusion, but over the last two years in particular, sites such as solar farms or industrial parks have become more common targets for criminals.
Read more...
---
Simplify AARTO compliance for fleets
Guardian Eye IoT & Automation Asset Management Transport (Industry) Logistics (Industry)
While there are challenges around the management and implementation of the AARTO Amendment Act, there are also benefits that need to be understood today to ensure compliance and value tomorrow.
Read more...
---
From damage management to false alarm prevention
Dallmeier Electronic Southern Africa Transport (Industry) Surveillance Logistics (Industry)
Video surveillance is undergoing an exciting evolution; today's IP-based solutions can be fully integrated into digital systems. With the increasing integration of artificial intelligence (AI); logistics, in particular, can make processes more transparent and exploit previously untapped potential.
Read more...
---
Modern warehouses come with added fire risk
Fire & Safety Transport (Industry)
Along with increased investments in modern warehousing in Africa, there is also a need to focus on protecting warehouses from crime, however, fire can arguably be a greater danger to business continuity.
Read more...
---
Logistics operators stand up to safety challenges
Logistics (Industry) Asset Management Transport (Industry)
The second annual Webfleet Road Safety Report for 2023 outlines common safety factors, challenges and solutions that South African transport operators face; deteriorating roads, poor vehicle maintenance, congestion and driver fatigue are common challenges.
Read more...
---
Unlocking efficiency and convenience
OPTEX Access Control & Identity Management
The OVS-02GT vehicle detection sensor is the newest member of OPTEX's vehicle sensor range, also known as 'virtual loop', and offers reliable motion detection of cars, trucks, vans, and other motorised vehicles using microwave technology.
Read more...
---
Securing road transport across Africa
Technews Publishing Editor's Choice Asset Management Transport (Industry) Logistics (Industry) Risk Management & Resilience
SMART Security Solutions spoke to Filipe de Almeida, the Portugal & Spain Regional TAPA EMEA Lead, and Massimo Carelle, the TAPA EMEA Africa Region Lead, about securing transport and logistics in hostile environments.
Read more...
---