printer friendly version
Commvault appoints Graham Brown as Channel Manager for South Africa/SADC
Issue 6 2023 News & Events, Infrastructure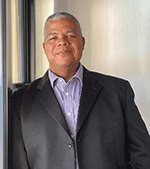 Graham Brown.
Commvault announced the appointment of industry veteran Graham Brown as Channel Manager for the South Africa/South African Development Community (SADC) region.
With close to three decades of experience in the IT industry, Brown returns to Commvault to take up the role, having previously joined the company in 2019 as an Enterprise Account Manager for the financial services sector.
"Earlier this year, I decided to explore different avenues in the database and application space. Having been involved in data protection and data management for such a long time, and with it being a career passion of mine, this is what led me back to Commvault," says Brown.
He points out that he is rejoining Commvault at a pivotal time in its history as the hybrid world is evolving rapidly. The combination of artificial intelligence, together with the evolution and disparity of workloads and the adoption of cloud computing, is presenting customers and partners with new challenges.
"Against the backdrop of cyber resiliency, cybersecurity, ransomware and data protection, data management as a discipline and as a function almost becomes that much more difficult to achieve," says Brown. "Commvault has been one of those organisations that has managed to reinvent itself over and over again as the data management landscape has evolved. Commvault has been able to reposition itself, reinvent, and find new innovative ways of doing data management."
He notes that significant opportunities still exist for Commvault's channel management strategy in the South African and SADC markets, as there is still a significant amount of potential for growth in the region.
"If you look at us as an emerging market, some of the market drivers present here provide us with so many opportunities to make a difference. Obviously, there is the energy crisis which calls for energy solutions and sustainability in terms of the need to go green," he says.
"Additionally, there is datafication and artificial intelligence, which are revolutionising what we do on a daily basis. So, it is indeed a very interesting time for the IT sector, and cybersecurity and data protection will likely be tested quite heavily in the South African market."
Solving complexities
"This," he says, "coupled with the rise of cloud platforms and as-a-service models, is inclined to offer up many opportunities for Commvault and its channel partners. However, these opportunities are likely to extend beyond the supply of software, Software-as-a-Service, or even hardware technology from Commvault, but also to the skills and services that are complementary to solving these complexities."
As the newly appointed Channel Manager, Brown says that one of his main goals will be to awaken some of the 'sleeping giants' within Commvault's channel ecosystem.
"There is untapped potential that is waiting to be activated. When there is a mutual alignment and big emphasis on trust in terms of what partners in the region are aiming for, and there is agreement on what defines success for the partnership for both Commvault and for a reseller; only then will the recipe begin to come together."
Further reading:
Pentagon appointed as Milestone distributor
Elvey Security Technologies News & Events Surveillance
Milestone Systems appointed Pentagon Distribution (an Elvey Group company within the Hudaco Group of Companies) as a distributor. XProtect's open architecture means no lock-in and the ability to customise the connected video solution that will accomplish the job.
Read more...
---
Re-introduction of the booking system
PSiRA (Private Security Ind. Regulatory Authority) News & Events
[Sponsored] PSiRA is reintroducing the booking system for branch visits. Effective Monday, 4 December 2023, clients will be required to book a slot to visit any PSiRA branch.
Read more...
---
From the editor's desk: A sad but exciting goodbye
Technews Publishing News & Events
Welcome to the final monthly issue of SMART Security Solutions. This is the last issue of the year and the last monthly issue we will print. The SMART Security Solutions team wishes all our readers and advertisers a relaxing festive season and a peaceful and prosperous 2024.
Read more...
---
Regal celebrates successful golf day
Regal Distributors SA News & Events
Regal Distributors held its first official Regal Golf Day on 18 October at the Glendower Golf Course in Johannesburg. SMART Security Solutions was there on a hot summer's day to meet many players and sponsors around the course.
Read more...
---
Gallagher Security releases Command Centre v9
Gallagher News & Events Access Control & Identity Management Integrated Solutions
Richer features, greater integrations, with the release of Gallagher Security's Command Centre v9 security site management software designed to integrate seamlessly with various systems and hardware.
Read more...
---
Regal launches direct-to-branch WhatsApp communication
Regal Distributors SA News & Events
With a quick scan of a QR code and a few taps on your phone, installers, integrators, technicians or even end-users can chat directly with the team at their preferred Regal branch via WhatsApp
Read more...
---
FM Expo highlights industry trends and challenges
Securex South Africa News & Events Facilities & Building Management
Keeping tabs on what is happening within the building/facilities management arena can be frustrating, however, a quick way to find out what current trends, challenges, and solutions are available can be found at the Facilities Management Expo.
Read more...
---
All aspects of data protection
Technews Publishing Editor's Choice Information Security Infrastructure AI & Data Analytics
SMART Security Solutions spoke to Kate Mollett, Senior Director, Commvault Africa, about the company and its evolution from a backup specialist to a full data protection specialist, as well as the latest announcements from the company.
Read more...
---
South Africa shows a 1200% increase in deepfake fraud
News & Events Risk Management & Resilience
Sumsub released its third annual Identity Fraud Report of the year, analysing identity fraud across industries and regions based on millions of verification checks across 28 industries and over 2 million fraud cases.
Read more...
---
Projections for 2024's Advanced Threats Landscape
News & Events Information Security
Kaspersky Global Research and Analysis Team (GReAT) experts offer insights and projections for 2024 in the Kaspersky Security Bulletin, with a focus on the evolution of Advanced Persistent Threats (APT).
Read more...
---