printer friendly version
SafeQuip introduces lithium fire extinguishers
Issue 7 2023 Fire & Safety, Products & Solutions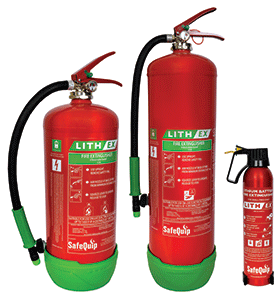 SafeQuip is introducing a lithium fire extinguisher solution poised to revolutionise fire safety in the country. With the use of Lithium batteries increasing in many types of portable devices and battery storage solutions, lithium battery fires have emerged as a hot topic worldwide.
South Africa, as it progresses toward greener energy solutions and increased off-grid power system installations, is not immune to these challenges. Stakeholders, including insurance providers and fire departments, are now taking proactive measures to address the rising risks of lithium fires.
"With no fire class structure in place globally for lithium batteries and due to the severe risk that thermal runaway of lithium batteries pose, risk mitigation and utilising the tools available to effectively combat these fires is being discussed and documented across all sectors globally. As more knowledge is shared, and standards and protocols are being developed, it is important to verify and test a products' ability to effectively combat, suppress and prevent re-ignition of lithium battery fires," says Pierre Malherbe, managing director of SafeQuip.
Currently many products are being developed and marketed, but it is still important that each new product has been correctly certified and verified according to the local regulations, standards, and test protocols. As part of this verification, it is important to test, not only the effectiveness towards suppression and extinguishing, but also the prevention of re-ignition. Independent testing has shown that although many products can suppress/extinguish a lithium fire, they are not always effective in preventing re-ignition and this can happen after minutes, hours or even days if the agent is not fully effective.
Partnership addresses lithium risks
Malherbe explains that SafeQuip, in partnership with AVD Lithex, has undertaken a remarkable journey over the past three years to address this critical issue.
This journey involved advocating for amendments to the SANS 1910 standard, enabling the use of water-based extinguishing agents – a milestone achieved when the revised standard was published in November 2022.
Subsequently, SafeQuip submitted product samples to BSI and worked diligently toward certification for the last eight months. While the certification process is inherently challenging, the company anticipates its completion by November 2023. Upon certification, SafeQuip will offer the only SANS 1910-approved fire extinguisher with lithium fire extinguishing capabilities in South Africa.
It is noteworthy that AVD Lithex holds approvals in several international countries and carries prestigious certifications, including BSI, CE mark, EN 3.7 approval, Apergaz module B approval, NTA 8133 KIWA test, and ongoing tests with UL. This positions SafeQuip's product as inherently compliant with the PER requirements in South Africa as safe equipment. Based on vermiculate, the patented technology distinguishes SafeQuip's product from others in the market. It boasts three critical features in combatting Lithium fires: cooling and encapsulation, preventing propagation, and re-ignition prevention.
While various products, such as water mist and gel-based mediums, claim to suppress fires effectively, the ultimate test lies in the prevention of re-ignition. SafeQuip's product has met this stringent criterion, having successfully passed the KIWA test, recognised internationally as a key indicator of reignition prevention.
Fire blanket withstands 1000°C
AVD Lithex has extended its technology to fire blankets, creating a versatile blanket capable of withstanding temperatures above 1000°C, a valuable tool for containing fires until they self-extinguish.
The South African Qualification and Certification Committee (SAQCC) rightly asserts that currently, no lithium fire extinguisher in South Africa complies with SANS 1910 nor should be serviced. However, SafeQuip is pioneering the way to deliver a SANS 1910-approved fire extinguisher with lithium fire extinguishing capabilities, a groundbreaking development for the South African market.
SafeQuip and AVD Lithex are committed to advancing fire safety standards in South Africa and globally, ensuring that the risk of lithium fires is effectively mitigated.
For more information go to www.safequip.co.za
Further reading:
Effective access control
Flow Systems Access Control & Identity Management Products & Solutions
Flow Systems has introduced its new Extra Heavy Duty Industrial Rising Vehicle Barrier, which provides a high level of protection. It is a traditional-looking control barrier with the benefits of high-level physical protection.
Read more...
---
Different types of fires
Fire & Safety
Fire is a powerful force of nature; according to SafeQuip, a distributor of fire-related equipment; understanding the different types of fires and how to combat them is essential for safety and protection.
Read more...
---
Modern warehouses come with added fire risk
Fire & Safety Transport (Industry)
Along with increased investments in modern warehousing in Africa, there is also a need to focus on protecting warehouses from crime, however, fire can arguably be a greater danger to business continuity.
Read more...
---
New generation of cyber-focused controllers
Gallagher News & Events Access Control & Identity Management Products & Solutions
The C7000 gives users an opportunity to leverage their hardware and firmware to build a platform designed to catapult their organisation into the future, with cybersecurity baked in from inception.
Read more...
---
Nextivity CEL-FI ROAM R41 boosts your cell signal
IoT & Automation Products & Solutions
Designed for cars, trucks, and boats, it is the industry's most powerful cellular coverage solution for on-the-go applications. It features the 4th generation IntelliBoost chip to deliver channelised coverage for mobile network operator (MNO) signals.
Read more...
---
How to prevent solar inverter short-circuits and fires
Fire & Safety
With many South Africans installing inverters as part of solar power systems to mitigate the impact of load shedding in homes and at businesses, users need to be aware of the potential fire risks.
Read more...
---
Olarm advances smart security with Texecom integration
Olarm News & Events Perimeter Security, Alarms & Intruder Detection Products & Solutions
Following Olarm's achievement as the OSPA 2023 winner of 'Outstanding Security Integrator', it has taken another significant step in its innovation journey with the announcement of its integration with Texecom Premier Elite.
Read more...
---
Enhanced security at Xanadu Nature Estate
Turnstar Systems Access Control & Identity Management Products & Solutions
Turnstar Systems recently installed two bicycle turnstiles at the 240-hectare Xanadu Nature Estate, set in the Magaliesberg, the perfect location for secure communal living catering to the lifestyle of residents.
Read more...
---
BMS for smaller businesses
Security Services & Risk Management Products & Solutions Risk Management & Resilience
Small businesses can also benefit from tailored energy management solutions just like large corporations. Effective energy management is essential for more sustainable and efficient operations.
Read more...
---
Mobile access to multiple locations
Suprema Access Control & Identity Management Products & Solutions
A central security network was used to link multiple sites across VPN connections to allow the Suprema CoreStations installed at various locations to talk to the remote server.
Read more...
---