printer friendly version
HDR multi-camera solution for autonomous mobility
Issue 6 2023 IoT & Automation, Integrated Solutions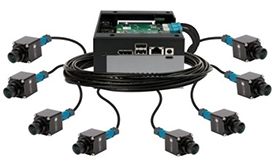 e-con Systems has launched the STURDeCAM31, a 3 MP GMSL2 HDR IP69K camera powered by a Sony ISX031 sensor for NVIDIA Jetson AGX Orin. Designed for automotive grade, this small form factor camera has been engineered to make autonomous mobility safer by ensuring reliable and superior imaging quality even in challenging outdoor lighting conditions.
Leveraging Sony ISX031's sub-pixel HDR technology, STURDeCAM31 has been fine-tuned to provide HDR performance of up to 120 dB and LFM, thereby providing a solution for capturing dynamic scenes without motion blur. With the GMSL2 interface, this rugged camera meets IP69K standards, ensuring durability and protection against dust, water, high temperature, high pressure, heavy vibration and shock.
e-con Systems' STURDeCAM31 is compatible with the NVIDIA Jetson AGX Orin system on modules, offering synchronised multi-camera solutions that can support up to eight cameras through the GMSL2 interface. This powerful combination of STURDeCAM31 and NVIDIA Jetson Orin platform for edge AI and robotics is a game changer in the autonomous mobility industry, especially for ADAS, delivery robots, autonomous agriculture vehicles, etc.
"In a rapidly evolving market with surging demand for autonomous mobility in challenging outdoor lighting conditions, whether it be robotics or automotive vehicles, STURDeCAM31 emerges as the perfect fit. Through its superior HDR and LFM capabilities, we are transforming mobility and enhancing global safety. Our IP69K-rated cameras set a new benchmark for reliability, ruggedness, and performance, effortlessly enduring the rigours of high vibrations, shocks, dust, and water environments. In collaboration with NVIDIA, we stand at the forefront of pioneering a safer future through cutting-edge imaging technology," said Gomathi Sankar, Business Unit Head-Industrial Cameras at e-con Systems.
Key features
• 120 dB HDR: Leveraging sub-pixel HDR technology, it enables HDR performance of up to 120 dB and LFM, eradicating motion blur and the occurrence of underexposed or overexposed images.
• Synchronised multi-camera support: It can connect up to eight cameras to the NVIDIA Jetson AGX Orin platform using GMSL2 interface.
• Designed for automotive standards: It withstands harsh environmental conditions, protecting against dust, water, high pressure, high temperature, vibration and shock.
• GMSL link monitoring: It ensures the safety and reliability of data transmission over the GMSL, preventing system failures and enabling timely diagnostics for enhanced security in applications.
For more information, go to www.e-consystems.com
Further reading:
SA fleets face internal and external pressures
IoT & Automation Transport (Industry) Logistics (Industry)
Thousands of trucks clog South African border points and ports, causing shipping companies to levy congestion surcharges; fleet managers must enforce safety rules, develop comprehensive training programmes focusing on early warning systems and AI-powered technology
Read more...
---
Integrated transportation security
Guardian Eye AI & Data Analytics Integrated Solutions Logistics (Industry)
HG Travel installs an AI-powered camera system integrated across 115 vehicles throughout a fleet comprising 160 vehicles of different sizes, along with predictive and self-monitoring tools to track tyre condition, fuel consumption and theft, and overall vehicle maintenance.
Read more...
---
Embracing next-generation surveillance for safer cities
Surveillance Integrated Solutions AI & Data Analytics
With the South African government highlighting the importance of building smart cities by integrating advanced technologies to make them more resilient and liveable, the role of next-generation network video and surveillance technologies cannot be ignored.
Read more...
---
Gallagher Security releases Command Centre v9
Gallagher News & Events Access Control & Identity Management Integrated Solutions
Richer features, greater integrations, with the release of Gallagher Security's Command Centre v9 security site management software designed to integrate seamlessly with various systems and hardware.
Read more...
---
A simple system for complex protection
Surveillance AI & Data Analytics IoT & Automation
Reconeyez is a company that provides autonomous wireless visual verification systems with built-in artificial intelligence. Running on batteries, each device includes communication capabilities, creating a mesh network between the various devices, linking them to the control room.
Read more...
---
Zero Trust in 2024
Mantis Security Integrated Solutions IoT & Automation
The rapid development of artificial intelligence (AI) applications and uses in 2024 will profoundly impact security operations and AI-driven analytics, which can enhance threat detection, anomaly identification and predictive maintenance.
Read more...
---
Integrating farming and security solutions for productivity
Security BIS Agriculture (Industry) Integrated Solutions
Security challenges are a harsh reality in South Africa, particularly for those in remote areas. Sadly, recurring rural crimes like farm attacks and livestock theft are part of the farming community's lives.
Read more...
---
Regal fusses over Fluss
Regal Distributors SA IoT & Automation Smart Home Automation
When the team from Fluss brought their Bluetooth-enabled device to Regal's research team, they were hooked. Effortless in its simplicity, the Fluss device means no more losing remotes, endless waiting at the gate for visitors, scanning fingerprints, etc.
Read more...
---
Revolutionising networking technology for the future
Infrastructure IoT & Automation
[Sponsored] In the fast-evolving landscape of networking technology, RUCKUS Networks stands out as a trailblazer, offering innovative solutions that redefine connectivity experiences across various industries.
Read more...
---
Expanding cellular IoT applications in the SA energy sector
IoT & Automation Power Management
Cellular IoT is a way of connecting physical devices to the internet through cellular networks. This is not a new technology, but it has the potential to revolutionise the energy sector in the country.
Read more...
---