printer friendly version
Going beyond the gate
SMART Estate Security 2023
Residential Estate (Industry)
More people are electing to live in residential developments where security is a key feature, including 24-hour controlled gates, CCTV surveillance, access control, visitor management, patrol guards, and electric fences.
Better security is often cited as the main reason for moving into a secure residential development and this can be attributed to the high rate of crime in South Africa. However, this is not the only reason that these developments are rising in popularity.
Suprema BioEntry Series.
From micro-apartments to gated residential estates such as retirement villages, wildlife and eco estates, lifestyle, golf and even farm estates, what is growing in popularity are the host of benefits that make living in these developments more convenient and entertaining.
With this comes the task of managing access to these facilities, which can include waterparks, laundries, squash courts, gyms and golf courses, to name a few. It requires a system that is convenient, easy to use and secure, with little-to-no training required by users.
Restricting access to the facilities available to residents may have been a daunting task in the past, with registers, keys, tokens, and other manual procedures, and on top of that PoPIA, but with technology in the hands of most people 90% of the time, this is no longer the case.
Access via smartphone
Smartphones have opened the door to so many possibilities, and utilising these in your access and visitor management system, not only as a platform from which to access an app, but also as a form of identity, is now a reality.
Suprema has a wide range of access terminals to choose from that support mobile access (NFC and/or BLE), which allows you to use your own smartphone as a key to access doors, facilities, and more. You do not need to carry an access card with you. Just tap your smartphone on the reader. This also resolves the issue of lost/stolen cards and the cost implications associated with this. Suprema offers various multi-modal terminals that also feature biometric face and/or fingerprint readers for added security.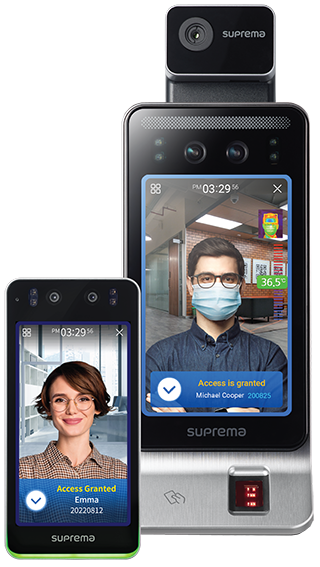 Suprema FaceStation.
Some estates include areas with hospitals, schools and restaurants, which are open to non-residents and that will benefit from a visitor management system.
Specifically developed for Suprema terminals, i-Visit visitor management solution provides the conventional features required for visitor management, giving residents the complete capability of managing their visitor access with functions including planning visits, configuring the validity of the access pin, QR or biometrics, and the type of visitor it may be.
Well suited to residential estates, Suprema's in/outdoor range, with mobile access support, provides exceptional durability and superior performance in extreme conditions.
Suprema's latest addition to the outdoor family is BioStation 3. This face recognition terminal is not only IP65 rated, ensuring its resistance to water and dust, but it is also equipped with IK-06 vandal resistance. With multiple contactless credential options, including face, mobile access, QR and barcode, and RFID, the BioStation 3 is versatile and reliable. FaceStation F2 provides another IP65-rated face recognition option for hands-free, hygienic access. For those preferring multi-modal for greater security or flexibility, the F2 also offers an option for fingerprint.
A range of options
BioStation 2, BioLite N2, and BioEntry W2 provide card, PIN and finger authentication, and Xpass 2, Xpass S2 and Xpass D2 operate with card/PIN only. These devices offer outstanding outdoor performance thanks to their IP65-rated protection, meticulous sealing, and additional protective engineering, with BioEntry W2, Xpass 2 and Xpass D2 also featuring IK-08 vandal resistance over and above this.
For estate managers and system administrators, Suprema's open web-based security management platform, BioStar2, is the perfect tool. With a detailed dashboard providing quick insights into any system anomalies and a real-time event monitoring tab recording all access point events, managers can easily stay on top of security. Rest assured, all sensitive data is encrypted and managed in compliance with GDPR/PoPIA regulations.
Furthermore, BioStar2 offers a visitor management module, alarm notifications, remote access and monitoring, as well as a video module for seamless integration of surveillance systems and access control.
Suprema terminals are also seamlessly integrated into many leading enterprise access control platforms, such as Gallagher, Impro, Paxton, Genetec and many more, providing a versatile and comprehensive security solution.
Credit(s)
Further reading:
Securing easy access
Suprema neaMetrics Access Control & Identity Management
Securing access to hospitals and healthcare institutions presents a unique set of challenges, because these facilities operate 24/7, have highly 'open' access in public areas and require a strict level of security.
Read more...
---
New T&A terminal features revolutionary AI technology
Suprema News & Events Access Control & Identity Management AI & Data Analytics
Suprema has launched BioStation 2a, the world's first deep learning-based fingerprint recognition solution, providing powerful access control features and an improved ability to extract templates from low-quality fingerprints.
Read more...
---
Access to data centre secured
Suprema Access Control & Identity Management Infrastructure
GBM required a modern access control system to increase the security of its facilities in a productive environment without affecting the operation of the offices and the data centre, which are carried out 24/7/365.
Read more...
---
Reliable access management for famous film location
Paxton Access Control & Identity Management Residential Estate (Industry)
The Royal Connaught Park features a private swimming pool, health and fitness suite, outdoor tennis court and onsite parking, with over 100 residents coming and going every day.
Read more...
---
Ring announces second generation indoor camera
Smart Home Automation Surveillance Residential Estate (Industry)
Introducing a removable manual privacy cover, Ring's latest indoor camera provides customers with increased privacy, control and peace of mind when it comes to home security.
Read more...
---
Mobile access to multiple locations
Suprema Access Control & Identity Management Products & Solutions
A central security network was used to link multiple sites across VPN connections to allow the Suprema CoreStations installed at various locations to talk to the remote server.
Read more...
---
Securing a luxurious estate
Access Control & Identity Management Residential Estate (Industry) Products & Solutions
Turnstar Systems recently partnered with Balwin Munyaka Residential Estate to secure the entrance to its Crystal Lagoon, ensuring only authorised residents and guests can access the site.
Read more...
---
Body-worn evidence
Technews Publishing Forbatt SA Betatrac Telematic Solutions Secutel Technologies Surveillance Residential Estate (Industry) Products & Solutions
Body-worn cameras are no longer just a good idea or a luxury item; in fact, they are gaining popularity and finding use in various situations, one of these being in residential estates.
Read more...
---
Integrating control rooms and response
WatchManager Integrated Solutions Residential Estate (Industry)
Control rooms have become a standard in large estates, and remote control rooms are finding a home even in smaller estates due to cost efficiencies and the increasing reliability of analytics and artificial intelligence.
Read more...
---
The difference between a SOP and a SOP
Residential Estate (Industry) Integrated Solutions Security Services & Risk Management Risk Management & Resilience
SOPs are a touchy issue that need careful attention and automation to ensure they deliver the desired security results. Beyond design and automation, implementation is the ultimate road to success.
Read more...
---