printer friendly version
Automated ransomware recovery
Issue 6 2023 Products & Solutions, Information Security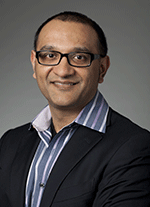 Jeetu Patel.
Cisco is enhancing its Extended Detection and Response (XDR) solution. By adding recovery to the response process, Cisco XDR is redefining what customers should expect from security products. Today's announcement brings near real-time recovery for business operations after a ransomware attack.
Cisco continues to drive momentum towards its vision of the Cisco Security Cloud—a unified, AI-driven, cross-domain security platform. With the launch of Cisco XDR at the RSA Conference this year, Cisco delivered deep telemetry and unmatched visibility across the network and endpoints. Now, by reducing the crucial time between the beginnings of a ransomware outbreak and capturing a snapshot of business-critical information to near-zero, Cisco XDR will further support that vision, while enabling new levels of business continuity.
"The exponential growth of ransomware and cyber extortion has made a platform approach crucial to effectively counter adversaries. Our objective is to build a resilient and open cybersecurity platform that can withstand ransomware assaults and recover with minimal impact, ensuring uninterrupted business operations," said Jeetu Patel, Executive Vice President and General Manager of Security and Collaboration at Cisco. "As a global infrastructure provider that built the network, Cisco is redefining what a security product should deliver. Our innovations with automated ransomware recovery are a significant step towards achieving truly unified detection and response data, turning security insights into action."
During the second quarter of 2023, the Cisco Talos Incident Response (IR) team responded to the highest number of ransomware engagements in more than a year. With the new capabilities in Cisco XDR, Security Operations Centre (SOC) teams will be able to automatically detect, snapshot, and restore the business-critical data at the very first signs of a ransomware attack, often before it moves laterally through the network to reach high-value assets.
Cisco is expanding its initially released, extensive set of third-party XDR integrations to include leading infrastructure and enterprise data backup and recovery vendors. Today, Cisco is excited to announce the first integration of this kind with Cohesity's DataProtect and DataHawk solutions.
"Cybersecurity is a board-level concern, and every CIO and CISO is under pressure to reduce risks posed by threat actors. To this end, Cisco and Cohesity have partnered to help enterprises around the world strengthen their cyber resilience," said Sanjay Poonen, CEO and President, Cohesity. "Our first-of-its-kind proactive response is a key piece of our data security and management vision, and we are excited to bring these capabilities to market first with Cisco."
Further reading:
Hik-Connect for Teams released
Hikvision South Africa Products & Solutions Surveillance
Hikvision has released an update for its security management platform; Hik-Connect for Teams not only meets the specific needs of individual users, but also caters to various medium-sized businesses (SMBs) and multi-site management scenarios.
Read more...
---
Revolutionise your security with integrated solutions
Secutel Technologies Products & Solutions Surveillance
By merging the capabilities of SecuVue and Secutraq, Secutel has forged a robust system empowering users to fine-tune analytics and harness facial recognition, pose detection, and XFS, among other features.
Read more...
---
All aspects of data protection
Technews Publishing Editor's Choice Information Security Infrastructure AI & Data Analytics
SMART Security Solutions spoke to Kate Mollett, Senior Director, Commvault Africa, about the company and its evolution from a backup specialist to a full data protection specialist, as well as the latest announcements from the company.
Read more...
---
Projections for 2024's Advanced Threats Landscape
News & Events Information Security
Kaspersky Global Research and Analysis Team (GReAT) experts offer insights and projections for 2024 in the Kaspersky Security Bulletin, with a focus on the evolution of Advanced Persistent Threats (APT).
Read more...
---
Effective access control
Flow Systems Access Control & Identity Management Products & Solutions
Flow Systems has introduced its new Extra Heavy Duty Industrial Rising Vehicle Barrier, which provides a high level of protection. It is a traditional-looking control barrier with the benefits of high-level physical protection.
Read more...
---
Trellix detects collaboration by cybercriminals and nation states
News & Events Information Security
Trellix has released The CyberThreat Report: November 2023 from its Advanced Research Centre, highlighting new programming languages in malware development, adoption of malicious GenAI, and acceleration of geopolitical threat activity.
Read more...
---
SafeQuip introduces lithium fire extinguishers
Fire & Safety Products & Solutions
With the use of Lithium batteries increasing in many types of portable devices and battery storage solutions, SafeQuip, in partnership with AVD Lithex, is introducing a fire extinguisher aimed at suppressing and extinguishing, and also preventing re-ignition of lithium fires.
Read more...
---
New generation of cyber-focused controllers
Gallagher News & Events Access Control & Identity Management Products & Solutions
The C7000 gives users an opportunity to leverage their hardware and firmware to build a platform designed to catapult their organisation into the future, with cybersecurity baked in from inception.
Read more...
---
SA enterprises can benefit from AI-driven cybersecurity
AI & Data Analytics Information Security
Cybercrime is big business, and threat actors deploy cutting-edge tools to carry out attacks. Fortunately, cybersecurity is constantly evolving to meet and counter the threats they face.
Read more...
---
Nextivity CEL-FI ROAM R41 boosts your cell signal
IoT & Automation Products & Solutions
Designed for cars, trucks, and boats, it is the industry's most powerful cellular coverage solution for on-the-go applications. It features the 4th generation IntelliBoost chip to deliver channelised coverage for mobile network operator (MNO) signals.
Read more...
---