printer friendly version
Stadium security with Panomera
Issue 6 2023 Editor's Choice, Surveillance, Integrated Solutions, Entertainment and Hospitality (Industry)
The Alsancak Mustafa DenizIi Stadium in Izmir – named after former Turkish football player and current football coach Mustafa Denizli – is a multipurpose stadium that mainly hosts football matches. With over 15 000 seats, it is one of the medium sized stadiums in Turkey. Originally built in 1929, it was demolished in 2015 and reopened after reconstruction in November 2021.
Up to 15 % fewer spectators due to riots
In Turkey, stadiums are usually owned by the Ministry of Sport, which then grants the rights of use to an operator. In the case of the Alsancak stadium, the operator is Altay Izmir, an Izmir-based football club that currently plays in Turkey's top professional league. The club, like so many other football stadiums, has had its fair share of repeated incidents and threats to spectators and players. These have included verbal abuse and even the throwing of objects onto the pitch. In addition to the intangible damage to the image, the consequences have been painful, ranging from traditional fines to the closure of an entire block of spectators – a loss of 1000 to 2000 spectators per home game, and that on a regular basis.
Recognising perpetrators?
Under these conditions, the operators were looking for a solution that would allow them to detect and track potential offenders reliably. The tender specified a minimum resolution density of 144 pixels per metre (px/m), which is also required by law. This means that there must be at least 144 pixels in the camera image to represent every metre of reality in the stands. This value is between the recognition (125 px/m) and identification (250 px/m) qualities specified in the IEC EN 62676-4 standard for video surveillance systems.
Only ten cameras to monitor the stands
To find the most suitable solution for the Alsancak Stadium, the Ministry of Sports decided to invite various manufacturers to a comparative test. After receiving the proofs of concept (PoC) of several companies, the owner chose a solution from the German manufacturer Dallmeier Electronic. In addition to around 140 single-sensor cameras for corridors, outdoor areas and entrances, only ten Panomera multifocal sensor systems are required for the particularly critical grandstand surveillance.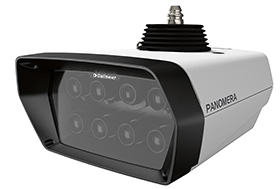 39% more resolution than required
The low number of camera systems required for grandstand surveillance is due to the patented multifocal sensor technology; Panomera cameras combine the images from up to seven detail sensors and one overview sensor in a single camera system. This provides the user with a high resolution overview of the entire area to be monitored, which acts as a single image of a vast environment.
Within this overall picture, system operators can now open any number of detail views at the same time, while the overall scene is always available in high resolution – even during recording, which is essential for possible prosecution. This provides an optimal overview of the situation and ensures that all events can be followed in real time, in high resolution and in detail. Thanks to this technology, a minimum of 200 px/m is now available throughout the Alsancak stadium instead of the required 144 px/m – 39% more than originally required.
Remote FAT and training
Due to the COVID-19 pandemic, the stadium's technicians were unable to travel to Dallmeier's headquarters in Regensburg, Germany, to commission the system and attend classroom training. For this reason, the Dallmeier Factory Acceptance Test (FAT) took place online. The entire system was set up, configured and remotely accepted in the FAT centre in Regensburg. The training of the technicians and operators was carried out by Dallmeier Turkey experts on site.
Serkan Atalar, CEO of RESA Construction Electromechanical Inc. CO, the installer company that implemented the project, is very pleased, "Dallmeier's collaborative approach, as well as the high-tech products and after-sale support they offered, were very impressive. We thank Dallmeier Turkey for the great cooperation."
Serkan Atalar summarises. "Alsancak Stadium only needs three system operators with one monitor each. They also have two workstations for the police and management. The solution always gives them 100% control of the security situation in the stadium, allowing them to react immediately and reliably track down perpetrators. All this is at a low total cost of ownership and with minimal manpower thanks to the unique multifocal sensor technology."
Further reading:
Pentagon appointed as Milestone distributor
Elvey Security Technologies News & Events Surveillance
Milestone Systems appointed Pentagon Distribution (an Elvey Group company within the Hudaco Group of Companies) as a distributor. XProtect's open architecture means no lock-in and the ability to customise the connected video solution that will accomplish the job.
Read more...
---
Integrated transportation security
Guardian Eye AI & Data Analytics Integrated Solutions Logistics (Industry)
HG Travel installs an AI-powered camera system integrated across 115 vehicles throughout a fleet comprising 160 vehicles of different sizes, along with predictive and self-monitoring tools to track tyre condition, fuel consumption and theft, and overall vehicle maintenance.
Read more...
---
Embracing next-generation surveillance for safer cities
Surveillance Integrated Solutions AI & Data Analytics
With the South African government highlighting the importance of building smart cities by integrating advanced technologies to make them more resilient and liveable, the role of next-generation network video and surveillance technologies cannot be ignored.
Read more...
---
Gallagher Security releases Command Centre v9
Gallagher News & Events Access Control & Identity Management Integrated Solutions
Richer features, greater integrations, with the release of Gallagher Security's Command Centre v9 security site management software designed to integrate seamlessly with various systems and hardware.
Read more...
---
Hik-Connect for Teams released
Hikvision South Africa Products & Solutions Surveillance
Hikvision has released an update for its security management platform; Hik-Connect for Teams not only meets the specific needs of individual users, but also caters to various medium-sized businesses (SMBs) and multi-site management scenarios.
Read more...
---
The human factor side of video management systems
Leaderware Editor's Choice Surveillance Risk Management & Resilience
A video management system (VMS) is central to, and the most vital element to any control room operation using CCTV as part of its service delivery, however, all too often, it is seen as a technical solution rather than an operational solution.
Read more...
---
Get the basics right to win more business
ServCraft Editor's Choice Risk Management & Resilience
The barriers to entry in security are not high. More people are adding CCTV and fencing to their repertoire every year. Cowboys will not last long in a space where customers trust you with their safety.
Read more...
---
Integrating farming and security solutions for productivity
Security BIS Agriculture (Industry) Integrated Solutions
Security challenges are a harsh reality in South Africa, particularly for those in remote areas. Sadly, recurring rural crimes like farm attacks and livestock theft are part of the farming community's lives.
Read more...
---
Revolutionise your security with integrated solutions
Secutel Technologies Products & Solutions Surveillance
By merging the capabilities of SecuVue and Secutraq, Secutel has forged a robust system empowering users to fine-tune analytics and harness facial recognition, pose detection, and XFS, among other features.
Read more...
---
All aspects of data protection
Technews Publishing Editor's Choice Information Security Infrastructure AI & Data Analytics
SMART Security Solutions spoke to Kate Mollett, Senior Director, Commvault Africa, about the company and its evolution from a backup specialist to a full data protection specialist, as well as the latest announcements from the company.
Read more...
---