printer friendly version
Five reasons why your board should push cybersecurity 'boundaries'
Issue 6 2023 Security Services & Risk Management, Infrastructure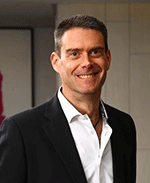 Tony Walt.
From a technological perspective, micro-segmentation of your IT security environment can be viewed as a way to identify, isolate and curtail the reach of any threat – even once it is in your network.
In a cybersecurity context, micro-segmentation is a framework that can be adopted to divide the data centre environment into discrete secured segments. This allows organisations to take security controls down to the level of application, workload or even device.
What value is there to business leaders in locking the 'doors' between discrete operational areas?
Tony Walt, co-founder and Director of cybersecurity software development house Port443, explains that while simplistic, the door analogy highlights the value micro-segmentation brings to the business and its board.
Gartner found that "perimeter-based security technologies, which are deployed at the edge of on-premises and hosted 'in the cloud' data centres, enforce policies between sites but cannot segment traffic between workloads or processes." Micro-segmentation addresses this gap in securing the network internally, or what is referred to as 'east-west' traffic.
Walt notes that while micro-segmentation can reinforce traditional network and server-based security, issues of security best practices and regulatory compliance are moved front and centre. In this way, it addresses concerns around how data flows across the organisation and who has rightful access to it.
"We can evaluate our network security setup from the same perspective as our home security systems. Different layers of deterrents – such as electric fences, outdoor beams and door sensors – secure the perimeter of the property."
"Focusing your information security systems only on traffic coming into the network would be much like pointing all your home security sensors at the front door. While this might help prevent any access via the main entrance, it leaves back doors open, and once someone is inside, all the rooms are vulnerable to intrusion, often without you even knowing about it. You need to lock the doors between rooms to contain intruders and maintain overall security."
He adds that unlike hardware-based security systems (firewalls, for example), micro-segmentation operates like the security zones in your home. Tightly defined security policies can be applied to different zones. These zones typically include each of the applications used in your business and your data centres, as well as far tighter control of the traffic that runs between these environments.
Walt identifies five key attributes of micro-segmentation that make good business sense.
Simplicity: Having insight into what constitutes critical data, where it resides, and quantifying the risk associated with a potential breach allows for a simplified approach to isolating systems and controlling communications between them. A micro-segmentation philosophy should be preceded by a data discovery process from the start.
Visibility: Segmentation can be implemented into logical business, data centre and application zones. Visibility can then be achieved across the entire network environment while also standardising access policies as much as possible.
Risk reduction: Optimising the architecture through micro-segmentation mitigates the risk of a data breach. Organisations with multiple applications, for example, would be best advised to have discrete segmentation per application. Policies can also be implemented to isolate systems that are subject to government regulations, to improve compliance.
Control: Bringing critical alerts, metrics and system performance statistics into a single view across the organisation is of paramount importance. Available software and technology features can centralise control of various segments, while configuration templates can ease the time and skills burden. "By creating specific security policies for critical applications, for example, granular control can also be achieved," says Walt.
Convergence: Micro-segmentation creates separate environments where the traffic into, out of and between each environment is controlled. A compromise in one application or zone is contained within that zone and does not lead to further compromise through lateral movement.
Walt comments that the benefits of micro-segmentation include all the benefits of digital convergence. These include better protection for cloud workloads and data, increased access control to various discrete applications, and simplified mandatory compliance with regulations, such as PCI-DSS.
In conclusion, Walt says that anything that can increase overall security efficacy is of tremendous value to the organisation. "As such, micro-segmentation needs to be operationally absorbed into the organisation through processes, people and technology."
Further reading:
More than just a criminal record check
iFacts Security Services & Risk Management
When it comes to human-related risks, organisations and their most senior leaders focus on a narrow set of workforce risks, the potential risks that human workers pose to the business.
Read more...
---
All aspects of data protection
Technews Publishing Editor's Choice Information Security Infrastructure AI & Data Analytics
SMART Security Solutions spoke to Kate Mollett, Senior Director, Commvault Africa, about the company and its evolution from a backup specialist to a full data protection specialist, as well as the latest announcements from the company.
Read more...
---
Tech developments lead hologram growth in 2024
News & Events Security Services & Risk Management
Micro-lenses, micro-mirrors and plasmonics are among the rapidly-emerging optical devices that have evolved on the back of holographic and diffractive technologies, and are seen as part of the natural evolution of optical science by R&D teams.
Read more...
---
Are you leaving money on the table?
Editor's Choice Security Services & Risk Management
How many customers have you helped since starting your business? Where does most of your new business come from? If the answer is not from your database's existing customers, you might have a problem.
Read more...
---
Majority of South African companies concerned about cloud security
Information Security Infrastructure
Global and local businesses share a common concern when it comes to cloud security. 95% of global businesses and 89% of local businesses are concerned about the security of public clouds.
Read more...
---
Consolidated cybersecurity management
Technews Publishing Editor's Choice Information Security Infrastructure
SMART Security Solutions spoke to Gareth Redelinghuys, Country Managing Director, African Cluster at Trend Micro, to find out what makes Trend stand out from the crowd and also its latest market offerings.
Read more...
---
Access to data centre secured
Suprema Access Control & Identity Management Infrastructure
GBM required a modern access control system to increase the security of its facilities in a productive environment without affecting the operation of the offices and the data centre, which are carried out 24/7/365.
Read more...
---
Africa's growth lies on shoulders of renewable energy
News & Events Infrastructure
The Africa Tech Festival from 13 to 16 November in Cape Town will unpack the challenges and discuss the pivotal role of sustainability & renewable energy in advancing technological development in Africa.
Read more...
---
Commvault appoints Graham Brown as Channel Manager for South Africa/SADC
News & Events Infrastructure
Commvault announced the appointment of industry veteran Graham Brown as Channel Manager for the South Africa/South African Development Community (SADC) region.
Read more...
---
Five considerations when using AI
AI & Data Analytics Infrastructure
Helm CEO, Dawood Patel, offers readers some insights and principles that should be considered by any organisation thinking about implementing an AI solution to leverage its power to shape a better future.
Read more...
---