printer friendly version
NIST's impact on cybersecurity
Issue 6 2023
Information Security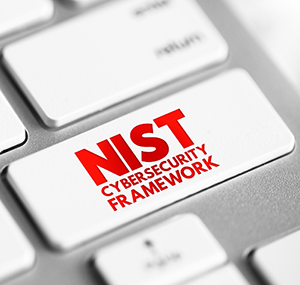 Recognising the urgent need for comprehensive cybersecurity solutions, the National Institute of Standards and Technology (NIST) has established itself as the benchmark for cybersecurity on a global level. Through its NIST Cybersecurity Framework, the non-regulatory agency empowers organisations to take a proactive approach towards managing and mitigating cyber risks, enabling them to stay resilient against the ever-evolving threat landscape.
In this article, we explore the significance of NIST in the cybersecurity landscape, with a particular emphasis on NIST 830 and SP 853.
The role of NIST in navigating the threat landscape
The National Institute of Standards and Technology (NIST) plays a pivotal role in providing companies with a chance to develop a comprehensive cybersecurity posture to prevent or lessen the impact of cyberattacks. Through the development of the Cybersecurity Framework in 2014, NIST provides a comprehensive and structured approach to assess, manage, and mitigate cybersecurity risks effectively.
Although the framework was designed to protect the critical infrastructure and operations of the United States Department of Defence, it is now widely used by many organisations.
Gartner states that, as of 2015, almost 30% of the organisations in the United States were relying on the framework to safeguard their digital assets, and this number was projected to shoot up to 50% by 2020. Today, the framework has been downloaded 1.7 million times and is used by companies of varying sectors, sizes, and locations. The continually increasing number of organisations adopting the NIST Cybersecurity Framework highlights the effectiveness and relevance in addressing the ever-growing cyber threat landscape.
Essentially, the cybersecurity framework follows a risk-based approach that involves identifying the highest compliance risks and targeting them to improve an organisation's cybersecurity posture continuously. The five functions of the NIST Framework include:
• Identify: To achieve an understanding and identification of all assets.
• Protect: To outline the right measures to safeguard and to make sure that the delivery of key infrastructure/services is achieved.
• Detect: With a goal to implement the right mechanisms to identify occurrences of cybersecurity incidents.
• Respond: To conduct the right approach/activities with regard to an identified cybersecurity incident.
• Recover: To identify the right activities to maintain resilience and restore impacted capabilities/services.
As cyberattacks such as ransomware, supply chain attacks, and phishing attacks continue to evolve, the NIST Framework remains a critical resource in navigating the complexities of cybersecurity and ensuring resilience in an interconnected world. By adopting the above-mentioned functions and aligning them with their cybersecurity measures, organisations can effectively strengthen their defences against malicious attacks.
Special publications by NIST
As one of the key stakeholders responsible for promoting robust risk management, NIST has introduced special publications that have significantly changed the course of cybersecurity by encouraging organisations to streamline their cybersecurity strategies. Two of the most important publications by NIST include:
• NIST SP 800-30, titled Guide for Conducting Risk Assessments, lays the groundwork for conducting risk assessments by offering a catalogue of security and privacy controls to organisations to allow them to implement those practices to fortify their defences. The document provides a comprehensive outline for conducting risk management that entails defining vulnerabilities, interpreting the level of risk in the infrastructure, monitoring the potential threats, and implementing remediation strategies.
• NIST 800-53 provides a comprehensive record of security and privacy controls, curated by the Information Technology Laboratory (ITL), for federal information systems in the United States. Titled Security and Privacy Controls for Information Systems and Organizations, the publication assists federal agencies and organisations in effectively securing their information systems and protecting sensitive information from various security threats and vulnerabilities. With an aim to maintain secure information systems, NIST 800-53 also outlines the importance of continuous monitoring and regular updates to the security controls to confront the evolving threat landscape.
Achieving compliance with SecurityHQ
While the NIST cybersecurity framework is curated to streamline cybersecurity strategies, it can be challenging for organisations to achieve compliance and fortify their defences. SecurityHQ is committed to empowering businesses to build a secure future by simplifying cybersecurity. This is why it offers a wide range of comprehensive solutions tailored to the unique needs of each organisation.
For more information, contact SecurityHQ Southern Africa, +27 11 702 8555, rob@securityhq.com, www.SecurityHQ.com
Further reading:
Time is of the essence
Information Security
Ransomware attacks are becoming increasingly common. Yet, many individuals and organisations still lack a clear understanding of how these attacks occur and what can be done to secure their data.
Read more...
---
All aspects of data protection
Technews Publishing Editor's Choice Information Security Infrastructure AI & Data Analytics
SMART Security Solutions spoke to Kate Mollett, Senior Director, Commvault Africa, about the company and its evolution from a backup specialist to a full data protection specialist, as well as the latest announcements from the company.
Read more...
---
The song remains the same
Sophos Information Security
Sophos report found that telemetry logs were missing in nearly 42% of the attack cases studied. In 82% of these cases, cybercriminals disabled or wiped out the telemetry to hide their tracks.
Read more...
---
How hackers exploit our vulnerabilities
Information Security Risk Management & Resilience
Distractions, multi-tasking, and emotional responses increase individuals' vulnerability to social engineering, manipulation, and various forms of digital attacks; 74% of all data breaches included a human element.
Read more...
---
Projections for 2024's Advanced Threats Landscape
News & Events Information Security
Kaspersky Global Research and Analysis Team (GReAT) experts offer insights and projections for 2024 in the Kaspersky Security Bulletin, with a focus on the evolution of Advanced Persistent Threats (APT).
Read more...
---
Veeam and Sophos in strategic partnership
Information Security
Veeam and Sophos unite with a strategic partnership to advance the security of business-critical backups with managed detection and response for cyber resiliency, and to quickly recover impacted data by exchanging critical information.
Read more...
---
Unmasking insider risks
Information Security
In today's business landscape, insider risks can manifest in various forms, including data theft, fraud, sabotage, insider trading, espionage, whistleblowing, negligence, truck hijacking, goods robbery from warehouses, and more.
Read more...
---
When technology is not enough
Information Security
[Sponsored] Garith Peck, Executive Head of Department for Security at Vodacom Business, writes about the importance of creating a cybersecurity strategy in a world where threats never sleep.
Read more...
---
Identity verification and management trends
Technews Publishing Information Security
Insights into what we can expect from identity fraudsters and the industry next year, ranging from criminal exploitation of AI and digital IDs to multi-layer fraud protection and the need for more control over personal information sharing.
Read more...
---
From vulnerabilities to vigilance
Information Security
It is an unfortunate reality that generative artificial intelligence (GAI) has been embraced by cybercrime organisations, resulting in drastic changes in attack methods, strategies, and technologies, says Stephen Osler from Nclose.
Read more...
---