printer friendly version
Smart water management
Issue 6 2023 Surveillance, Integrated Solutions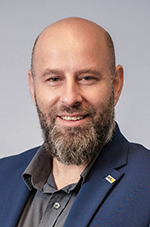 Rudie Opperman.
A 58-hour maintenance shutdown in Johannesburg left thousands of residents and businesses without water for an extended period in July. It also underscored the urgent need to adopt innovative measures that address immediate water issues and secure the country's utilities for a resilient and sustainable future.
Smart surveillance technology, data analytics and real-time monitoring are promising tools to help secure water resources and manage water usage efficiently.
The Department of Water and Sanitation's National Water and Sanitation Master Plan identifies a water supply deficit of 17% by 2030. UN-Water's Africa Water Vision 2025 predicts that nearly 230 million Africans will face water scarcity, and up to 460 million will live in water-stressed areas by 2025. Fortunately, smart technology has the potential to revolutionise water management, enhance efficiency, and mitigate risks, ultimately safeguarding the country and continent's precious water resources.
Protecting facilities and verifying the flow of data
While water facilities deal with many issues that contribute to wastage, such as undetected leaks and ageing infrastructure, they also have to confront the challenge of protecting those facilities from malicious actors, such as thieves and vandals, whose actions lead to water loss.
Surveillance technology, such as network video cameras – enhanced by thermal imaging and radar – and IoT sensors, can monitor water infrastructure and valuable assets and monitor the movement of people and vehicles that can access infrastructure. Enhanced cameras can help to guard facility perimeters, achieving blanket coverage and ensuring controlled access to critical investments and equipment.
Surveillance technology can also complement methods used to gather real-time water usage data. On top of conventional flow sensors and smart meters that monitor consumption and usage levels, facility managers can use video-based verification to confirm those levels. AI can add an extra layer to this process. Using data analytics and AI-based algorithms, managers can further verify the gathered data based on established parameters or datasets, giving them reliable results to better inform their decision-making.
Managing water infrastructure across diverse geographical areas can be challenging. Surveillance technology supported by edge-based solutions can aid in monitoring these resources, including rivers, lakes, and groundwater reserves. By tracking water levels and flows, authorities can better manage water allocation, assess the impact of human activities, and ensure sustainable usage of these valuable resources.
Video surveillance can even be used strategically to detect pollution or contamination incidents that may compromise quality levels. This level of remote management increases operational efficiency, reduces response time to incidents, and lowers the need for physical inspections, saving time and resources.
Using the cloud to modernise water supply management
Cloud technology can enhance the efficiency and effectiveness of surveillance technology in mitigating our water crisis. By leveraging cloud-based solutions, the massive volumes of data generated by surveillance devices, sensors, and monitoring systems can be securely stored and processed in real time. Cloud networks offer scalability and flexibility, enabling water utility companies to expand their data storage capacity as needed and access computing resources on demand. This capability is particularly crucial in South Africa, where water resources and infrastructures are spread across various locations.
Cloud-based platforms facilitate seamless collaboration between different stakeholders, allowing collective efforts to address water scarcity and implement effective water management strategies. Embracing cloud network technology complements surveillance technology's capabilities, empowering stakeholders to tackle the water crisis proactively.
Integrating network cameras with an existing process control system and sensors creates an advanced data-driven network for a deeper understanding of site operations. Cameras complement traditional sensors with added visual input. Data from sensors can be added as an overlay (data in video view) in the visual provided by the camera. This assists utility managers in getting accurate information as quickly as possible to make informed, data-led decisions.
The water crisis in South Africa demands innovative and proactive solutions to ensure the long-term sustainability of precious water resources. Smart surveillance technology, with its real-time monitoring, data analytics, and early detection capabilities, offers a valuable means to address the challenges posed by water scarcity.
It is essential for stakeholders, including government bodies, water utilities, and communities, to collaborate and invest in smart surveillance technology to effectively mitigate the water crisis and ensure equitable access to this vital resource for future generations.
Credit(s)
Further reading:
Pentagon appointed as Milestone distributor
Elvey Security Technologies News & Events Surveillance
Milestone Systems appointed Pentagon Distribution (an Elvey Group company within the Hudaco Group of Companies) as a distributor. XProtect's open architecture means no lock-in and the ability to customise the connected video solution that will accomplish the job.
Read more...
---
Integrated transportation security
Guardian Eye AI & Data Analytics Integrated Solutions Logistics (Industry)
HG Travel installs an AI-powered camera system integrated across 115 vehicles throughout a fleet comprising 160 vehicles of different sizes, along with predictive and self-monitoring tools to track tyre condition, fuel consumption and theft, and overall vehicle maintenance.
Read more...
---
Embracing next-generation surveillance for safer cities
Surveillance Integrated Solutions AI & Data Analytics
With the South African government highlighting the importance of building smart cities by integrating advanced technologies to make them more resilient and liveable, the role of next-generation network video and surveillance technologies cannot be ignored.
Read more...
---
Gallagher Security releases Command Centre v9
Gallagher News & Events Access Control & Identity Management Integrated Solutions
Richer features, greater integrations, with the release of Gallagher Security's Command Centre v9 security site management software designed to integrate seamlessly with various systems and hardware.
Read more...
---
Hik-Connect for Teams released
Hikvision South Africa Products & Solutions Surveillance
Hikvision has released an update for its security management platform; Hik-Connect for Teams not only meets the specific needs of individual users, but also caters to various medium-sized businesses (SMBs) and multi-site management scenarios.
Read more...
---
The human factor side of video management systems
Leaderware Editor's Choice Surveillance Risk Management & Resilience
A video management system (VMS) is central to, and the most vital element to any control room operation using CCTV as part of its service delivery, however, all too often, it is seen as a technical solution rather than an operational solution.
Read more...
---
A simple system for complex protection
Surveillance AI & Data Analytics IoT & Automation
Reconeyez is a company that provides autonomous wireless visual verification systems with built-in artificial intelligence. Running on batteries, each device includes communication capabilities, creating a mesh network between the various devices, linking them to the control room.
Read more...
---
Integrating farming and security solutions for productivity
Security BIS Agriculture (Industry) Integrated Solutions
Security challenges are a harsh reality in South Africa, particularly for those in remote areas. Sadly, recurring rural crimes like farm attacks and livestock theft are part of the farming community's lives.
Read more...
---
Revolutionise your security with integrated solutions
Secutel Technologies Products & Solutions Surveillance
By merging the capabilities of SecuVue and Secutraq, Secutel has forged a robust system empowering users to fine-tune analytics and harness facial recognition, pose detection, and XFS, among other features.
Read more...
---
Edge could help transform South Africa's healthcare
Axis Communications SA Infrastructure
Edge computing has emerged as a game-changing technology for many industries, and the healthcare sector is no exception. In particular, South Africa's healthcare industry could significantly benefit from the potential of this technology.
Read more...
---