printer friendly version
Fidelity SecureFire steps into critical fire response space
Issue 6 2023 News, Fire & Safety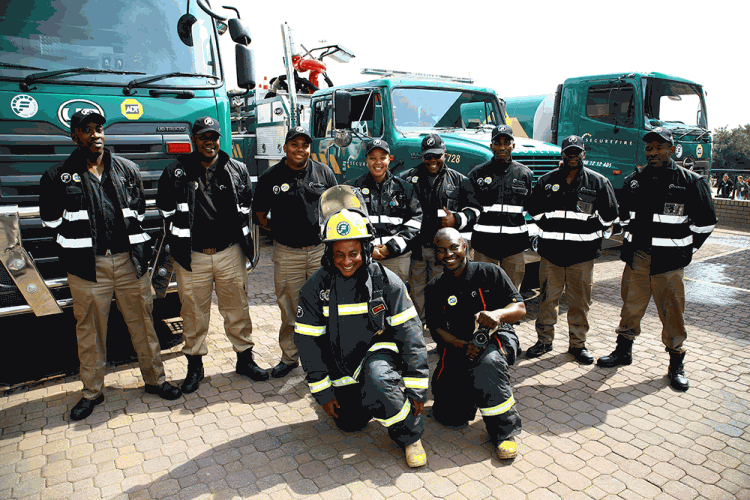 With the majority of fire stations around the country being crippled by a lack of resources to offer effective responses, Fidelity Fire Solutions, a division of the Fidelity Services Group, is stepping into the forefront of fire safety with a unique own 'first responder' model, Fidelity SecureFire.
The service is already available in Johannesburg and Tshwane as of 1 August and includes a fire chief and 55 fully trained firefighters on standby 24/7.
Wahl Bartmann, CEO of Fidelity Services Group says just this month the group has had to respond to 35 fires, 78% of which were in the Tshwane area and 21,6% in the Johannesburg area.
Fidelity ADT armed response officers will also be 'first responders' as part of this critical new service. These first responder vehicles are certified for Level one and two firefighting and are equipped with fire-fighting packs called the Roto Pack Lithium Gel and FFG Gel, which provide a reach of nine to 12 metres.
The three-pronged model will fully equip these firefighters to manage Class A and B fires involving ordinary combustible materials, flammable liquids, or gasses like gasoline and oil. These fires can be particularly dangerous due to their potential for rapid flame spread. "We will also be able to attend to Class D fires with our Lithium extinguishers for fires caused by electronic devices like smartphones, laptops and tablets and, of course, electric vehicles. These fires are unfortunately becoming more common with our ongoing loadshedding schedule impacting appliances."
The community will now have access to 350 first responders and 10-second responders comprising Mahindra and Land Cruiser RIVs. The service is reinforced by rapid intervention units comprising six-plus fire engines, water tankers and pumps to supply water.
With one large 18 000 litre tank on site already, the plan is to get another large tanker as well as two smaller ones with a 9 000 litre capacity. "One of the key challenges experienced in our existing municipal structures is the lack of water in the fire hydrants, so even if the response is on time, they may be hamstrung with no water."
"Fidelity SecureFire will be able to respond effectively to large fires, all domestic household fires, small to medium commercial fires and fires at shopping centres, schools or churches. "Basically, wherever the danger is and where our customers and/or their property are in harm's way due to a fire, they can rely on us being their first line of defence," says Bartmann.
Bartmann emphasised that the service would in no ways be competing with the existing fire service. In fact, it would complement and support their efforts and the teams will work very closely with the existing fire departments. "Our target is to reach any fire within five minutes," he says.
Roll-out will commence in KwaZulu-Natal in December 2023 and then in Cape Town between April – June 2024, followed by the balance of areas where Fidelity operate.
For more information, contact Fidelity Services Group, [email protected], www.fidelity-services.com
Further reading:
Free South Africa Market Report webinar from TAPA EMEA
Technews Publishing Editor's Choice News Transport (Industry) Training & Education Logistics (Industry)
October 2023 offers TAPA EMEA members and non-members opportunities to increase their knowledge of cargo crime and supply chain security risks in three countries in Europe, the Middle East & Africa region, where supply chains are most targeted by both organised crime groups and other offenders.
Read more...
---
AI Video Analytics
News
Stand a chance to win a share of R50,000 in prizes by testing the effectiveness of DeepAlert's cloud-based AI video analytics on your own surveillance footage or images.
Read more...
---
NEC XON modernises its security operations using MDR
iOCO Software News Cyber Security
The landscape of cyber threats has evolved dramatically, with cybercriminals becoming more interconnected and resourceful. This shift has necessitated the rapid acceleration of MDR services, which serve as a formidable bulwark against the modern adversary and promote business resilience.
Read more...
---
Texecom increases support in the EMEA with key appointments
Editor's Choice Perimeter Security, Alarms & Intruder Detection News
Texecom announced two new appointments to its EMEA sales team: Thomas Vanden Wyngaerdt as Head of EMEA Sales and Tom Wright as EMEA Account Manager.
Read more...
---
Cyber incidents result in a 9% decrease in shareholder value
News Cyber Security
Aon published its 2023 Cyber Resilience Report, revealing that, on average, a significant cyber incident resulted in a 9% decrease in shareholder value – over and above the market – in the year following the event.
Read more...
---
Paxton opens first experience centre in South Africa
Paxton News Access Control & Identity Management
The new Paxton Experience Centre in Johannesburg is now open and welcoming security installers and end users who want to see Paxton's products in action.
Read more...
---
Paratus signs re-seller agreement with Starlink for Africa
News IT infrastructure
Pan-African telco and network services provider Paratus Group announced it has entered an agreement as a distributor for Starlink's high-speed services across the African continent, available immediately in Mozambique, Kenya, Rwanda and Nigeria.
Read more...
---
4IR is opportunity
News
In South Africa, digitalisation remains 'at a nascent stage' which means significant work still has to be done when it comes to addressing skills development around 4IR in the country.
Read more...
---
Five ways to reduce your cyber insurance premiums
Security Services & Risk Management News
With the global costs of cybercrime expected to soar to $13 trillion within the next five years, cyber insurance is booming as organisations try to mitigate the risk of financial losses.
Read more...
---
Client satisfaction boosted by 85% at Thungela Mine
Thorburn Security Solutions News Security Services & Risk Management Mining (Industry)
Thorburn Security, a division of Tsebo Solutions Group, has announced its recent collaboration with Kwa-Zulu Natal security company, Ithuba Protection Services, as part of its Enterprise Supplier Development (ESD) initiatives across Africa.
Read more...
---