printer friendly version
Empowering Istanbul's public transportation
Issue 6 2023 CCTV, Surveillance & Remote Monitoring, Integrated Solutions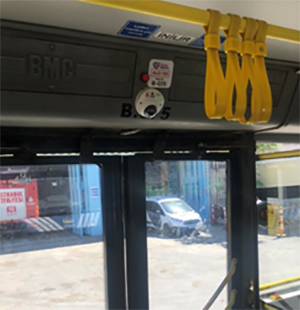 Istanbul, as Turkey's economic, cultural and transportation centre, is a world-famous tourist destination spanning Europe and Asia and attracting countless tourists from all over the world every year.
As a highly developed metropolis, Istanbul has a well-developed transportation system that covers major tourist attractions and commercial areas. However, the enormous scale of transportation also brings its own set of challenges. For instance, the small size of electric vehicles presents more demanding requirements for equipment, and with increased driving speeds, monitoring and regulating drivers' dangerous behaviours becomes crucial.
Additionally, ensuring passenger safety and satisfaction during their journeys is also important. To address these issues, Istanbul has implemented intelligent upgrades to its public transportation system, aiming to reduce traffic congestion, prevent accidents, and ensure the safety of its citizens.
Upgrading the city's
Dahua's intelligent transportation solution, using technologies like DSM and AI-based passenger flow counting, has facilitated an intelligent system upgrade for nearly 6 400 minibuses and electric buses in Istanbul. While ensuring safety, this system can also provide a real-time passenger count, allowing efficient vehicle dispatch during peak times.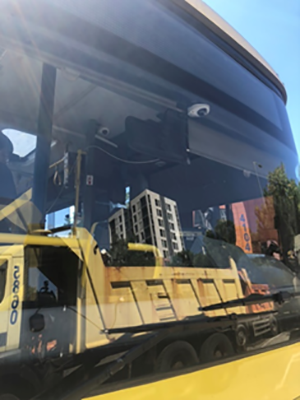 Dahua's DSM cameras, which are applied to electric buses, help regulate drivers' behaviours, effectively reducing accident rates and ensuring passenger safety. When drivers engage in behaviours such as smoking, making phone calls, or not wearing seat belts, the intelligent devices can accurately and promptly identify these actions and issue alerts to both the driver and the transit centre. It effectively helps avoid accidents caused by unsafe driving.
The advanced passenger flow statistics technology can dynamically assess the bus's crowding level and assist operational scheduling decisions. By precisely understanding the dynamics of passenger flow, it enhances passengers' travel experiences.
Furthermore, real-time GPS information is provided by the devices and integrated with the mobile app of the transit company. This enables passengers to easily access the location of the next bus, helping them plan their journeys and improving their overall travel experience.
Improving sea taxi operations
Sea taxis, which have been specially designed to be easily used by disabled persons, families with strollers and cyclists, are available at 50 stations and terminals. In addition to the 46 piers on the city lines, Istanbul's Galata Port, Harbiye Convention Centre, Istinye Cruise Park, and Tarabya Cruise Park docking points also cater to passengers.
Given the strait's unique environment, sea taxis demand high standards in airtight equipment, waterproof capability, and salt spray resistance. Dahua's smart on-board solution ensures stable operation, while minimising the impact of significant vibrations on the image quality.
These compact and easy-to-install products integrate seamlessly with vehicles and allow full monitoring of the entire travel process. The dashcams also have a two-way intercom module for real-time communication between vehicles and the control centre.
In addition to 'sea taxis', the Dahua Intelligent Transportation Solution is also suitable for subways, trams, railways, airports and many other transportation scenarios, ensuring city order and safe travel.
Credit(s)
Further reading:
Turkish university installs IDIS surveillance
CCTV, Surveillance & Remote Monitoring Products
IDIS video streamlines complex surveillance systems for learning institution, upgrading a 350-camera system with 24/7 control room monitoring to transform security for Social Sciences University of Ankara (ASBU).
Read more...
---
Brighter, greener, and smarter
Dahua Technology South Africa Products CCTV, Surveillance & Remote Monitoring
Dahua Technology released its new Dahua CH II Series Indoor Fine Pixel Pitch LED display, providing visual clarity and promoting energy efficiency and sustainability.
Read more...
---
Smart water management
Axis Communications SA CCTV, Surveillance & Remote Monitoring Integrated Solutions
South Africa is currently facing a water crisis, with scarcity and inefficient water management posing significant challenges to sustainable, consistent access to water. Smart technology and powerful partnerships may offer a proactive solution to SA's water crisis.
Read more...
---
Helping retailers optimise monitoring and security
Guardian Eye Retail (Industry) CCTV, Surveillance & Remote Monitoring
From a smart retail perspective, it is crucial to understand that monitoring stock and other assets through camera surveillance and a variety of Internet of Things (IoT) sensors stretches further than the stores themselves.
Read more...
---
Smart manufacturing redefined
Hikvision South Africa CCTV, Surveillance & Remote Monitoring Industrial (Industry)
AI and intuitive visualisation technology allows managers to monitor manufacturing sites, production, and operational processes, and to respond in real time in the event of an issue – helping to drive efficiency and productivity.
Read more...
---
AI is getting smarter, and critical infrastructure is set to benefit
Axis Communications SA CCTV, Surveillance & Remote Monitoring
With technology advancing at an astonishing pace, AI has emerged as a defining trend in today's business arena. Enterprises across all sectors are prioritising this technology, embracing its transformative potential to drive change and growth.
Read more...
---
Collaboration delivers integrated and holistic security
Guardian Eye CCTV, Surveillance & Remote Monitoring News Integrated Solutions
Guardian Eye and Lytehouse have partnered to integrate their speciality solutions and provide a holistic security offering that overcomes the fragmentation of security systems and services.
Read more...
---
Manage security systems remotely
Hikvision South Africa CCTV, Surveillance & Remote Monitoring IT infrastructure Products
Hikvision launched a new generation of smart managed switches that, in conjunction with the Hik-Partner Pro mobile app, enable installers to remotely deploy and configure security systems with comprehensive operation and maintenance capabilities.
Read more...
---
Synology enhances functions for advanced surveillance integration
Technews Publishing CCTV, Surveillance & Remote Monitoring IT infrastructure Products
With the capability to function as both an API client and server, Surveillance Station offers a versatile platform for integration, whether it's embedding video streams into other platforms or overlaying external data onto recorded video.
Read more...
---
SMART Surveillance Conference 2023
Technews Publishing Editor's Choice CCTV, Surveillance & Remote Monitoring Conferences & Events
Some people think the future is all about cloud technologies, but the SMART Surveillance conference demonstrated that AI is making edge surveillance much more attractive, over distributed sites, than ever before.
Read more...
---