printer friendly version
AI is getting smarter, and critical infrastructure is set to benefit
Issue 6 2023
CCTV, Surveillance & Remote Monitoring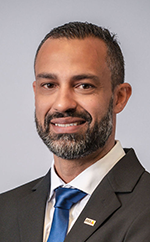 Marcel Bruyns.
With technology advancing at an astonishing pace, AI has emerged as a defining trend in today's business arena. Enterprises across all sectors are prioritising this technology, embracing its transformative potential to drive change and growth.
We are embarking on an exciting AI journey filled with boundless possibilities in South Africa. AI-centred developments are visible across various sectors. Take healthcare, for instance. AI is increasingly being deployed to improve diagnostic accuracy and patient care. South African start-ups are making waves in this area, employing AI to provide quicker, more accurate medical imaging diagnoses. In the agricultural sector, AI forecasts crop yields and optimises farming practices, boosts productivity and sustainability, and supports food supply chains in Africa.
We have already taken significant strides, as evidenced by establishing the South African Artificial Intelligence Association (SAAIA). The association aims to boost AI adoption for commercial endeavours, while unlocking societal benefits. We are not just promising progress, but delivering it; paving the way for AI to revolutionise our businesses and the broader South African society.
AI: An ally, not a replacement
Let us clear up a widespread misconception about automation. In South Africa, where an unemployment rate of 32,9% in the first quarter of 2023 – among the highest in the world – is an alarming statistic, we must stress that AI is not about substituting humans with machines. It is about optimising internal business operations and freeing workers to be more creative by automating certain tasks, making better decisions, creating new products, enhancing external processes, pursuing new markets, and capturing and applying data where needed. AI is empowering human operators, facilitating quicker, better-informed real-time decisions. AI is not just a tool – it's a powerful ally for businesses.
Critical infrastructure sectors are no exception. AI's transformative power is particularly evident in sectors such as energy and utilities. In a South African context, where load shedding has cost the country more than R1,2 trillion, AI could prove to be a real, fundamental enabler for energy projects offering multiple applications. These include production optimisation with computer vision to analyse asset utilisation, reducing downtime for predictive maintenance of equipment, capacity understanding, and modelling for predicting corrosion risks to reduce maintenance costs on power plants.
Similarly, in transport and logistics, AI-powered predictive analytics could be used to reduce traffic congestion and accidents, lessen carbon emissions, and minimise overall financial expenses.
AI in action: Enhancing surveillance and security
We recently witnessed an example of AI's vast potential within our business environment, embodied by a development in object analytics. A new feature was introduced that leverages AI to analyse movement patterns within a specific area over a given time, aiding in detecting anomalies.
This advancement in AI capabilities is not just enhancing reactive measures; it is transforming proactive threat identification and mitigation. Picture a world where our assets are protected more effectively, our premises are secured more robustly, and our businesses operate more efficiently. This is not a theoretical vision; it is rapidly becoming a reality, redefining how we approach security and surveillance in our crucial infrastructure sectors.
The recent AI-powered innovation is a testament to the transformative potential of AI within our critical infrastructure. It is an upgrade, a game-changer that reshapes our understanding of safety and security in the digital age.
The future is AI: Seizing the opportunity
AI is not just a trend; it is an unprecedented opportunity for innovation and growth. As AI continues to mature, it has the potential to redefine our processes, boost our productivity, and strengthen the security of our critical infrastructure sectors. This goes beyond merely automating tasks. It is about enhancing our capabilities, reshaping our operations, and transforming our approach to problem-solving.
This transformative power of AI extends to every aspect of our society, from healthcare and agriculture to energy distribution and security. As such, South African enterprises and public institutions must seize this opportunity. Investment in AI and other advanced technologies is no longer optional; it is a strategic imperative for any organisation looking to stay relevant in the modern world and drive South Africa's future success. The onus is on us to turn the promise of AI into tangible results for our economy and society.
Credit(s)
Further reading:
Stadium security with Panomera
Editor's Choice CCTV, Surveillance & Remote Monitoring Integrated Solutions Entertainment and Hospitality (Industry)
To be able to better identify and track perpetrators and thus reduce financial and non-material damage in a soccer stadium, the operator opted for a video security solution from Dallmeier.
Read more...
---
Turkish university installs IDIS surveillance
CCTV, Surveillance & Remote Monitoring Products
IDIS video streamlines complex surveillance systems for learning institution, upgrading a 350-camera system with 24/7 control room monitoring to transform security for Social Sciences University of Ankara (ASBU).
Read more...
---
Brighter, greener, and smarter
Dahua Technology South Africa Products CCTV, Surveillance & Remote Monitoring
Dahua Technology released its new Dahua CH II Series Indoor Fine Pixel Pitch LED display, providing visual clarity and promoting energy efficiency and sustainability.
Read more...
---
Smart water management
Axis Communications SA CCTV, Surveillance & Remote Monitoring Integrated Solutions
South Africa is currently facing a water crisis, with scarcity and inefficient water management posing significant challenges to sustainable, consistent access to water. Smart technology and powerful partnerships may offer a proactive solution to SA's water crisis.
Read more...
---
Helping retailers optimise monitoring and security
Guardian Eye Retail (Industry) CCTV, Surveillance & Remote Monitoring
From a smart retail perspective, it is crucial to understand that monitoring stock and other assets through camera surveillance and a variety of Internet of Things (IoT) sensors stretches further than the stores themselves.
Read more...
---
Empowering Istanbul's public transportation
Dahua Technology South Africa CCTV, Surveillance & Remote Monitoring Integrated Solutions
Dahua's intelligent transportation solution, using technologies like DSM and AI-based passenger flow counting, has facilitated an intelligent system upgrade for nearly 6 400 minibuses and electric buses in Istanbul.
Read more...
---
Smart manufacturing redefined
Hikvision South Africa CCTV, Surveillance & Remote Monitoring Industrial (Industry)
AI and intuitive visualisation technology allows managers to monitor manufacturing sites, production, and operational processes, and to respond in real time in the event of an issue – helping to drive efficiency and productivity.
Read more...
---
Collaboration delivers integrated and holistic security
Guardian Eye CCTV, Surveillance & Remote Monitoring News Integrated Solutions
Guardian Eye and Lytehouse have partnered to integrate their speciality solutions and provide a holistic security offering that overcomes the fragmentation of security systems and services.
Read more...
---
Manage security systems remotely
Hikvision South Africa CCTV, Surveillance & Remote Monitoring IT infrastructure Products
Hikvision launched a new generation of smart managed switches that, in conjunction with the Hik-Partner Pro mobile app, enable installers to remotely deploy and configure security systems with comprehensive operation and maintenance capabilities.
Read more...
---
Synology enhances functions for advanced surveillance integration
Technews Publishing CCTV, Surveillance & Remote Monitoring IT infrastructure Products
With the capability to function as both an API client and server, Surveillance Station offers a versatile platform for integration, whether it's embedding video streams into other platforms or overlaying external data onto recorded video.
Read more...
---