printer friendly version
AgentZero, the AI that writes emails for you
Issue 6 2023
News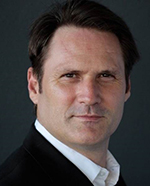 Pieter Geldenhuys.
In an age where digital natives dominate the tech scene, two Boomers, Pieter Geldenhuys and Johan Pretorius, are proving that it is never too late to innovate. Drawing upon their life experiences, the duo has launched an AI business that promises to revolutionise email communication. It is called AgentZero.
Born from the need to save time and streamline processes, AgentZero uses voice dictation with advanced artificial intelligence algorithms to transmute raw ideas into polished, professional emails. In a world where time is the most precious commodity, AgentZero is here to be the digital magician in everyone's pocket.
Geldenhuys and Pretorius's journey to developing AgentZero was not conventional. Without the foundational coding knowledge many younger tech entrepreneurs possess, they turned to AI to bridge their knowledge gap. AI facilitated every step of their business creation. From coding the app to sculpting its brand personality, they leaned into the power of advanced technology.
Geldenhuys says the naming of the app was also AI-influenced. "AgentZero, a name suggestive of a new beginning and the streamlined nature of the application, was born from algorithms that analysed market trends, linguistic appeal, and brand compatibility. It was like having a branding guru at our fingertips. But perhaps the most captivating feature of AgentZero is its 'magician' brand personality. Playing on the notion of effortless magic, this branding ensures that every user feels like they've just witnessed a spell being cast when their scattered thoughts are woven into coherent, eloquent messages," says Geldenhuys.
Pretorius says that they realised that their strength as a team was not necessarily in coding or the nitty-gritty of app development. "But we do understand the value of effective communication. So, we entrusted AI to help bridge our concept with the technological aspects. In a world where time is a precious commodity, AgentZero provides a breath of fresh air. Instead of typing away on a tiny phone keyboard or labouring over phrasing, users can effortlessly speak their thoughts and let the app do the rest," says Pretorius.
He says that the success of AgentZero not only highlights the universal applicability of AI, but also underlines the power of diverse perspectives in the tech industry. Geldenhuys and Pretorius's life experiences, combined with state-of-the-art AI tools, have filled a market void with an intuitive, valuable product.
AgentZero can be downloaded from the Apple Store or Google Play.
Further reading:
Cyber incidents result in a 9% decrease in shareholder value
News Cyber Security
Aon published its 2023 Cyber Resilience Report, revealing that, on average, a significant cyber incident resulted in a 9% decrease in shareholder value – over and above the market – in the year following the event.
Read more...
---
Paxton opens first experience centre in South Africa
Paxton News Access Control & Identity Management
The new Paxton Experience Centre in Johannesburg is now open and welcoming security installers and end users who want to see Paxton's products in action.
Read more...
---
Paratus signs re-seller agreement with Starlink for Africa
News IT infrastructure
Pan-African telco and network services provider Paratus Group announced it has entered an agreement as a distributor for Starlink's high-speed services across the African continent, available immediately in Mozambique, Kenya, Rwanda and Nigeria.
Read more...
---
4IR is opportunity
News
In South Africa, digitalisation remains 'at a nascent stage' which means significant work still has to be done when it comes to addressing skills development around 4IR in the country.
Read more...
---
Five ways to reduce your cyber insurance premiums
Security Services & Risk Management News
With the global costs of cybercrime expected to soar to $13 trillion within the next five years, cyber insurance is booming as organisations try to mitigate the risk of financial losses.
Read more...
---
Client satisfaction boosted by 85% at Thungela Mine
Thorburn Security Solutions News Security Services & Risk Management Mining (Industry)
Thorburn Security, a division of Tsebo Solutions Group, has announced its recent collaboration with Kwa-Zulu Natal security company, Ithuba Protection Services, as part of its Enterprise Supplier Development (ESD) initiatives across Africa.
Read more...
---
Fidelity SecureFire steps into critical fire response space
News Fire & Safety
With the majority of fire stations around the country being crippled by a lack of resources to offer effective responses, Fidelity Fire Solutions has launched its own 'first responder' model, Fidelity SecureFire.
Read more...
---
The state of edge security report
News IT infrastructure
Edge computing has grown from being a niche use case in a handful of industries to offering a major opportunity for enterprises across industries to spread computing power around the world.
Read more...
---
CHI selects NEC XON as trusted cybersecurity partner
News Cyber Security Industrial (Industry)
CHI Limited, Nigeria's leading market player in fruit juices and dairy products, has engaged in a strategic cybersecurity partnership with NEC XON, a pan-African ICT systems integrator.
Read more...
---
Collaboration delivers integrated and holistic security
Guardian Eye CCTV, Surveillance & Remote Monitoring News Integrated Solutions
Guardian Eye and Lytehouse have partnered to integrate their speciality solutions and provide a holistic security offering that overcomes the fragmentation of security systems and services.
Read more...
---