printer friendly version
Kaspersky appoints new GM for Africa
Issue 6 2023 News, Cyber Security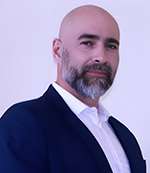 Andrew Voges.
Kaspersky has announced the appointment of Andrew Voges as the new General Manager for Africa. Given the rapidly evolving digital landscape, the rise in ransomware attacks, and the need for the protection of IT assets on the continent, Voges' immediate objectives will be to accelerate growth in the enterprise segment, consolidate Kaspersky's channel presence, formulate strategies to onboard more partners and customers within the B2B framework and strengthen customer satisfaction.
"Africa offers untapped potential. Kaspersky has demonstrated strong performance in Africa in 2022; there was a 16% increase in B2B sales in the region," said Voges. "My vision as GM is to foster unparalleled customer satisfaction and carve out a resilient ecosystem here. Our focus will be on strengthening our technical infrastructure and intensifying our partnerships to make Kaspersky's, a world-class security solutions, more accessible in Africa. Another priority will be to implement Kaspersky's Cyber Immune approach to protect organisations, including those in critical sectors, even more effectively. Being part of a pioneering cybersecurity company like Kaspersky, committed to global cyber safety, is an honour."
Voges' professional journey is filled with significant stints at tech companies like Quest Software, Check Point Software Technologies and Cisco Systems. His mandate as the new GM for Kaspersky in Africa will see him based in Johannesburg, reporting directly to Kaspersky global HQ management.
Commenting on the announcement, Kirill Astrakhan, Executive VP, Corporate Business at Kaspersky, said, "Africa is a strategic region for us, and Kaspersky has been growing here for almost 15 years. Andrew's extensive experience and understanding of the local market makes him the perfect fit for the regional GM role as we plan to further strengthen our position in Africa, reach out to new clients and partners, and increase our sales and share. His insights will be instrumental in helping us to further develop our enterprise market presence and initiate fresh avenues of business growth. We wish Andrew the best of luck in his new position."
Kaspersky will also emphasise R&D; to continue innovating and adapting its solutions to meet the region's unique challenges. In recent years, Kaspersky has been expanding its product ecosystem and, in particular, enterprise security portfolio, with solutions based on superior threat intelligence to ensure better protection for its customers.
The company offers its corporate customers comprehensive integrated solutions such as Kaspersky Endpoint Security for Business, Kaspersky Industrial Cybersecurity, specialised solutions such as Kaspersky Endpoint Detection and Response, Kaspersky Managed Detection and Response, as well as Threat Intelligence services. Kaspersky is also developing a new approach to digital transformation by introducing solutions based on the Cyber Immunity approach. This concept involves creating solutions that are virtually impossible to compromise and minimise potential vulnerabilities, which is extremely important for critical infrastructure protection.
Further reading:
Protect your financial assets from unknown online threats
Products Cyber Security Financial (Industry)
Malicious actors employ a myriad of sophisticated techniques, such as hacking, phishing, spamming, card theft, online fraud, vishing, and keylogging, among others, to exploit unsuspecting individuals and gain unauthorised access to their financial resources.
Read more...
---
Cyber incidents result in a 9% decrease in shareholder value
News Cyber Security
Aon published its 2023 Cyber Resilience Report, revealing that, on average, a significant cyber incident resulted in a 9% decrease in shareholder value – over and above the market – in the year following the event.
Read more...
---
Automated ransomware recovery
Products Cyber Security
Organisations can now automatically recover from ransomware attacks with the capabilities in Cisco XDR, where the company is adding recovery to the response process by including infrastructure and enterprise data backup and recovery vendors.
Read more...
---
Paxton opens first experience centre in South Africa
Paxton News Access Control & Identity Management
The new Paxton Experience Centre in Johannesburg is now open and welcoming security installers and end users who want to see Paxton's products in action.
Read more...
---
Best practice tips for strengthening data privacy system
Security Services & Risk Management Cyber Security
International cybercriminals are increasingly targeting South African organizations, making data privacy more difficult to maintain. A standardization expert offers insight to help combat this threat.
Read more...
---
AI-powered cyber protection for consumers
IT infrastructure Cyber Security
Acronis Cyber Protect Home Office is designed for the evolving landscape of cyber threats by integrating Acronis' cyber protection and secure backup solutions, combining AI-powered defence mechanisms, robust data backup, remote management tools, and mobile device protection.
Read more...
---
Paratus signs re-seller agreement with Starlink for Africa
News IT infrastructure
Pan-African telco and network services provider Paratus Group announced it has entered an agreement as a distributor for Starlink's high-speed services across the African continent, available immediately in Mozambique, Kenya, Rwanda and Nigeria.
Read more...
---
4IR is opportunity
News
In South Africa, digitalisation remains 'at a nascent stage' which means significant work still has to be done when it comes to addressing skills development around 4IR in the country.
Read more...
---
Five ways to reduce your cyber insurance premiums
Security Services & Risk Management News
With the global costs of cybercrime expected to soar to $13 trillion within the next five years, cyber insurance is booming as organisations try to mitigate the risk of financial losses.
Read more...
---
Client satisfaction boosted by 85% at Thungela Mine
Thorburn Security Solutions News Security Services & Risk Management Mining (Industry)
Thorburn Security, a division of Tsebo Solutions Group, has announced its recent collaboration with Kwa-Zulu Natal security company, Ithuba Protection Services, as part of its Enterprise Supplier Development (ESD) initiatives across Africa.
Read more...
---