printer friendly version
Modular and aesthetic design
Issue 6 2023
IT infrastructure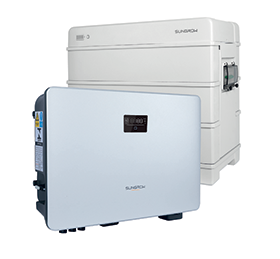 Sungrow Power has identified the obvious need for its backup power solutions in South Africa, and it knows the market is ready for something different. Load shedding has impacted everyone, and true to our South African tenacity and ability to find a remedy, there has been a proliferation of suppliers springing up over night with solar and backup solutions.
The market has been impacted by everyone jumping on the band wagon, which has led to a virtual price war that suppliers are foolishly using as a marketing tool, by trying to be cheaper than their competitors. The technology is sophisticated, so most consumers only understand price and chase the lowest offer. In in order to offer that lowest price, the sellers need to reduce their costs.
Unfortunately, this benefits no-one, as the consumer will ultimately suffer with either an inferior product, poor installations or non-existent after sales service. The supplier is also affected by very low profit margins and ultimately many of the newer companies will sadly fall into insolvency.
A few brands have established themselves as 'tier one' products and have managed to capture a good market share with their offerings. However, most of the products are older technology and are really not designed for installation in homes and offices, where they will be in spaces where people will see them constantly. The physical enclosures are boxy and unattractive, multiple colours are used, industrial looking mounting solutions employed, and noisy fans are commonplace.
Sungrow has taken a fresh approach, by advancing the technology as well as considering the aesthetics of the product, thus making them more pleasing to incorporate in human spaces. The smooth ergonomic style of the battery and inverter enclosures are finished in a neutral but modern grey, and the discreet logos are hardly noticeable. The heat-sink cooling means that there are no fans which in turn means less maintenance and zero noise.
The modular design of the system means that adding additional batteries is relatively simple and there are no cables needed to interconnect batteries. Additionally, the battery technology is higher voltage, lower current than traditional 48 V systems. The 192 V architecture has the advantages of reducing the cabling costs and improving the efficiency, which also reduces overheads. All connectors supplied are IP65 rated, and the enclosure is equally rated, which vastly expands the options for installed location. The batteries and inverter carry a 10 year warranty.
Sungrow has been operating for 17 years and has established itself as a class leader in technology and service. They are represented in South Africa by Digit FMS, a well-known brand also with a 17 year track record and branches nationwide.
For more information, contact Digit FMS, +27 87 223 4448, [email protected]
Further reading:
Automated, real-time traffic analysis and ML-based mitigation
IT infrastructure Products
NetScout Systems has launched Adaptive DDoS Protection for its Arbor Threat Mitigation System (TMS) to dramatically improve the detection of distributed attacks that dynamically change vectors and target numerous destination IP addresses at once.
Read more...
---
Five reasons why your board should push cybersecurity 'boundaries'
Security Services & Risk Management IT infrastructure
From a technological perspective, micro-segmentation of your IT security environment can be viewed as a way to identify, isolate and curtail the reach of any threat – even once it is in your network.
Read more...
---
Plan to use AI? Get your data ready
Integrated Solutions IT infrastructure
Artificial Intelligence (AI) is often perceived as an intelligent system that can handle any task. However, this notion crumbles when the AI is given poorly formatted or incorrect data. You cannot simply provide a few spreadsheets or databases to AI and expect it to work flawlessly.
Read more...
---
The future of innovative business lies at the edge
IT infrastructure
Connectivity issues previously limited Edge's potential, but innovations like 5G and IoT have made it seamless. The data generated by connected devices enhances analytics, and AI improves customer experiences.
Read more...
---
AI-powered cyber protection for consumers
IT infrastructure Cyber Security
Acronis Cyber Protect Home Office is designed for the evolving landscape of cyber threats by integrating Acronis' cyber protection and secure backup solutions, combining AI-powered defence mechanisms, robust data backup, remote management tools, and mobile device protection.
Read more...
---
Paratus signs re-seller agreement with Starlink for Africa
News IT infrastructure
Pan-African telco and network services provider Paratus Group announced it has entered an agreement as a distributor for Starlink's high-speed services across the African continent, available immediately in Mozambique, Kenya, Rwanda and Nigeria.
Read more...
---
What is the 3-2-1 rule
IT infrastructure
Data corruption is a bit like a car accident. It does not happen often to a person, but when it does, even a minor fender bender can create inconvenience, and a major smash can cause months, even years, of problems.
Read more...
---
Undersea cable incidents highlight need for network resilience
IT infrastructure
South Africa's undersea cable network is an indispensable digital lifeline, tethering the country to the global digital community. Daily, these cables process terabytes of data, underpinning near every local sector.
Read more...
---
Secure backup strategies imperative for business continuity
IT infrastructure Cyber Security
Cybercrime is on the rise, and businesses need to adjust how they manage their data to fend off attackers, or risk irreparable damage, writes Lisa Strydom, Senior Manager Channel and Alliance for Africa at Veeam Software.
Read more...
---
The state of edge security report
News IT infrastructure
Edge computing has grown from being a niche use case in a handful of industries to offering a major opportunity for enterprises across industries to spread computing power around the world.
Read more...
---