printer friendly version
From the editor's desk: Is security the new analogue?
Issue 6 2023
News & Events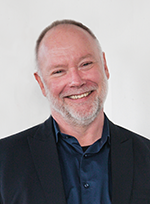 Andrew Seldon, Editor.
Back in the old days, when I started with SMART Security Solutions (or Hi-Tech Security Solutions, as it was known then), one of the major 'revolutions' of that time was the imminent demise of analogue CCTV in favour of IP-based surveillance.
Of course, as in all market revolutions, the move to IP was fast, but more of an evolution. Today we still have analogue cameras being bought and sold, some of them the high-definition systems that were initially designed to compete with the IP invaders. Accurate information is hard to come by, but at, best analogue today represents 10% of all camera sales, and it's still declining (although at a slower rate than in the first decade of the century).
There are various reasons for the longevity of analogue technologies, but that is something people can argue about (those people that do argue about stuff like that, I'm sure some still exist).
The reason I mention analogue is that I recently had a conversation in which I was informed that "physical security is dead". As can be imagined, that made me think.
In one way, the statement is true. Companies and people selling physical security products are under immense pressure these days, as margins have hit the floor. I can remember when a 20% margin on a camera was considered unacceptable; 30-40% was the starting point for most companies – unless their physical security kit was a loss leader, or the customer was spending a fortune.
In the fight to remain profitable and keep the wheels turning, companies today are looking for revenue streams, other than merely product. This is not any new revelation, of course. Manufacturers are including more in their hardware, often in the form of something with 'AI' in it, but also looking at providing software with their equipment to make it more tempting for the buyer.
The biggest change is in the software world where integration and working with other products is no longer a speciality, but expected. Proprietary solutions, although they still exist, are finding it harder to make inroads and grow their market – except perhaps in smaller installations where they can do everything. But in the small end of the market, they are being challenged by cloud service providers and their AI/analytics, and are unable to command a premium anymore – and who these days is willing to pay a premium unless you see significant value for money?
And then there is the IT threat, both from a cybersecurity perspective and from IT integrators who can throw IP security systems into their current mix and offer it to clients as part of a broader solution – oh, the horror!
There is not enough space to really get into this topic in a short article like this, but I will hopefully be able to expand on it in future as I am hoping to get some people brave enough to talk openly about it at a round table event. If you have any opinions on the topic, or want to be involved in the round table, let me know at andrew@technews.co.za. Until then, I guess we can carry on as usual because if physical security really is dead, there are a lot of zombies making money out there.
Credit(s)
Further reading:
Pentagon appointed as Milestone distributor
Elvey Security Technologies News & Events Surveillance
Milestone Systems appointed Pentagon Distribution (an Elvey Group company within the Hudaco Group of Companies) as a distributor. XProtect's open architecture means no lock-in and the ability to customise the connected video solution that will accomplish the job.
Read more...
---
Re-introduction of the booking system
PSiRA (Private Security Ind. Regulatory Authority) News & Events
[Sponsored] PSiRA is reintroducing the booking system for branch visits. Effective Monday, 4 December 2023, clients will be required to book a slot to visit any PSiRA branch.
Read more...
---
From the editor's desk: A sad but exciting goodbye
Technews Publishing News & Events
Welcome to the final monthly issue of SMART Security Solutions. This is the last issue of the year and the last monthly issue we will print. The SMART Security Solutions team wishes all our readers and advertisers a relaxing festive season and a peaceful and prosperous 2024.
Read more...
---
Regal celebrates successful golf day
Regal Distributors SA News & Events
Regal Distributors held its first official Regal Golf Day on 18 October at the Glendower Golf Course in Johannesburg. SMART Security Solutions was there on a hot summer's day to meet many players and sponsors around the course.
Read more...
---
Gallagher Security releases Command Centre v9
Gallagher News & Events Access Control & Identity Management Integrated Solutions
Richer features, greater integrations, with the release of Gallagher Security's Command Centre v9 security site management software designed to integrate seamlessly with various systems and hardware.
Read more...
---
Regal launches direct-to-branch WhatsApp communication
Regal Distributors SA News & Events
With a quick scan of a QR code and a few taps on your phone, installers, integrators, technicians or even end-users can chat directly with the team at their preferred Regal branch via WhatsApp
Read more...
---
FM Expo highlights industry trends and challenges
Securex South Africa News & Events Facilities & Building Management
Keeping tabs on what is happening within the building/facilities management arena can be frustrating, however, a quick way to find out what current trends, challenges, and solutions are available can be found at the Facilities Management Expo.
Read more...
---
All aspects of data protection
Technews Publishing Editor's Choice Information Security Infrastructure AI & Data Analytics
SMART Security Solutions spoke to Kate Mollett, Senior Director, Commvault Africa, about the company and its evolution from a backup specialist to a full data protection specialist, as well as the latest announcements from the company.
Read more...
---
South Africa shows a 1200% increase in deepfake fraud
News & Events Risk Management & Resilience
Sumsub released its third annual Identity Fraud Report of the year, analysing identity fraud across industries and regions based on millions of verification checks across 28 industries and over 2 million fraud cases.
Read more...
---
Projections for 2024's Advanced Threats Landscape
News & Events Information Security
Kaspersky Global Research and Analysis Team (GReAT) experts offer insights and projections for 2024 in the Kaspersky Security Bulletin, with a focus on the evolution of Advanced Persistent Threats (APT).
Read more...
---