printer friendly version
Cultivating safer and smarter cities
Issue 5 2023 CCTV, Surveillance & Remote Monitoring, Integrated Solutions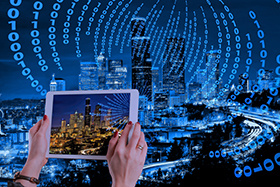 Playing a pivotal role at the forefront of making smart and safe cities a reality is AxxonSoft. As a provider of video management software (VMS) and physical security information management (PSIM) solutions, we enable cities to anticipate and respond swiftly to security threats through advanced video analytics and intelligent surveillance capabilities.
Our comprehensive Safe City solutions integrate various security and surveillance systems into a unified platform, allowing cities to monitor public spaces, critical infrastructure, transportation hubs, and more. This provides real time situational awareness and enables quick responses to emergencies, ensuring safer urban environments for citizens.
Public safety
AxxonSoft solutions play a crucial role in enhancing public safety, creating a sense of security and protection for citizens in urban environments. Through a network of intelligent cameras, smart cities monitor public spaces, transportation hubs, critical infrastructure, and other key areas, equipped with our video analytics. These cameras can detect suspicious behaviour, identify potential security risks, and even recognise known individuals involved in criminal activities using facial recognition technology.
This proactive approach empowers law enforcement to take preventive action before incidents escalate, fostering a positive environment for residents, business owners and tourists, ultimately leading to more vibrant and thriving city.
Traffic management
Our software also enhances traffic management, a critical aspect of smart cities. Through intelligent traffic analysis, cities can optimise traffic flow, reduce congestion, and minimise the risk of accidents. By integrating data from various traffic sensors and cameras, the system can dynamically adjust traffic signals and redirect vehicles to less congested routes in real-time, leading to more efficient and safer transportation.
Sustainability
The smart city concept extends beyond security and traffic management. It encompasses the seamless integration of various urban services and utilities, all aimed at creating a sustainable and eco-friendly environment. Our Physical Security Information Management (PSIM) solutions play a significant role in this domain, enabling cities to integrate and analyse data from different systems, including energy management, waste management, water supply, and more. By gaining comprehensive insights into the city's operations, authorities can make data-driven decisions to optimise resource usage, reduce energy consumption, and minimise environmental impact.
Data security
In the digital age, data privacy and cybersecurity are paramount concerns for those using any form of software, specifically smart cities. AxxonSoft understands the significance of this aspect and takes the protection of data very seriously. We adhere to strict standards, ensuring that our solutions meet EU standards, GDPR (General Data Protection Regulation) standards, and the POPPI ACT (Personal Data Protection and Privacy Act). With robust encryption, authentication mechanisms, and secure data storage, we ensure that sensitive information remains safeguarded against unauthorised access and cyber threats.
By prioritising data protection, AxxonSoft provides cities with the confidence and assurance they need to embrace innovative technologies while maintaining the highest level of privacy and security for their citizens.
As we move towards a more interconnected and urbanised future, we cannot emphasise the significance of smart and safe cities enough. In this journey, AxxonSoft assumes a central role, providing cities with cutting-edge tools and expertise to build safer, smarter, and more resilient urban environments. With our solutions at the core of urban planning, cities are ensuring a better tomorrow for generations to come.
Further reading:
Stadium security with Panomera
Editor's Choice CCTV, Surveillance & Remote Monitoring Integrated Solutions Entertainment and Hospitality (Industry)
To be able to better identify and track perpetrators and thus reduce financial and non-material damage in a soccer stadium, the operator opted for a video security solution from Dallmeier.
Read more...
---
Turkish university installs IDIS surveillance
CCTV, Surveillance & Remote Monitoring Products
IDIS video streamlines complex surveillance systems for learning institution, upgrading a 350-camera system with 24/7 control room monitoring to transform security for Social Sciences University of Ankara (ASBU).
Read more...
---
Brighter, greener, and smarter
Dahua Technology South Africa Products CCTV, Surveillance & Remote Monitoring
Dahua Technology released its new Dahua CH II Series Indoor Fine Pixel Pitch LED display, providing visual clarity and promoting energy efficiency and sustainability.
Read more...
---
Smart water management
Axis Communications SA CCTV, Surveillance & Remote Monitoring Integrated Solutions
South Africa is currently facing a water crisis, with scarcity and inefficient water management posing significant challenges to sustainable, consistent access to water. Smart technology and powerful partnerships may offer a proactive solution to SA's water crisis.
Read more...
---
Helping retailers optimise monitoring and security
Guardian Eye Retail (Industry) CCTV, Surveillance & Remote Monitoring
From a smart retail perspective, it is crucial to understand that monitoring stock and other assets through camera surveillance and a variety of Internet of Things (IoT) sensors stretches further than the stores themselves.
Read more...
---
Empowering Istanbul's public transportation
Dahua Technology South Africa CCTV, Surveillance & Remote Monitoring Integrated Solutions
Dahua's intelligent transportation solution, using technologies like DSM and AI-based passenger flow counting, has facilitated an intelligent system upgrade for nearly 6 400 minibuses and electric buses in Istanbul.
Read more...
---
Smart manufacturing redefined
Hikvision South Africa CCTV, Surveillance & Remote Monitoring Industrial (Industry)
AI and intuitive visualisation technology allows managers to monitor manufacturing sites, production, and operational processes, and to respond in real time in the event of an issue – helping to drive efficiency and productivity.
Read more...
---
AI is getting smarter, and critical infrastructure is set to benefit
Axis Communications SA CCTV, Surveillance & Remote Monitoring
With technology advancing at an astonishing pace, AI has emerged as a defining trend in today's business arena. Enterprises across all sectors are prioritising this technology, embracing its transformative potential to drive change and growth.
Read more...
---
Collaboration delivers integrated and holistic security
Guardian Eye CCTV, Surveillance & Remote Monitoring News Integrated Solutions
Guardian Eye and Lytehouse have partnered to integrate their speciality solutions and provide a holistic security offering that overcomes the fragmentation of security systems and services.
Read more...
---
Manage security systems remotely
Hikvision South Africa CCTV, Surveillance & Remote Monitoring IT infrastructure Products
Hikvision launched a new generation of smart managed switches that, in conjunction with the Hik-Partner Pro mobile app, enable installers to remotely deploy and configure security systems with comprehensive operation and maintenance capabilities.
Read more...
---