printer friendly version
Compliant with the National Building Regulations?
Issue 5 2023
Fire & Safety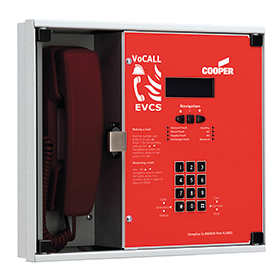 More insurance companies are rejecting claims for structural damage sustained as a direct result of non-compliance to the Building Regulations and Building Standards Acts. In addition, there is the added possibility of civil claims if individuals are injured or regrettably killed due to the disregard of regulations.
Multiple national and international standards and regulations are in place to prescribe the necessary safety measures that should be implemented by a building owner in order to ensure the safety of the property, staff and the public. For instance, SANS10400 includes regulations for both Fire Detection and Voice Alarm Systems in buildings with specific characteristics and types of occupancy, including (but not limited to) hospitals, educational facilities, dormitories, detention facilities, offices, hotels, shops and museums.
In addition to a fire detection system, it is critical to have a compliant voice alarm system installed in order to inform people in the building of threats and to guide them to safety in the fastest, most effective and well-organised manner possible. It is equally important to have an emergency communication system (fire telephones/disabled refuge system) for members of the public and fire marshals, enabling dependable communication with control rooms and fire services in the event of an emergency. This also enables someone trapped in an isolated area to call for help if they are unable to evacuate by themselves.
TOA manufactures a wide range of EN-54-Certified voice alarm systems and audio speakers, and we are distributors for Eaton VoCALL fire telephone/disabled refuge systems. It is able to provide relevant information on existing systems, or design a new system, in accordance with the applicable regulatory standards upon request.
For more information, contact TOA Electronics Southern Africa, +27 11 608 1477, [email protected], www.toa.co.za
Further reading:
Fidelity SecureFire steps into critical fire response space
News Fire & Safety
With the majority of fire stations around the country being crippled by a lack of resources to offer effective responses, Fidelity Fire Solutions has launched its own 'first responder' model, Fidelity SecureFire.
Read more...
---
Long-distance connectivity with Simplex ES Net Life Safety
Johnson Controls Global Products Fire & Safety Products
ES Net Network Bridge allows fire alarm system data to be transmitted across distant buildings via a customer's existing network infrastructure, improving system-wide monitoring and control in facilities and campuses where life safety networks are often widely dispersed.
Read more...
---
Elvey Group and Technoswitch part ways
Elvey Security Technologies Fire & Safety News
The Elvey Group (a division of the Hudaco Group of Companies) is relinquishing its distributorship of the Technoswitch brand, following Hudaco's acquisition of Brigit Fire.
Read more...
---
From one month to 10 minutes
Dahua Technology South Africa Fire & Safety
Dahua has integrated technology with the inspection mode of the photovoltaic power station in order to create a robust system that can monitor the fire situation in the power plant and its surrounding areas 24/7.
Read more...
---
Protecting poultry processing plant
Technoswitch Fire Detection & Suppression Fire & Safety
Grain Field Chickens, based in Reitz in the Orange Free State Province, features all the typical fire detection challenges one would expect to encounter in a food processing facility.
Read more...
---
Fire prevention for energy systems
Technoswitch Fire Detection & Suppression Fire & Safety
With the significant push towards renewable energy, such as wind and solar, the demand for battery energy storage systems has grown exponentially, as has the need for fire safety solutions for these environments.
Read more...
---
Fire risks in solar panel installations
Technoswitch Fire Detection & Suppression Fire & Safety
Installed global solar capacity doubled in three years from 2018, and the expectation is that in the next three years, it will more than double. In South Africa, the year-on-year growth from 2021 to 2022 was 24,90%.
Read more...
---
Smart firefighting
Fire & Safety IT infrastructure
By integrating smart radios, innovative wireless technologies, fusion field networks, and IoT sensors, firefighters can respond faster and coordinate better during emergencies, protecting lives, property, and their own safety.
Read more...
---
Make sure your alternative power solutions are not a fire hazard
Fire & Safety
While alternative heating and energy devices fulfil a crucial role in the current energy crisis, Fidelity Fire Solutions reminds users that such devices can pose a risk if not installed, stored and used properly.
Read more...
---
New FireClass Essential Panel
Johnson Controls Global Products Fire & Safety Products
Part of the complete FireClass conventional fire detection portfolio from Johnson Controls, the new conventional panel is easy to use out of the box, helping to reduce lifecycle costs, and meets EN54-2, EN54-4 approvals.
Read more...
---