printer friendly version
Retail security and patrol systems
Issue 5 2023 Retail (Industry), Security Services & Risk Management, Products & Solutions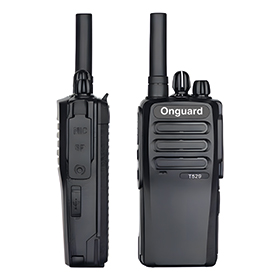 The retail security officer plays an important role in maintaining the safety and integrity of retail establishments. This function encompasses a range of measures and technologies designed to prevent theft, deter criminal activities, and ensure a secure environment for both customers and employees. Guard patrol systems and push-to-talk radios are two essential tools used by retail security teams to enhance their effectiveness and communication capabilities.
OnGuard patrol systems provide electronic solutions that help security personnel monitor and manage their patrols within the retail space. These systems typically consist of handheld devices or mobile applications that allow guards to record their presence at specific checkpoints or areas. The devices are equipped with patrol points using NFC (Near Field Communication), enabling them to scan tags placed at designated locations.
By using guard patrol systems, retail security teams can establish a comprehensive and systematic approach to patrolling the premises. Guards can record their rounds and provide accurate information about their activities, including the time and location of each patrol point that was visited. This data is fed to the web-based control room monitoring platform. By doing this, control room operators can identify any missed patrols, can track guard performance, and provide evidence of security coverage to management and stakeholders via a comprehensive daily report.
Push-to-talk
In addition to guard patrol systems, push-to-talk (PTT) radios have become a firm favourite and are widely used by retail security teams to facilitate instant communication while carrying out their duties. PTT radios are two-way GSM communication devices or more commonly known as walkie talkies within the industry, that allow security personnel to transmit and receive voice messages with the press of a button. They operate on the GSM network and are capable of providing real time, reliable, and secure voice communication with no distance limitation. OnGuard patrol radios include a patrol module as an onboard feature to their radios.
PTT radios offer several advantages in the context of retail security. First and foremost, they enable immediate communication between security officers spread across different areas of a retail establishment, all while having direct contact with the control room. Whether it's coordinating a response to a security incident, requesting backup, or sharing important information, PTT radios ensure that guards can connect with each other swiftly and efficiently.
Furthermore, push-to-talk radios are designed to be durable and user-friendly, making them suitable for the demanding environment in which they operate.
Integrated modules
OnGuard Patrol Management provides an all-in-one solution to the retail sector. By releasing a multifunctional radio, incorporating not just PTT functions, but also patrol, stayawake, GPS, and time and attendance modules.
These radios are robust in design with standard features like long battery life and the ability to use a covert earpiece. The PTT radio request patrols via voice prompts to the security officer, stating that their patrol is about to start. The advantage of its rugged construction is aimed to withstand the challenges of constant use and potential rough handling in any sector.
To enhance the capabilities of guard patrol systems and push-to-talk radios, many retail security operations are adopting integrated solutions. OnGuard Patrol Management is an industry supplier providing solutions that combine the functionalities of both systems. This integration streamlines security operations, improves efficiency, and ensures a comprehensive approach to managing retail security staff.
In conclusion, retail security relies on a combination of tools and technologies to create a safe and secure environment for customers and employees. Guard patrol systems enable security teams to monitor patrols while push-to-talk radios facilitate instant communication and coordination. Add the two together and these technologies can effectively manage retail establishments, enhance their security measures and mitigate potential risks.
For more information, contact OnGuard, +27 21 701 7777, info@onguard.co.za, www.onguard.co.za
Credit(s)
Further reading:
Effective access control
Flow Systems Access Control & Identity Management Products & Solutions
Flow Systems has introduced its new Extra Heavy Duty Industrial Rising Vehicle Barrier, which provides a high level of protection. It is a traditional-looking control barrier with the benefits of high-level physical protection.
Read more...
---
Tech developments lead hologram growth in 2024
News & Events Security Services & Risk Management
Micro-lenses, micro-mirrors and plasmonics are among the rapidly-emerging optical devices that have evolved on the back of holographic and diffractive technologies, and are seen as part of the natural evolution of optical science by R&D teams.
Read more...
---
SafeQuip introduces lithium fire extinguishers
Fire & Safety Products & Solutions
With the use of Lithium batteries increasing in many types of portable devices and battery storage solutions, SafeQuip, in partnership with AVD Lithex, is introducing a fire extinguisher aimed at suppressing and extinguishing, and also preventing re-ignition of lithium fires.
Read more...
---
New generation of cyber-focused controllers
Gallagher News & Events Access Control & Identity Management Products & Solutions
The C7000 gives users an opportunity to leverage their hardware and firmware to build a platform designed to catapult their organisation into the future, with cybersecurity baked in from inception.
Read more...
---
Nextivity CEL-FI ROAM R41 boosts your cell signal
IoT & Automation Products & Solutions
Designed for cars, trucks, and boats, it is the industry's most powerful cellular coverage solution for on-the-go applications. It features the 4th generation IntelliBoost chip to deliver channelised coverage for mobile network operator (MNO) signals.
Read more...
---
Are you leaving money on the table?
Editor's Choice Security Services & Risk Management
How many customers have you helped since starting your business? Where does most of your new business come from? If the answer is not from your database's existing customers, you might have a problem.
Read more...
---
Olarm advances smart security with Texecom integration
Olarm News & Events Perimeter Security, Alarms & Intruder Detection Products & Solutions
Following Olarm's achievement as the OSPA 2023 winner of 'Outstanding Security Integrator', it has taken another significant step in its innovation journey with the announcement of its integration with Texecom Premier Elite.
Read more...
---
Enhanced security at Xanadu Nature Estate
Turnstar Systems Access Control & Identity Management Products & Solutions
Turnstar Systems recently installed two bicycle turnstiles at the 240-hectare Xanadu Nature Estate, set in the Magaliesberg, the perfect location for secure communal living catering to the lifestyle of residents.
Read more...
---
BMS for smaller businesses
Security Services & Risk Management Products & Solutions Risk Management & Resilience
Small businesses can also benefit from tailored energy management solutions just like large corporations. Effective energy management is essential for more sustainable and efficient operations.
Read more...
---
Kidnapping for ransom
News & Events Security Services & Risk Management Risk Management & Resilience
There has been an 8,6% increase in reported kidnapping cases in South Africa compared to last year, with 3 854 cases reported between April and June this year, leaving ordinary South Africans increasingly vulnerable.
Read more...
---