printer friendly version
No missed alarms and reduced false alarms
Issue 5 2023 Perimeter Security, Alarms & Intruder Detection, Products & Solutions
Remote sites have always been more vulnerable to opportunistic intrusion, but over the last two years in particular, sites such as solar farms or industrial parks have become more common targets for criminals. Instances of solar farm theft, for instance, have risen dramatically, correlating with both the rising costs of compound metals and the increased number of solar farms across the EMEA region. Similarly, theft in warehouse and logistic facilities increased.
The challenges of protecting remote sites
The fact that a large number of these sites are located in isolated areas typically means that security is monitored and managed remotely, and the use of video surveillance is essential to confirm if an alert is real. Beyond visual verification, the biggest challenge faced by remote security teams is to reliably detect any intrusions as early as possible in order to take the appropriate response and deter theft or damage to the premises.
Commonly, remote sites can be prone to environmental conditions such as uneven terrain, lack of lighting, vegetation, changing weather and temperatures. To add to the complexity, typically the perimeter of these facilities is large and has many different zones to protect, each with its own characteristics. All of these elements can be challenging for some technologies and can increase the chances of nuisance alarms or even worse – missed alarms. Nuisance alarms can be extremely costly, dispatching response teams to remote sites for verification of non-genuine intrusions.
Equally important is the eroded trust in the system, which is a natural outcome when guards are repeatedly attending false alarms. However, there is no question missed alarms can be significantly more costly; the loss of assets or damage to facilities is not only costly in itself, it also impacts operational continuity, leaving businesses facing the challenge of lost revenues or even periods of being non-operational.
What are volumetric thermal detectors?
Volumetric thermal detectors, also known as thermal motion detectors or passive infrared (PIR) volumetric sensors, are used to detect motion and changes in temperature within a defined area. They work by capturing the infrared radiation emitted by objects and analyse the temperature variations to identify movement and human presence. This allows them to accurately differentiate between a human presence and environmental factors that can trigger false alarms, such as moving foliage or changes in weather and ambient temperature.
As they rely on detecting heat signatures rather than visible light, volumetric thermal detectors, such as OPTEX's REDWALL SIP series, function effectively in low light or even complete darkness. This makes them a perfect solution for areas which don't have thorough illumination or which are subject to challenging environmental conditions, including fog, smoke or harsh weather, where other technologies might be limited. The main benefit of this reliable detection capability is to provide the surveillance system with the intelligence to filter out the main causes of false alarms and, more importantly, to avoid any missed genuine alarms.
OPTEX REDWALL SIP sensors have been deployed across thousands of remote sites in Europe where they contribute to creating a more reliable and efficient surveillance system. REDWALL SIP integrates with IP video, LED security lighting, audio and other security equipment and contributes with its reliable detection to ensure there are no missed alarms.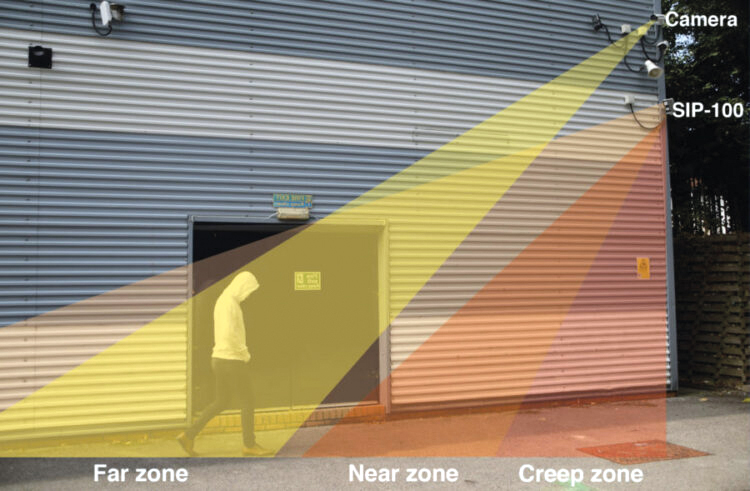 Highly reliable and accurate detection
One of the key challenges when protecting remote sites is maintenance; the fact that REDWALL SIP sensors can automatically adjust to the environment and the unevenness of the terrain is a huge support to the security team and means they do not have to physically attend the site to change the settings of the sensor. It is also a robust and durable device which ensures a long product life and cost effective solution.
Volumetric thermal detectors also provide a wide coverage area, typically covering a longer range compared to traditional short-range PIR sensors. OPTEX REDWALL series includes a wide range of sensors offering wide areas up to 30 x 50 m or corridor detection areas up to 100 m.
It provides a uniform detection in the whole protection area, which is achieved thanks to different sensors housed in the same device – for far zone, near zone and creep zone. The different zones allow PTZ cameras to track intruders across zones and also provides the possibility of having independent alarm outputs, as well as the implementation of detection logic. The logical configuration of detection means that you can combine two zones to know in which direction the intruder is moving and whether it should trigger the alarm or not. In addition, the creep zone below the sensor allows self-protection in case of vandalism against the equipment.
For more information, contact Optex, sales-sa@optex-europe.com, www.optex-europe.com
Credit(s)
Further reading:
Different fences for different farmers
Gallagher Perimeter Security, Alarms & Intruder Detection Agriculture (Industry)
Far beyond the simple delineation of boundaries, fencing serves as a dynamic solution to address various needs, from ensuring the security of farms and protecting livestock to defining property lines and enhancing aesthetic appeal.
Read more...
---
Effective access control
Flow Systems Access Control & Identity Management Products & Solutions
Flow Systems has introduced its new Extra Heavy Duty Industrial Rising Vehicle Barrier, which provides a high level of protection. It is a traditional-looking control barrier with the benefits of high-level physical protection.
Read more...
---
Protect remote sites with volumetric thermal detectors
OPTEX Perimeter Security, Alarms & Intruder Detection
Remote sites have always been more vulnerable to opportunistic intrusion, but over the last two years in particular, sites such as solar farms or industrial parks have become more common targets for criminals.
Read more...
---
Stafix focuses on local manufacturing
Perimeter Security, Alarms & Intruder Detection
Stafix Security Centres is a South African-owned company committed to providing customers with a choice of quality imported and locally manufactured products that meet the needs of the electronic security market.
Read more...
---
Texecom launches latest SmartCom 4G Communicator
Perimeter Security, Alarms & Intruder Detection
Texecom announced the upgraded and enhanced version of its SmartCom 4G communicator. Signal sensitivity on all the main bands has also been improved, increasing the usable range from masts, in some instances, by up to four times.
Read more...
---
SafeQuip introduces lithium fire extinguishers
Fire & Safety Products & Solutions
With the use of Lithium batteries increasing in many types of portable devices and battery storage solutions, SafeQuip, in partnership with AVD Lithex, is introducing a fire extinguisher aimed at suppressing and extinguishing, and also preventing re-ignition of lithium fires.
Read more...
---
New generation of cyber-focused controllers
Gallagher News & Events Access Control & Identity Management Products & Solutions
The C7000 gives users an opportunity to leverage their hardware and firmware to build a platform designed to catapult their organisation into the future, with cybersecurity baked in from inception.
Read more...
---
Protecting narrow areas in warehouse and logistics sites
OPTEX Facilities & Building Management Transport (Industry) Logistics (Industry)
Logistics facilities, warehouses and distribution centres are critical to the supply chain and any company's business operation and assets. Any disruption can have enormous consequences, both functional and financial.
Read more...
---
Nextivity CEL-FI ROAM R41 boosts your cell signal
IoT & Automation Products & Solutions
Designed for cars, trucks, and boats, it is the industry's most powerful cellular coverage solution for on-the-go applications. It features the 4th generation IntelliBoost chip to deliver channelised coverage for mobile network operator (MNO) signals.
Read more...
---
Unlocking efficiency and convenience
OPTEX Access Control & Identity Management
The OVS-02GT vehicle detection sensor is the newest member of OPTEX's vehicle sensor range, also known as 'virtual loop', and offers reliable motion detection of cars, trucks, vans, and other motorised vehicles using microwave technology.
Read more...
---