printer friendly version
Improved control with electronic keys
Issue 5 2023 Retail (Industry), Access Control & Identity Management, Products & Solutions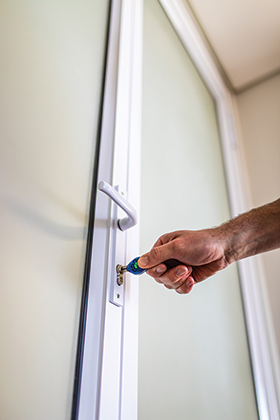 Securing your shop and stock in a retail environment while ensuring a seamless shopping experience for customers can be a challenging task. Traditional keys pose numerous security concerns, such as anonymity, potential loss or theft, and the inability to determine which key was used. Consequently, distributing various keys to store employees often inconveniences customers with long waiting times. However, an innovative solution has emerged – electronic access systems.
By adopting an electronic access system, retailers can equip all employees with a Yebotech Key to enhance their ability to assist customers more effectively, leading to increased sales. This solution eliminates the need to wait for physical keys and streamlines the workflow.
The system's functionality revolves around a management software that allows customised configurations for the electronic keys. Store managers can define parameters such as time restrictions, assigning keys to specific assistants, and more. Every action within the system is audited, ensuring accountability for all key holders. The user-friendly management website enables easy modification of key and user access rights, while providing a comprehensive overview of key and lock usage. This auditability empowers store managers to focus on their responsibilities, knowing that the key holders are accountable for their actions.
YeboTech's rugged digital locks eliminate the need for batteries or wiring. With a wide range of lock options available, from cam locks for stores to weather-resistant padlocks, these locks can be deployed both inside and outside the store, all controlled under a unified system. Moreover, the locks can serve as proof-of-presence, enabling the establishment of checkpoint routes and generating notifications for missed checkpoints.
YeboTech offers a secure, convenient, and auditable solution for securing your shop and all stock in the retail environments. By using this solution, retailers can empower their employees, reduce stock shrinkage, streamline operations, and maintain comprehensive control over key and lock usage, along with the added flexibility of serving as proof-of-presence.
For more information, contact YeboTech, +27 21 713 7260, www.yebotech.com
Credit(s)
Further reading:
Gallagher Security releases Command Centre v9
Gallagher News & Events Access Control & Identity Management Integrated Solutions
Richer features, greater integrations, with the release of Gallagher Security's Command Centre v9 security site management software designed to integrate seamlessly with various systems and hardware.
Read more...
---
Lock down your access control with Alcatraz AI
C3 Shared Services Healthcare (Industry) Access Control & Identity Management AI & Data Analytics
Alcatraz AI, represented in South Africa by C3 Shared Services, changes access control by harnessing the power of artificial intelligence and analytics at the edge, where facial recognition becomes the essential credential autonomously.
Read more...
---
Effective access control
Flow Systems Access Control & Identity Management Products & Solutions
Flow Systems has introduced its new Extra Heavy Duty Industrial Rising Vehicle Barrier, which provides a high level of protection. It is a traditional-looking control barrier with the benefits of high-level physical protection.
Read more...
---
SafeQuip introduces lithium fire extinguishers
Fire & Safety Products & Solutions
With the use of Lithium batteries increasing in many types of portable devices and battery storage solutions, SafeQuip, in partnership with AVD Lithex, is introducing a fire extinguisher aimed at suppressing and extinguishing, and also preventing re-ignition of lithium fires.
Read more...
---
New generation of cyber-focused controllers
Gallagher News & Events Access Control & Identity Management Products & Solutions
The C7000 gives users an opportunity to leverage their hardware and firmware to build a platform designed to catapult their organisation into the future, with cybersecurity baked in from inception.
Read more...
---
New T&A terminal features revolutionary AI technology
Suprema News & Events Access Control & Identity Management AI & Data Analytics
Suprema has launched BioStation 2a, the world's first deep learning-based fingerprint recognition solution, providing powerful access control features and an improved ability to extract templates from low-quality fingerprints.
Read more...
---
Nextivity CEL-FI ROAM R41 boosts your cell signal
IoT & Automation Products & Solutions
Designed for cars, trucks, and boats, it is the industry's most powerful cellular coverage solution for on-the-go applications. It features the 4th generation IntelliBoost chip to deliver channelised coverage for mobile network operator (MNO) signals.
Read more...
---
Olarm advances smart security with Texecom integration
Olarm News & Events Perimeter Security, Alarms & Intruder Detection Products & Solutions
Following Olarm's achievement as the OSPA 2023 winner of 'Outstanding Security Integrator', it has taken another significant step in its innovation journey with the announcement of its integration with Texecom Premier Elite.
Read more...
---
Enhanced security at Xanadu Nature Estate
Turnstar Systems Access Control & Identity Management Products & Solutions
Turnstar Systems recently installed two bicycle turnstiles at the 240-hectare Xanadu Nature Estate, set in the Magaliesberg, the perfect location for secure communal living catering to the lifestyle of residents.
Read more...
---
Smart opener for gates and garages
Smart Home Automation Access Control & Identity Management
The Smart Gate and Garage Opener allows consumers to control and monitor gates and garage doors that have already been fitted with automation devices via the Yale Home app on their smartphone.
Read more...
---