printer friendly version
Modern retail requires modern AI and surveillance
Issue 5 2023
Surveillance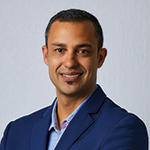 Marcel Bruyns.
If there is any sector that has been subject to dramatic digital transformation, for both consumers and businesses, it's retail. Whether you're shopping for daily groceries, investment appliances, or your next big furniture purchase, the experience is not the same as it was 10 years ago. For operators, shifting consumer trends and fluctuating business environments demand flexibility, innovation, and an ability to scale operations accordingly.
That's a lot for retailers, both big and small, to consider. Fortunately, advancements in new technologies like AI and smart analytics have given way to new tools and resources. In this case, offering data and data analytics to learn more about business activities and unlock new insights.
South Africa's retail sector faces intense economic challenges, such as decreasing trade sales and continuing inflation1. This is in addition to always-on challenges such as crime; reports suggest increases in property related crimes and burglaries at non-residential premises2. The pressure is on operators to attract customers with a shopping experience characterised by convenience and quality of service. At the same time, they need to leverage the power of technology to cement that experience, secure their premises, and extract maximum value from cutting-edge smart solutions.
Accessing the future
Retailers have a lot to gain by introducing intelligent, IP-based surveillance and access control measures to their operations. The result of that integration is an interconnected technological ecosystem that keeps operators ahead of the competition and up to date with customer expectations.
Picture the typical retail premise, complete with customer and staff entrances, aisles, and cashier points. Operators can use advanced scheduled door access with additional authentication measures needed outside of business hours3. Network intercoms allow for authorised access with the help of QR codes, complemented by IP audio that can make announcements or play in-store messages. Applying these technologies, operators can enhance cashier points with fast lane checkouts; customers scanning a QR code on their receipt or mobile device via an integrated smart camera at a terminal.
Access control becomes part of centralised store management, which itself can be done remotely or in a hybrid manner. Scalability is also covered. Regardless of the size of the store or how many stores you operate, edge-based access control with multi-site capabilities allow operators' security measures to grow as their business does.
These use cases represent major changes for the retail employee experience, but not to their detriment. According to IDC research, many retail associates believe technology will enable them to do their jobs more effectively and lead to them being more engaged with their organisation4. All of this forms a working scenario, where retailers can secure and survey more effectively, while learning more about themselves thanks to actionable data insights.
The power of AI
In today's business world, data is a valuable commodity and data insight is a way for enterprises to stay a step ahead of their competitors, but innovations in AI have yielded new ways for enterprises to leverage and respond to that data in meaningful ways.
One of those innovations is 'computer vision', which is set to transform the retail sector5. A subcategory of AI, computer vision entails devices scanning and analysing their surroundings the same way a human would, providing operators with insight into customer behaviour as well as product quantity and availability. If there's a product that's flying off the shelves or being ignored by customers, operators can identify the trend in real time. The same technology can be applied for customer and premise monitoring; identifying anomalous behaviour or incidents that require immediate action.
This use of AI feeds into the greater adoption of cloud-based and networking technologies by retailers. Using network cameras, high resolution video is processed at the edge and transmitted to the cloud. Actionable insights are packaged as notifications and sent to onsite or offsite personnel, or other business management software solutions, like inventory management, that then trigger human or automated responses.
Shopping for intelligence
Network and surveillance solutions stand to benefit from the increased capabilities of applied AI and data analytics. As an important sector of South Africa's economy, the retail industry can benefit from a holistic and AI-enabled approach to security and site management, culminating in an upgraded customer experience and comprehensive insight into business operations.
Sources
[1] https://mg.co.za/thoughtleader/analysis/2023-06-26-bleak-outlook-for-south-africas-struggling-retail-sector/
[2] https://www.saps.gov.za/services/crimestats.php
[3] https://www.axis.com/blog/secure-insights/access-control-retail/
[4] https://htxt.co.za/2023/06/20/idc-study-shows-retail-workers-want-more-technology/
[5] https://www.axis.com/blog/secure-insights/retail-insights/
Credit(s)
Further reading:
Pentagon appointed as Milestone distributor
Elvey Security Technologies News & Events Surveillance
Milestone Systems appointed Pentagon Distribution (an Elvey Group company within the Hudaco Group of Companies) as a distributor. XProtect's open architecture means no lock-in and the ability to customise the connected video solution that will accomplish the job.
Read more...
---
Embracing next-generation surveillance for safer cities
Surveillance Integrated Solutions AI & Data Analytics
With the South African government highlighting the importance of building smart cities by integrating advanced technologies to make them more resilient and liveable, the role of next-generation network video and surveillance technologies cannot be ignored.
Read more...
---
Hik-Connect for Teams released
Hikvision South Africa Products & Solutions Surveillance
Hikvision has released an update for its security management platform; Hik-Connect for Teams not only meets the specific needs of individual users, but also caters to various medium-sized businesses (SMBs) and multi-site management scenarios.
Read more...
---
The human factor side of video management systems
Leaderware Editor's Choice Surveillance Risk Management & Resilience
A video management system (VMS) is central to, and the most vital element to any control room operation using CCTV as part of its service delivery, however, all too often, it is seen as a technical solution rather than an operational solution.
Read more...
---
A simple system for complex protection
Surveillance AI & Data Analytics IoT & Automation
Reconeyez is a company that provides autonomous wireless visual verification systems with built-in artificial intelligence. Running on batteries, each device includes communication capabilities, creating a mesh network between the various devices, linking them to the control room.
Read more...
---
Revolutionise your security with integrated solutions
Secutel Technologies Products & Solutions Surveillance
By merging the capabilities of SecuVue and Secutraq, Secutel has forged a robust system empowering users to fine-tune analytics and harness facial recognition, pose detection, and XFS, among other features.
Read more...
---
Edge could help transform South Africa's healthcare
Axis Communications SA Infrastructure
Edge computing has emerged as a game-changing technology for many industries, and the healthcare sector is no exception. In particular, South Africa's healthcare industry could significantly benefit from the potential of this technology.
Read more...
---
Safer roads to a sustainable future
Dahua Technology South Africa Surveillance
With the ever-increasing number of vehicles on the road, it is imperative to constantly improve the quality of transportation monitoring and traffic management in urban and rural areas.
Read more...
---
From damage management to false alarm prevention
Dallmeier Electronic Southern Africa Transport (Industry) Surveillance Logistics (Industry)
Video surveillance is undergoing an exciting evolution; today's IP-based solutions can be fully integrated into digital systems. With the increasing integration of artificial intelligence (AI); logistics, in particular, can make processes more transparent and exploit previously untapped potential.
Read more...
---
Marshall Security partners with Blacklight to introduce Reconeyez to KZN
News & Events Surveillance Power Management
Marshal Security has joined forces with Blacklight Group to launch Reconeyez, a cutting-edge battery-powered surveillance platform with mesh network capability, in the KwaZulu-Natal market.
Read more...
---