printer friendly version
How AI technology is transforming the physical security industry
Issue 5 2023
Access Control & Identity Management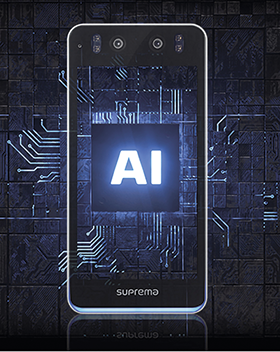 Artificial intelligence has been around for a while, but it has only become relevant on a wide scale within the past decade. This is largely due to recent advancements in computer and cloud technology that now make it possible to run AI algorithms on almost any connected device, which has finally made it possible to apply AI in various industries, to great effect.
AI integration is especially beneficial to the physical security industry. For millennia, we have relied on humans to provide security functions, requiring a large workforce that is highly subject to error. But AI is extremely capable of automating many security tasks and can even perform some tasks far better than humans.
The AI transformation of physical security has already begun and is expected to completely revolutionise the industry within the near future. Following are some of the ways that AI is being implemented in physical security:
AI in physical access control
Deep learning AI is capable of efficiently monitoring and analysing video footage on a continuous basis, even processing hundreds of hours of video in mere seconds, removing this arduous burden from human security personnel. AI-based surveillance software can distinguish between different videos to locate specific people or vehicles and can analyse footage to detect unusual or undesirable occurrences, such as violent behaviour or loitering.
Specialised AI-based crowd monitoring systems can precisely track every single person in an area and even detect objects such as hidden weapons based on their shape. This makes it possible for guards to react to threats quickly and efficiently, often allowing them to prevent criminal acts before they happen.
Thanks to artificial intelligence, fingerprint and facial recognition have also become highly advanced. AI is capable of instantly analysing biometric data at extreme levels of detail and speed that humans are incapable of, for example by identifying minute differences in facial structure or fingerprints within a fraction of a second. This is highly beneficial, because unlike physical keys, RFID cards and PIN numbers, it is impossible for biometric data to be lost, forgotten, or stolen. Biometric information is extremely unique to each individual, especially when two or more types of credentials are combined for multi-factor authorisation (MFA), making AI-based biometrics the strongest identity verification method ever invented. Biometric readers are now widely used for access control to ensure that only authorised personnel are permitted entry to restricted areas.
The cutting edge of AI security
As the physical security industry now stands in 2023, we are at the beginning of a big push to integrate AI more fully into security systems worldwide and Suprema's AI algorithms have a distinct market advantage compared to competitors in the field. Suprema has been a provider of biometric solutions for over two decades since the company launched in 2000, which now provides Suprema with a vast database of biometric information, 23 years in the making, upon which to base its growing AI capabilities.
To build on this asset, Suprema launched the Suprema AI subsidiary company in 2021. The key researchers at Suprema AI are all specialised in artificial intelligence, lightweight technology embedded in platforms, and go-to-market strategy.
By drawing on this experience, Suprema AI is now garnering attention in the global market for developing top-notch edge AI-based biometric recognition and image analysis solutions optimised for use in real field environments, with limitless applications in products such as automobiles, access control locks, IoT, security cameras and other public safety and physical security systems.
As a bold assertion of dominance in the AI security industry, Suprema launched the BioStation 3 terminal in 2022 with an embedded neural processing unit (NPU), the most advanced AI processor ever integrated in an access control product. BioStation 3 is an advanced edge device that the company boasts has the world's fastest and most precise facial recognition capabilities.
Suprema's AI biometric algorithms are capable of correctly identifying anybody's face regardless of race or skin colour. The AI can easily differentiate between different hairstyles, and recognises people when they are wearing various colours and styles of hats, sunglasses and masks, or even niqab face coverings.
Suprema's biometric products and AI algorithms have won many awards and have secured the company the top market share in biometric access control in the EMEA region. Owing to the strength of Suprema's biometric products, the company has consistently been named one of the top 50 security manufacturers worldwide for the past 12 years running.
Source: https://www.supremainc.com/en/hub/insights-how-ai-technology-transforming-physical-security-industry.asp
Credit(s)
Further reading:
Gallagher Security releases Command Centre v9
Gallagher News & Events Access Control & Identity Management Integrated Solutions
Richer features, greater integrations, with the release of Gallagher Security's Command Centre v9 security site management software designed to integrate seamlessly with various systems and hardware.
Read more...
---
Paxton's Net2 secures medicinal cannabis facility
Paxton Access Control & Identity Management Healthcare (Industry) Videos
Paxton's Net2 access control has been installed at Highlands Grow, a fully licensed industrial-scale cultivator, producing cannabis for medicinal and recreational use.
Read more...
---
Lock down your access control with Alcatraz AI
C3 Shared Services Healthcare (Industry) Access Control & Identity Management AI & Data Analytics
Alcatraz AI, represented in South Africa by C3 Shared Services, changes access control by harnessing the power of artificial intelligence and analytics at the edge, where facial recognition becomes the essential credential autonomously.
Read more...
---
Effective access control
Flow Systems Access Control & Identity Management Products & Solutions
Flow Systems has introduced its new Extra Heavy Duty Industrial Rising Vehicle Barrier, which provides a high level of protection. It is a traditional-looking control barrier with the benefits of high-level physical protection.
Read more...
---
Newport Aquarium replaces traditional locks and keys
Paxton Access Control & Identity Management Entertainment and Hospitality (Industry)
Newport Aquarium wanted to replace its old security system with an easy-to-use and high-security access control solution to keep the animals, visitors, and staff safe. The solution was Net2, a PC-based access control system that offers centralised administration.
Read more...
---
Securing easy access
Suprema neaMetrics Access Control & Identity Management
Securing access to hospitals and healthcare institutions presents a unique set of challenges, because these facilities operate 24/7, have highly 'open' access in public areas and require a strict level of security.
Read more...
---
Reliable mass notification
Access Control & Identity Management
The use of voice alarm and voice evacuation systems within the healthcare industry ensures a safer and more reassuring environment in the event of an emergency.
Read more...
---
Upgrading security at lifestyle estate
Turnstar Systems Access Control & Identity Management
Lifestyle estates are often located in out-of-town settings, and living away from the hustle and bustle of the city can be conducive to a relaxing lifestyle. However, it requires a high level of security to keep residents secure.
Read more...
---
Protecting our most vulnerable
Access Control & Identity Management
In a nation grappling with the distressing rise in child kidnappings, the need for innovative solutions to protect our infants has never been more critical. South Africa finds itself in the throes of a child abduction pandemic.
Read more...
---
New generation of cyber-focused controllers
Gallagher News & Events Access Control & Identity Management Products & Solutions
The C7000 gives users an opportunity to leverage their hardware and firmware to build a platform designed to catapult their organisation into the future, with cybersecurity baked in from inception.
Read more...
---