printer friendly version
Access to sustainability
Issue 5 2023
Integrated Solutions
With access control and mobile solutions rapidly advancing, businesses have an unprecedented opportunity to exceed expectations with frictionless experiences, while also cutting costs on energy efficiency and supporting sustainability efforts.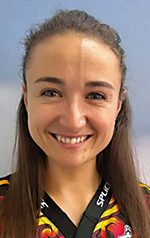 Roxanne Agliotti.
Access control has a strong role to play in delivering these outcomes. From using mobile credentials to access meeting spaces, facial recognition technology to provide automated building and lift access, or interfacing lighting and air conditioning services for better energy use and cost-savings; the opportunities that access control can deliver to provide smart and frictionless experiences are endless. Smart building management solutions are designed to save time and money.
In this article, we will explore the key elements required from an access control system to create an efficient and safe user experience, which is vital to staying competitive in today's market.
Access control essentials
When it comes to determining best practices in facilities and building management, it really boils down to understanding the needs of the customer and creating an integrated security solution that delivers 'your security, your way'.
The first step usually involves mastering access control. Take Pier Place for example; a multi-tenant office building in Cape Town, Pier Place faced unique security challenges due to its shared environment. ARIA Property Group, the building's management, sought a robust access control solution to ensure a safe and secure environment for the 800 daily occupants from 14 different companies.
ARIA installed Gallagher's Command Centre software platform and security cameras at critical entry and exit points, creating a virtual barrier with 24/7 monitoring. Occupants simply use their access cards to badge the readers mounted next to access-controlled doors and turnstiles.
With comprehensive access control in place, ARIA Property Group can operate with minimal onsite security personnel. Three guards cover the external entry points 24/7, and a third-party tactical response team is available for larger security situations, or outside business hours.
The access control system stops unwanted individuals from accessing tenanted floors, safeguarding workers, intellectual property, and equipment. ARIA Property Group appreciates the ability to monitor and manage people's movements throughout the building.
The scalability of the access control solution allows ARIA to adapt to future security requirements. They can integrate CCTV and a visitor management system for a comprehensive audit trail of access and security events. Integration with building management systems is also a possibility for future expansion.
ARIA Property Group's commitment to security enhances its reputation with tenants, who recognise the steps taken to protect people and assets.
While the initial installation at Pier Place included the use of access cards, advancements in technologies such as mobile solutions and biometrics are helping other property managers to enable a virtually seamless access control experience for building occupants.
Staying mobile
Mobile badging, automated SMS messaging, and seamless integration between mobile control and building management systems are just some of the functionalities delivered with the latest mobile security solutions.
Mobile technology use in everyday life has increased massively in recent years. Most of us now have a mobile device that we use to manage different aspects of our lives. With approximately half of all web traffic around the globe coming from mobile device users, the move to mobile is having a major impact on industries worldwide.
In addition to security benefits, utilising mobile technology as part of a security solution offers many benefits. When implemented as part of one integrated security system, mobile credentials are easy to deploy, simple to operate, and provide administrative efficiencies and cost-saving opportunities. They even allow for remote management of facilities.
A mobile access control app transforms a building user's mobile device into an access card allowing them to move effortlessly around a site, accessing amenities via the Bluetooth connection on their mobile device. Rather than having to stop and find a key or card, Bluetooth readers communicate directly with users' mobile phones, simplifying the experience for staff, members and guests.
As technology progresses and the world becomes more mobile, it is inevitable that mobile technology will become more prevalent in the security industry. The emergence of IoT and smart technology is accelerating our desire as consumers to integrate mobile technology into our everyday lives.
From million-dollar smart city projects to the ability to switch on your washing machine from your mobile phone, we all want to be a part of the technology evolution. With the associated cost efficiencies and environmental benefits, mobile has established an influential role in the future of access control.
Biometrics enters the game
Biometrics, including facial recognition, fingerprint, and wave identification, help to provide a smoother, more fluid experience for building users, who are free to move about with a look or wave of the hand. This removes the hassle and security risk of lost ID cards.
When this biometric technology is integrated into the access control system, it makes movement within the building safer, plus it really increases the possibilities of making life easier for building users.
Building car parks can also be provided with a hands-free access solution. All it takes is simply using access stickers affixed to vehicles to allow people to have smoother – and safer – access to their parking spaces.
While the adoption of biometrics is still in its infancy, it provides huge potential in facilities and building management to simplify user experiences and improve business efficiencies.
Drive cost efficiencies and enhance user experiences
Integrations play a crucial role in enabling cost efficiencies and delivering seamless experiences for building users. By leveraging advanced technology, businesses can optimise their operations, improve security, and create modern environments.
An access control solution that seamlessly integrates with a wide range of third-party products empowers businesses to tailor their security system to their specific needs, optimising efficiency and resource utilisation. Leading technology companies are revolutionising the future of smart buildings through innovative integrations.
One such integration is a visitor management solution. It streamlines reception tasks and enhances security protocols. A self-registration kiosk, integrated with access control systems, simplifies the process of welcoming and managing visitors. With smooth processing upon arrival, organisations can ensure that health and safety obligations are met while maintaining a secure site.
Integrating access control systems with elevator systems is essential for providing a seamless experience to building users. By governing access permissions through the access control platform, individuals can only access authorised floors, ensuring a secure environment. Personalised preferences can further enhance user comfort, offering a tailored journey within the building.
By embracing such integrations, businesses can drive cost efficiencies while enhancing the overall user experience.
Building for the future
A highly integrated, smart building solution should enhance how people go about their daily lives, while still providing the comfort of knowing they are as protected as possible. By utilising security software that can integrate with a wide range of third-party products, it gives buildings the flexibility to tailor their system to their own unique circumstances. This allows people to move about simply and swiftly. It's your security, your way.
Embracing technological advancements and leveraging integrations not only improves efficiency, but also paves the way for future growth and innovation in facility and building management.
Credit(s)
Further reading:
Integrated transportation security
Guardian Eye AI & Data Analytics Integrated Solutions Logistics (Industry)
HG Travel installs an AI-powered camera system integrated across 115 vehicles throughout a fleet comprising 160 vehicles of different sizes, along with predictive and self-monitoring tools to track tyre condition, fuel consumption and theft, and overall vehicle maintenance.
Read more...
---
Embracing next-generation surveillance for safer cities
Surveillance Integrated Solutions AI & Data Analytics
With the South African government highlighting the importance of building smart cities by integrating advanced technologies to make them more resilient and liveable, the role of next-generation network video and surveillance technologies cannot be ignored.
Read more...
---
Gallagher Security releases Command Centre v9
Gallagher News & Events Access Control & Identity Management Integrated Solutions
Richer features, greater integrations, with the release of Gallagher Security's Command Centre v9 security site management software designed to integrate seamlessly with various systems and hardware.
Read more...
---
Different fences for different farmers
Gallagher Perimeter Security, Alarms & Intruder Detection Agriculture (Industry)
Far beyond the simple delineation of boundaries, fencing serves as a dynamic solution to address various needs, from ensuring the security of farms and protecting livestock to defining property lines and enhancing aesthetic appeal.
Read more...
---
Zero Trust in 2024
Mantis Security Integrated Solutions IoT & Automation
The rapid development of artificial intelligence (AI) applications and uses in 2024 will profoundly impact security operations and AI-driven analytics, which can enhance threat detection, anomaly identification and predictive maintenance.
Read more...
---
Integrating farming and security solutions for productivity
Security BIS Agriculture (Industry) Integrated Solutions
Security challenges are a harsh reality in South Africa, particularly for those in remote areas. Sadly, recurring rural crimes like farm attacks and livestock theft are part of the farming community's lives.
Read more...
---
Optimise operations in healthcare
Cathexis Technologies Integrated Solutions
Hospitals can see thousands of people gathering daily to provide medical care, seek help, visit loved ones, or undertake essential support or administrative work. Protecting everyone is critical to maintaining a safe environment.
Read more...
---
Hikvision unveils range of network speakers
Hikvision South Africa Integrated Solutions
Hikvision has recently unveiled its latest audio product line, featuring various advanced network speakers. Each product is designed to meet different application needs, ensuring flexibility and adaptability across numerous environments.
Read more...
---
New generation of cyber-focused controllers
Gallagher News & Events Access Control & Identity Management Products & Solutions
The C7000 gives users an opportunity to leverage their hardware and firmware to build a platform designed to catapult their organisation into the future, with cybersecurity baked in from inception.
Read more...
---
HDR multi-camera solution for autonomous mobility
IoT & Automation Integrated Solutions
e-con Systems has launched the STURDeCAM31, a small form factor camera that has been engineered to make autonomous mobility safer by ensuring reliable and superior imaging quality even in challenging outdoor lighting conditions.
Read more...
---