printer friendly version
Partnering for security and more
Issue 5 2023 Retail (Industry), Surveillance, Integrated Solutions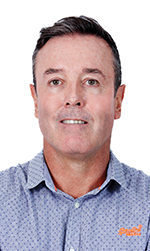 Rodney Taylor.
From a smart retail perspective, it is crucial to understand that monitoring stock and other assets through camera surveillance and a variety of Internet of Things (IoT) sensors stretches further than the stores themselves. Greater importance is being placed on protecting the entire value chain, which starts at distribution. Beyond just security, this technology is also being used to enhance operations and reduce costs.
Distribution centres, many of which may feature 24/7 operations, are a vital cog in the chain for retailers, helping them ensure that their stores can be stocked with the right products as quickly as possible. However, these high-value centres – a store might contain R3 million or R4 million of stock, a distribution centre might hold R50 million in merchandise – are the target of criminal activity as well, as seen during the July 2021 riots. As such, it is no surprise that retailers are investing significantly in improving safety and operations at their distribution centres, and this starts with better perimeter security.
Virtual guarding
Here, Guardian Eye's Intelligent Guarding combines computer vision with machine learning to turn any camera stream into a feed of intelligent alerts for complete risk visibility. Virtual guarding eliminates the need for guard patrol, while the ability to check in as often as you like means that criminals are unable to study and determine specific patrol times. It also saves retailers from spending on unnecessary security call out fees, as being able to check in first results in a 99% reduction in false alarms.
In addition, with it being a managed monitoring solution, there is a constant eye on distribution centres 24/7/365 from a centralised nerve centre, which means that the retailers' security provider and the South African Police Service are alerted when the retailers' premises are at risk.
Unfortunately, not all threats are from external sources, and pilferage by staff is a problem that exists. To make matters worse, it does not help to simply hire people to monitor footage from security cameras if they do not know what exactly to be on the lookout for. In an ongoing pilot project, Guardian Eye is training staff within its own nerve centre before deploying them on-site to a retail customer's distribution centre, where they will be monitoring for internal theft.
Energy monitoring
As mentioned earlier, it is not all about security either. Energy consumption is one of the biggest cost factors for any type of business and managing it in real time can be labour-intensive and time consuming. With Guardian Eye Smart Energy, retailers can measure energy consumption and take corrective action in real time. Unnecessary energy consumption can be identified even after hours, and behavioural change can be implemented immediately. This includes measuring the energy usage of individual appliances and switching unused appliances off where needed. By reducing consumption businesses can offset the impact of future energy and tax increases while using the savings for other business requirements.
Then, there is temperature monitoring: firstly, outside temperature often determines your energy usage inside, and factoring in the temperature can provide greater insight into a business's electricity consumption patterns. Secondly, in the case of distribution centres, retailers might have sections that are dedicated to cold storage for perishables such as dairy or meat, and these need to be continually monitored as well – if something goes wrong here the cold chain will be affected all the way down.
Asset tracking
Of course, stock needs to be moved from distribution centres to stores, and it is vulnerable here too. Guardian Eye Smart Asset Tracking can be used to monitor the location of any movable business asset and can also act as a back-up device for company vehicles with tracking units already installed. These devices connect automatically to an IoT-specific network and the information from the asset is accessible from anywhere via the Guardian Eye IoT platform.
Device transmission settings, various alerts and reports can also be set up and remotely adjusted via the platform to suit a retailer's requirements - this includes setting up geo-fences (virtual boundaries), as well as notifications when a vehicle leaves the distribution centre, and again when the vehicle arrives at its intended destination. Of course, the moveable asset is continually monitored, with the retailer's security company and law enforcement authorities being alerted in case of an incident such as a hijacking.
Looking beyond security again, Guardian Eye is now adding temperature sensors inside the semi-trailers of trucks carrying perishable goods to the list of devices they monitor; if there is a problem with the refrigeration en-route, the customer can be notified and they can take quicker action to prevent the loss of their goods.
IoT and analytics specialists
Only now do we reach the area that most people think about when it comes to smart retail security – the local retailer. Here technology is used across a wide variety of areas in order to improve safety as well as enhance operations at the store. With a turnkey solution from Guardian Eye, perimeter management takes care of security, while intelligent camera surveillance takes care of counting people in queues, identifying the total number of people there are in the store, warning staff of people loitering outside the store who might present a threat, or simply helping management verify store staff clocking in and out.
All of this allows each party to focus on what they are best at: the retailer can focus on improving their operations and increasing sales, security companies can focus on responding to incidents when they happen, while Guardian Eye focuses on what it is good at – a surveillance, IoT and analytics specialist with a nerve centre that monitors cameras and sensors and then works as an optimiser and enabler to any security company, helping them expand their reach and capabilities through the use of technology.
Credit(s)
Further reading:
Pentagon appointed as Milestone distributor
Elvey Security Technologies News & Events Surveillance
Milestone Systems appointed Pentagon Distribution (an Elvey Group company within the Hudaco Group of Companies) as a distributor. XProtect's open architecture means no lock-in and the ability to customise the connected video solution that will accomplish the job.
Read more...
---
Integrated transportation security
Guardian Eye AI & Data Analytics Integrated Solutions Logistics (Industry)
HG Travel installs an AI-powered camera system integrated across 115 vehicles throughout a fleet comprising 160 vehicles of different sizes, along with predictive and self-monitoring tools to track tyre condition, fuel consumption and theft, and overall vehicle maintenance.
Read more...
---
Embracing next-generation surveillance for safer cities
Surveillance Integrated Solutions AI & Data Analytics
With the South African government highlighting the importance of building smart cities by integrating advanced technologies to make them more resilient and liveable, the role of next-generation network video and surveillance technologies cannot be ignored.
Read more...
---
Gallagher Security releases Command Centre v9
Gallagher News & Events Access Control & Identity Management Integrated Solutions
Richer features, greater integrations, with the release of Gallagher Security's Command Centre v9 security site management software designed to integrate seamlessly with various systems and hardware.
Read more...
---
Hik-Connect for Teams released
Hikvision South Africa Products & Solutions Surveillance
Hikvision has released an update for its security management platform; Hik-Connect for Teams not only meets the specific needs of individual users, but also caters to various medium-sized businesses (SMBs) and multi-site management scenarios.
Read more...
---
The human factor side of video management systems
Leaderware Editor's Choice Surveillance Risk Management & Resilience
A video management system (VMS) is central to, and the most vital element to any control room operation using CCTV as part of its service delivery, however, all too often, it is seen as a technical solution rather than an operational solution.
Read more...
---
Integrating farming and security solutions for productivity
Security BIS Agriculture (Industry) Integrated Solutions
Security challenges are a harsh reality in South Africa, particularly for those in remote areas. Sadly, recurring rural crimes like farm attacks and livestock theft are part of the farming community's lives.
Read more...
---
Revolutionise your security with integrated solutions
Secutel Technologies Products & Solutions Surveillance
By merging the capabilities of SecuVue and Secutraq, Secutel has forged a robust system empowering users to fine-tune analytics and harness facial recognition, pose detection, and XFS, among other features.
Read more...
---
First telemedicine platform for South Africa
Guardian Eye Healthcare (Industry) AI & Data Analytics
South African employees often struggle to receive timely, affordable, and accessible healthcare. The challenge for many healthcare initiatives within organisations is the melting pot of cultures.
Read more...
---
Simplify AARTO compliance for fleets
Guardian Eye IoT & Automation Asset Management Transport (Industry) Logistics (Industry)
While there are challenges around the management and implementation of the AARTO Amendment Act, there are also benefits that need to be understood today to ensure compliance and value tomorrow.
Read more...
---