printer friendly version
PoE makes surveillance sense
Issue 4 2023 Surveillance, Products & Solutions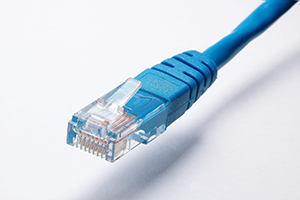 A business wanting to install surveillance cameras on its premises must consider how to supply power to wherever it wants to place a camera, and that could mean paying for additional electrical work. Some buildings may require a permit, or even prohibit the kind of modifications needed to support cameras. A business may even have to compromise on its security plans, as there might be no feasible way to bring power to places where a camera will be most effective, such as in a ceiling-mount or a remote corner.
Installation and maintenance can often be a complicated process for traditional cameras that require separate cabling for both power and data, making them costly to install. The solution is something we're all familiar with in our phones and other USB devices — both power and data delivered over a single cable. This is thanks to Power-over-Ethernet, or PoE.
Power over Ethernet (PoE) simplifies IP camera installation, with both power and data carried over a standard network cable. Using PoE means less modification to your premises, requires no electrician or building permit, and will need less maintenance. Supported by an increasing number of new cameras, the PoE standard can deliver power to even high-end devices, making advanced monitoring systems available to a wider range of organisations.
PoE offers several unique business benefits:
• Power and data delivered to devices using standard network cabling (Cat 5e/Cat 6/Cat 7).
• Central management of an organisation's entire IP infrastructure from a single PoE switch.
• Applications include cameras, wireless access points, IP phones, and biometric access panels.
• Delivers up to 90 W of power to each device, with more to come.
• Supports even high-end devices, including advanced cameras.
"Adopting PoE means you need only one cable to both connect and provide power to remote devices up to 100 metres away from the switch. If you already have networking cables installed throughout your business premises, you might then only need to purchase a compatible NETGEAR PoE switch, and turn it on," says Tobie van Schalkwyk, Product Manager for NETGEAR at Duxbury Networking.
In the absence of a network, the installation of the required cabling for a PoE surveillance system is still simpler, safer, and cheaper than anything involving electrical work. PoE switches are available in a wide range of configurations to suit businesses of all sizes. Both managed and unmanaged switches are available to satisfy different IT requirements.
An 8-port switch has enough power to connect a small environment, such as a few cameras and access points in a single small area, while larger models can generate enough power to supply high-end IP equipment throughout an entire building. PoE usually reduces the total cost of a security installation, and planning for it now will make it easier to maintain equipment within your business in the future.
The PoE market encompasses several fully independent IEEE standards — 802.3af (PoE) and 802.3at (PoE+), with a third called 802.3bt recently ratified. This new standard will further raise the power output for connected devices up to 100 W, allowing for even more advanced devices to be connected.
NETGEAR envisages the proliferation of all kinds of equipment powered and controlled using PoE hardware, including displays, speakers, and advanced IoT sensors. The secure, smart, green building of the future is only possible with the right infrastructure, and PoE is the technology that can make it a reality.
Further reading:
Pentagon appointed as Milestone distributor
Elvey Security Technologies News & Events Surveillance
Milestone Systems appointed Pentagon Distribution (an Elvey Group company within the Hudaco Group of Companies) as a distributor. XProtect's open architecture means no lock-in and the ability to customise the connected video solution that will accomplish the job.
Read more...
---
Embracing next-generation surveillance for safer cities
Surveillance Integrated Solutions AI & Data Analytics
With the South African government highlighting the importance of building smart cities by integrating advanced technologies to make them more resilient and liveable, the role of next-generation network video and surveillance technologies cannot be ignored.
Read more...
---
Hik-Connect for Teams released
Hikvision South Africa Products & Solutions Surveillance
Hikvision has released an update for its security management platform; Hik-Connect for Teams not only meets the specific needs of individual users, but also caters to various medium-sized businesses (SMBs) and multi-site management scenarios.
Read more...
---
The human factor side of video management systems
Leaderware Editor's Choice Surveillance Risk Management & Resilience
A video management system (VMS) is central to, and the most vital element to any control room operation using CCTV as part of its service delivery, however, all too often, it is seen as a technical solution rather than an operational solution.
Read more...
---
A simple system for complex protection
Surveillance AI & Data Analytics IoT & Automation
Reconeyez is a company that provides autonomous wireless visual verification systems with built-in artificial intelligence. Running on batteries, each device includes communication capabilities, creating a mesh network between the various devices, linking them to the control room.
Read more...
---
Revolutionise your security with integrated solutions
Secutel Technologies Products & Solutions Surveillance
By merging the capabilities of SecuVue and Secutraq, Secutel has forged a robust system empowering users to fine-tune analytics and harness facial recognition, pose detection, and XFS, among other features.
Read more...
---
Effective access control
Flow Systems Access Control & Identity Management Products & Solutions
Flow Systems has introduced its new Extra Heavy Duty Industrial Rising Vehicle Barrier, which provides a high level of protection. It is a traditional-looking control barrier with the benefits of high-level physical protection.
Read more...
---
Safer roads to a sustainable future
Dahua Technology South Africa Surveillance
With the ever-increasing number of vehicles on the road, it is imperative to constantly improve the quality of transportation monitoring and traffic management in urban and rural areas.
Read more...
---
SafeQuip introduces lithium fire extinguishers
Fire & Safety Products & Solutions
With the use of Lithium batteries increasing in many types of portable devices and battery storage solutions, SafeQuip, in partnership with AVD Lithex, is introducing a fire extinguisher aimed at suppressing and extinguishing, and also preventing re-ignition of lithium fires.
Read more...
---
From damage management to false alarm prevention
Dallmeier Electronic Southern Africa Transport (Industry) Surveillance Logistics (Industry)
Video surveillance is undergoing an exciting evolution; today's IP-based solutions can be fully integrated into digital systems. With the increasing integration of artificial intelligence (AI); logistics, in particular, can make processes more transparent and exploit previously untapped potential.
Read more...
---