printer friendly version
An unbiased witness always present
SMART Surveillance 2023 CCTV, Surveillance & Remote Monitoring, Integrated Solutions, Products
Body-worn cameras (BWC) are not new in the market by any means, but their uptake in South Africa and African in general has been low in the past, with only a few companies making the move to supply security personnel with these real-time evidence-collecting devices. This is slowly changing as more organisations realise the benefits of having an impartial witness to all transactions.
SMART Security Solutions ask a number of body-worn camera providers for their take on the market and what their latest solutions offer. We approached the following:
• Keith Lawrence, CEO, BetaTrac Telematic Solutions (BTS).
• Shaun Stanley, MD, Doculam.
• Vaughn Tempelhoff, Forbatt.
• Andre Vermeulen, GM, Secutel.
SMART Security:Are BWC being used more in the security market today? In which areas/sectors are users finding them useful?
BetaTrac: Yes, BWC are gradually becoming more popular within the security industry, especially in the high-end housing estates.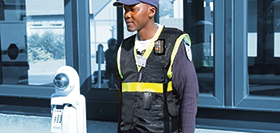 BetaTrac body-worn camera.
Doculam: Yes, BWC are being used widely across the retail, mining, security, residential estate and law enforcement sectors. The onsite implementation across the various organisations within these sectors has definitely made a positive impact as recorded footage can be used as supporting evidence and has also led to successful prosecutions.
Forbatt: BWC sales have picked up considerably from previous years, showing double-digit year-on-year growth. Currently they are mostly deployed in mining, security and even in the construction sector for health and safety reasons. As it is video, you can deploy the technology for more uses than one would normally think.
Secutel: Yes, predominantly in the private security sector as a means of tracking/communication and evidence accumulation.
SMART Security: What features are important to the market in today's BWC?
BetaTrac: Features we find becoming more popular are live previews of video data using 4G technologies; a panic button is also a great option to have, as well as PTT (Push-to-Talk) communications.
Doculam: In today's market, several features are considered important for BWC:
• Password protection: The ability to set passwords on the camera helps prevent unauthorised access to the device and the footage it captures.
• Non-deletable footage: End users, such as law enforcement officers, should not have the ability to delete or manipulate recorded footage to ensure the integrity of evidence.
• Restricted access to SD cards: Limiting access to SD cards ensures that only authorised personnel can retrieve and review the recorded footage, maintaining data security and chain of custody.
• User-replaceable batteries: BWC with user-replaceable batteries allow for continuous operation in the field, ensuring that the camera remains operational during extended shifts.
• Self-hosted servers: Providing clients with the option to host their own servers gives them more control over data storage, privacy, and compliance with regulations.
• Live streaming: Real-time streaming capabilities enable supervisors or remote personnel to monitor and support field personnel during critical situations.
• Integration: BWC that can integrate with existing systems, such as video management software or evidence management platforms, facilitate seamless workflows and streamline data management.
• Geo-fencing: Geo-fencing allows for the creation of virtual boundaries, triggering alerts or actions when a BWC enters or exits predefined areas, enhancing situational awareness.
• PTT: Incorporating Push-to-Talk functionality into BWC enables communication between field personnel and control rooms or other team members, enhancing coordination and support.
• SOS functionality: Including a dedicated SOS button on the BWC allows for immediate alerts and assistance requests in emergency situations.
• Camera accessories and mounting options: BWC should offer a range of accessories and mounting options, such as chest mounts or shoulder straps, to ensure comfortable and secure attachment during various activities.
These features cater to the demands of different industries, including law enforcement, security, and field services, where BWC are extensively used for evidence collection, officer safety, and accountability purposes. It's important to note that the specific features valued in the market may vary depending on the industry and user requirements.
Forbatt: They are mostly used as a post evidence tool; hence good quality video and audio is always important. Next is battery life. South African labour policies are different to most of the world, with longer shifts over weekends, for which BWC would need to be active. This is where versatility comes in, whereby BWC can even be deployed as dashcams with in-car mounts and charging while on those longer shifts.
Secutel: There are a host of features that are important, with different ones being more or less important in different sectors:
• Guard scheduling, tour planning and monitoring, as well as time and attendance reporting.
• Real-time GPS tracking and reporting.
• Real-time alerts.
• Digital data collection through voice notes, photos and video clips.
• Voice data communications via GSM.
• The time and attendance schedule synchronising guard tour operations in real time, including the ability to collect, organise, view, and store comprehensive data for audit purposes.
• Pre-plan the exact route to be patrolled via virtual waypoints throughout the site.
• Site and geo-fence definition to define a site and manage late arrivals and early abscondments.
• Remote monitoring of connectivity status (GSM status and GPS status), battery levels, and request photos/videos on demand, PTT and the ability to add the unit into an interactive group.
• First responding functionality to broadcast the guard's location to all the nearest responding partners so that they can track him in real time, assist in case of emergencies.
• Cloud storage for photos, videos, and events.
• Facial and LPR recognition and detection.
• PTT, so broadcasts can be made to everyone on the network, users can communicate one-on-one or to specific broadcast groups.
SMART Security: Can your BWC systems stream live video in an emergency (or all the time)? What resolution video is recorded and what resolution is sent 'over the air'? Are guards and control rooms able to communicate via the BWC?
BetaTrac: With BetaTrac, live streaming in an emergency is executed by the control room. The guard cannot switch on the live preview mode, so it is important that the guard has an alert system to make the control room aware of his situation. Certain BWC models have PTT so it is possible for the guard to communicate with the control room. The recommended resolution is 720p.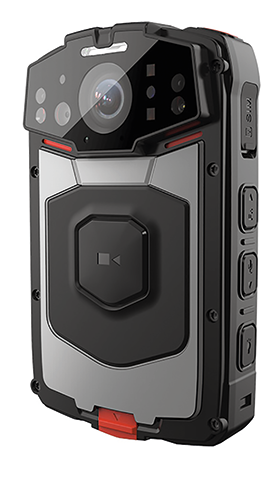 WatchDog Edge 4G Camera.
Doculam: Our live streaming camera is able to stream both in an emergency via SOS and can also stream constantly. Recording resolution options range from FHD (1920 x 1080) at 30 fps, HD (1280 x 720) at 30 fps, HD (720 x 480) at 30 fps, and VGA (640 x 480) at 30 fps. Live streaming is done at 1080p.
Additionally, guards and control rooms are able to communicate via the BWC provided that there is Wi-Fi connectivity or a data SIM card.
Forbatt: Kedacom BWC have built in Wi-Fi as well as 3G/4G capabilities. With the correct infrastructure your potential is endless. You can stream to nearly any platform as Kedacom supports ONVIF. This can be done on demand or via panic activations, and more. Lately, we have also tested the BWC with third-party software with panic activations working as well.
Secutel: Users can view photos and video clips taken by the guard in real time, as and when it happens. Live stream is available but at a high cost of lagging imaging as it runs over a GSM connection. Video is recorded at 720p at 30 fps, while live views are also sent at 720p, compressed and decompressed when accessed from the cloud.
Our BWC support 4G wireless transmission, two-way voice calls between device and the platform, PTT cluster intercom through SecuTraq PTT via a GSM data connection.
SMART Security: What kind of battery capacity do your BWC offer and how easy is it to charge/change batteries?
BetaTrac: The average internal battery pack capacity is 3200 mAh. To charge a BWC there is usually a single docking station that is supplied with the BWC. Generally, the BWC batteries are sealed inside the housing and not freely accessible. BetaTrac has developed an external battery pack for extended endurance as well as allowing for hot swapable batteries, keeping the BWC in continue usage.
Doculam: The battery capacities of our BWC models are as follows:
• WatchDog Doc9 (standard non-live streaming) contains a 3200 mAh battery.
• WatchDog Edge (live streaming option) has a 3150 mAh battery.
• WatchDog Doc20 (live streaming option) is equipped with a 3200 mAh battery.
• WatchDog Pro (live streaming option) features a 4000 mAh battery.
In terms of charging, the process is designed to be user-friendly. You can easily charge the batteries of all our BWC models. Simply connect the device to a power source using the provided charging cable. The charging time will vary depending on the specific battery capacity and the charging speed.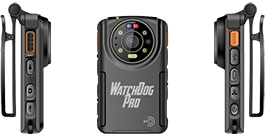 WatchDog-Pro.
Moreover, our BWC models allow for the easy swapping out of batteries. This means that you can use the device while another battery is charging. When one battery runs out of power, you can remove it from the BWC and replace it with a fully charged battery. This ensures uninterrupted recording and enables extended usage without having to wait for the battery to recharge.
Forbatt: Kedacom's BWC offer a 2700 mAh battery. This gives the camera the ability to have built-in camera usage of up to 9 hours. This would however depend on how you use the camera. Additional features will drain the battery a bit more. As technology increases so does the battery life as the product becomes less power hungry. Battery replacing is available with stand-alone battery chargers, but does become a nuisance as this still needs to be managed. Hence, the best option is the Kedacom docking station, making your management of your cameras more effective. Even in longer shifts and in car mounts, you can charge the camera via USB while driving. Versatility is what it is all about.
Secutel: We support hot swappable batteries. This is done with a dual battery setup. The main battery, a 3500 mAh detachable battery is supported by a 'sub-battery' with a capacity of 350 mAh, which allows you to replace the battery without shutting down.
SMART Security: Similarly, how is video data transferred from the devices to storage? Is the storage onsite or in the cloud?
BetaTrac: The video data is generally saved to an internal micro-SD card which must then be docked and downloaded. There are Wi-Fi options, however that is far too slow to download. One has the option to directly save to a PC or via the cloud using the specially supplied DEMS (Digital Evidence Management System).
Doculam: At Doculam, we understand the importance of capturing and securely storing video data from BWC. Our range of BWC models is designed to address specific needs, ensuring seamless video transfer and storage.
• WatchDog Doc9: Our standard model offers two convenient options for transferring video data. Users can manually download footage, or they can leverage our DEMS to automate the process. By simply placing the camera on a docking station, the footage is automatically downloaded while the camera charges. It's a hassle-free experience that maximises efficiency.
• WatchDog Doc20: In addition to standalone video recording, the WatchDog Doc20 can seamlessly integrate with most CCTV camera systems supporting ONVIF. This integration allows for centralised video management, enabling you to consolidate all your surveillance footage in one place for easy access and review.
• WatchDog Edge: Designed for ultimate flexibility, the WatchDog Edge camera integrates directly into the Milestone XProtect VMS. The captured footage is securely stored on the Milestone server. This camera primarily connects via Wi-Fi. In cases where Wi-Fi is unavailable, the footage is stored on the camera itself and will automatically upload once a connection is established.
• WatchDog Pro: Our flagship model, the WatchDog Pro, offers you the choice between cloud-based storage or hosting your own server. If you opt for cloud-based storage, your video data is securely stored in the cloud, ensuring easy access and enhanced scalability. Alternatively, we can provide you with server specifications if you prefer hosting your own server. Additionally, our DEMS software is available as an alternate option to manage and organise your video evidence effectively.
When it comes to transferring video data, the speed and efficiency depend on numerous factors. The size of the footage and the line speed of your Internet connection influence the download/upload time. The network connectivity of the camera, such as Wi-Fi or SIM card, also plays a role.
Forbatt: Several ways exist to transferring data and would depend on your deployment.
• Standalone: This would entail manually plugging in the BWC and downloading footage via USB. This is very time consuming and labour intensive. Standalone is not suggested for big sites as you would just spend hours trying to download footage, but is still viable when you only need to do so when incidents occur.
• Offline managed: This is the best suggestion for larger sites as you can just dock your BWC and let the system do all the rest. You BWC would be automatically synchronised and charged while docked. The added benefit is that there is no human intervention, and it all happens seamlessly.
• Online managed: This is the best option as you can stream video while locally recording and have multiple videos to reference.
Secutel: Video data is uploaded directly to the cloud by compressing the video before sending; the BWC won't be out of action during the upload of the video/event as everything works in real time. SecuTraq does not stream to the cloud as this requires a constant, good, uninterrupted GSM connection with higher bandwidth, however, it sends a single video file of up to five minutes long to the cloud while the normal operation continues. Functions are not affected while video file upload is taking place. On an average 3G GSM connection, a 5-minute video can be sent to the cloud in approximately 10 seconds.
Smart Security: As with all security technology, simply recording to transferring images is of limited use, do your BWC offer integration capabilities to other applications – either your own or third-party applications?
BetaTrac: The only method is saving the video data to a DEMS software platform; there may be other applications, but these are generally custom designed to integrate and glean/mine more useful information from the video data
Doculam: Watchdog Edge is designed to seamlessly integrate with Milestone XProtect VMS, enhancing your security infrastructure with its direct Wi-Fi connection and edge recording functionality. With Watchdog Edge, you can achieve a comprehensive surveillance system by harnessing the power of both local and cloud-based storage. By using the direct Wi-Fi connection, Watchdog Edge eliminates the need for additional cables and infrastructure, reducing installation costs and providing flexibility in camera placement.
The edge recording functionality of Watchdog Edge allows for video recording and storage directly on the camera itself. This feature ensures that even in the event of network connectivity issues or server downtime, your crucial footage is securely stored and readily accessible.
Watchdog Pro is an Android-based BWC that can be integrated with third-party APKs (Android Application Packages). This means that the device is capable of running and interacting with other Android applications that are not originally part of its system. This flexibility allows users to enhance the functionality of the Watchdog Pro by incorporating additional software or features from third-party developers.
In addition, Watchdog Pro also provides an RTSP (Real-Time Streaming Protocol) API in its Client Management System platform. RTSP is a network control protocol used for streaming audio and video data over IP networks. By exposing an RTSP API, Watchdog Pro enables third-party platforms to integrate with its system and access real-time video streaming and management features. This integration allows for seamless connectivity between the Watchdog Pro and external applications or systems, enhancing interoperability and expanding the range of possible use cases.
Forbatt: Yes, third-party integration can be done via ONVIF, while Bluetooth can be used as well.
Secutel: The Secutel SecuTraq F2 BWC is fully integrated to the SecuTraq platform. Using our platform, you will be able to access analytics in the cloud, such as: facial recognition (with protection of privacy) with the automated facial collection and recognition for the identification of persons of interest. This enables the monitoring control room to make informed decisions.
SMART Security: What is the 'full solution' your company can offer in terms of BWC?
BetaTrac: BetaTrac offers two solutions, a standard BWC which merely records to a built-in micro-SD card for later downloading. The other option is our LIVE preview streaming of video data with the extra functions of a built-in panic button as well as PTT communications. Both of our BWC solutions offer an extended battery pack to increase their operating endurance.
Doculam: Apart from the Watchdog Edge mentioned before, the Watchdog DOC 9 BWC is Doculam's trademark innovation solution for capturing and managing high-quality footage in various scenarios. It offers flexibility in how you use it. With its standard clip, you can easily attach it to your clothing or gear. Additionally, we provide optional body harnesses and vehicle mounts, allowing you to secure the camera wherever you need it.
For enhanced situational awareness, we offer optional GPS integration. While not live, the GPS data can be played back on a map within the video player supplied with the camera. This feature provides valuable context to your footage and helps you analyse events accurately.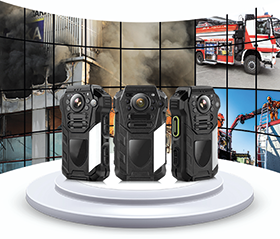 SecuTraq F2.
The camera system includes an 8-bay docking station, designed for seamless charging and downloading of multiple cameras. Whether you prefer to use it as a standalone charging station or pair it with our DEMS software for comprehensive camera management, the docking station ensures effortless data transfer and power replenishment. It also allows for a maximum of three docking stations to be connected. This enables you to download footage from up to 24 cameras in a single session, saving you time and effort.
Our DEMS software includes an audit feature that tracks all activities within the software. From user logins to file views, downloads, exports, and deletions, you'll have a detailed record of every action taken. This level of transparency enhances accountability and facilitates efficient management of your digital evidence.
With Watchdog Pro, you can stream high-quality video in real time. This enables immediate situational awareness and allows supervisors or colleagues to view the live feed remotely, enhancing coordination and decision-making. It also includes PTT functionality and group talking capabilities.
Geo fencing and patrol route functionalities become active when you have a Google ID account for Google Map services, providing valuable insights and enhancing operational efficiency.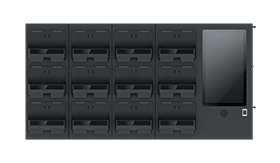 Kedacom Docking station.
Forbatt: Kedacom probably offers the most versatility in this field with a large number of extras. We can supply earpieces in two formats (earhook and button) for our BWC for those more discreet environments like VIP protection and even health and safety. This would free up your hands for other uses and have the ability to record where you are looking. Further, we also have in-car dash mounts with pouches to protect your BWC. Kedacom's BWC can be deployed with its docking station, making your data transfer and charging seamless and easy. See the video at www.securitysa.com/*forbatt1.
Kedacom body-worn cameras.
Secutel: The SecuTraq F2 offers facial recognition and LPR collection, PTT between the user and control room, pre-defined groups, and those in proximity of the user. GPS tracking and patrol routes are also included, and customers can add SOPs and event escalation processes to the platform.
Device health status monitoring is also available with communications via 3G/4G/Wi-Fi as well as panic activation functionality.
For more information contact Doculam, +27 87 152 3333, [email protected], www.doculam.co.za
Credit(s)
Further reading:
Turkish university installs IDIS surveillance
CCTV, Surveillance & Remote Monitoring Products
IDIS video streamlines complex surveillance systems for learning institution, upgrading a 350-camera system with 24/7 control room monitoring to transform security for Social Sciences University of Ankara (ASBU).
Read more...
---
Brighter, greener, and smarter
Dahua Technology South Africa Products CCTV, Surveillance & Remote Monitoring
Dahua Technology released its new Dahua CH II Series Indoor Fine Pixel Pitch LED display, providing visual clarity and promoting energy efficiency and sustainability.
Read more...
---
Smart water management
Axis Communications SA CCTV, Surveillance & Remote Monitoring Integrated Solutions
South Africa is currently facing a water crisis, with scarcity and inefficient water management posing significant challenges to sustainable, consistent access to water. Smart technology and powerful partnerships may offer a proactive solution to SA's water crisis.
Read more...
---
Helping retailers optimise monitoring and security
Guardian Eye Retail (Industry) CCTV, Surveillance & Remote Monitoring
From a smart retail perspective, it is crucial to understand that monitoring stock and other assets through camera surveillance and a variety of Internet of Things (IoT) sensors stretches further than the stores themselves.
Read more...
---
What South Africans need to know about smart devices
Technews Publishing Editor's Choice
We live in a world surrounded by smart devices, from our pockets to our driveways and living rooms.
Read more...
---
Empowering Istanbul's public transportation
Dahua Technology South Africa CCTV, Surveillance & Remote Monitoring Integrated Solutions
Dahua's intelligent transportation solution, using technologies like DSM and AI-based passenger flow counting, has facilitated an intelligent system upgrade for nearly 6 400 minibuses and electric buses in Istanbul.
Read more...
---
Smart manufacturing redefined
Hikvision South Africa CCTV, Surveillance & Remote Monitoring Industrial (Industry)
AI and intuitive visualisation technology allows managers to monitor manufacturing sites, production, and operational processes, and to respond in real time in the event of an issue – helping to drive efficiency and productivity.
Read more...
---
Long-distance connectivity with Simplex ES Net Life Safety
Johnson Controls Global Products Fire & Safety Products
ES Net Network Bridge allows fire alarm system data to be transmitted across distant buildings via a customer's existing network infrastructure, improving system-wide monitoring and control in facilities and campuses where life safety networks are often widely dispersed.
Read more...
---
AI is getting smarter, and critical infrastructure is set to benefit
Axis Communications SA CCTV, Surveillance & Remote Monitoring
With technology advancing at an astonishing pace, AI has emerged as a defining trend in today's business arena. Enterprises across all sectors are prioritising this technology, embracing its transformative potential to drive change and growth.
Read more...
---
Visitor management via QR code
ATG Digital Access Control & Identity Management Products
ATG Digital has launched its QR Code Reader to enhance access control's security and efficiency. The new QR Code Reader enables seamless, contactless access control, creating an efficient user journey.
Read more...
---