printer friendly version
The pros and cons of edge surveillance
SMART Surveillance 2023 Surveillance, Infrastructure, Products & Solutions
In the middle of an enormous hype wave about cloud computing, which includes real benefits as well as challenges, edge processing has expanded. The cameras we see hitting the market today, not only include onboard storage, but also powerful processors that not only aid in capturing better images, but are able to run AI applications to enable the cameras to perform tasks previously reserved for servers.
There are continuous arguments on the pros and cons of processing AI on the edge, from the benefits of stopping false alarms before they get to the control room, lower bandwidth and reduced long-term storage needs, to the challenges of holding sensitive data at the edge, maintenance requirements and the question of updating software and firmware (we have mentioned the example of Azena's camera 'app store' in www.securitysa.com/17683r).
Two companies engaged in producing edge systems and solutions (as well as onsite and cloud solutions) are Hikvision and Axis Communications, and they spoke to SMART Security Solutions about their edge developments.
Fortunately, edge surveillance is no longer a 'new thing' and users have been able to put various cameras and applications through their paces for some time. At first, edge seemed like a solution to everything, especially in a world adopting IoT at a rapid pace. Now that the initial excitement has died down, we asked what the general opinion of edge surveillance is today. Is it something to use in specific circumstances where it is beneficial, or is it an option for general surveillance tasks? Furthermore, what benefits do users see in deploying cameras with advanced edge functionality?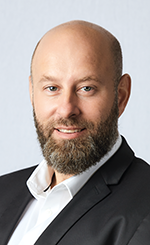 Rudie Opperman.
Rudie Opperman, Manager for Engineering and Training for Middle East & Africa at Axis Communications says that the benefits are many, but a good understanding of the need, use case and goals of the deployment comes first. Only after this is well documented and understood can an argument be effectively made.
"From experience, we have noticed that no two systems are the same and all end customers have unique challenges, and these challenges change over time. This means a basic, cheap, one-dimensional system cannot fulfil the needs of most users and there are many examples of systems being ripped out and replaced after the first year of use. Axis believes that it is not just one thing or one technology that makes the difference, but a combination of many used in unique ways that helps to future-proof the system and offer upgrade possibilities and expansion characteristics."
Hunter Ye, Technical Director at Hikvision SA agrees, stating, "Users can surely benefit from edge storage, as security cameras can send video to a local NVR deployed on the edge. For smart cameras, the AI in the camera can determine what's important and what's not so important; in the case of the former the camera will record the associated image/video clip to the SD card. Either way, edge storage eliminates the need to constantly transmit video to the cloud, which can be a costly proposition."
Importantly, Ye says that edge storage also includes on-premises network video recorders (onsite at a branch office or remote small office). In this case video streams can be hosted at the edge and there is no bandwidth issue as the devices are within an intranet. Again, this significantly reduces the bandwidth consumption and increases overall performance.
Bandwidth and costs
With the rollout of fibre across the continent, one must question whether bandwidth savings are as important today as they were in the past? Would a better solution not be to store the video on the edge and download it to a central server in off-peak periods, late at night, for example.
Again, Opperman says the use case and scope of each project determines the best strategy. "When you optimise bandwidth and storage, enhance decision making through edge computing and do this in a secure way, then the overall saving cannot be denied. Redundancy and backup is valuable, but at the same time comes at a higher cost."
He adds that it is important to note that flexibility and quality also save costs over time due to longer life cycles and less down time.
Sending back video during off-peak time is a convenient approach, according to Ye. "Hikvision offers a solution named Scheduled Backup Solution. It is ideal for businesses whose networks are mostly used in the daytime and conduct few network activities at night, such as banks and convenience stores. With this solution, automatic backup can be scheduled per the customer's needs during off-peak times to avoid network congestion."
"This solution is also ideal for vehicles carrying mobile video recorders, such as public buses and tour coaches. When the vehicles are out running routes during the day, recordings are stored on the on-board MVRs. Scheduled, automatic backup starts when vehicles return to the garage, so that recordings will be transferred to centralised storage devices."
The question of cost naturally involves more than bandwidth. Intelligent edge devices cost more than a traditional camera and the users need to include cybersecurity and upgrades into their installation, configuration and maintenance calculations. Additionally, you don't want a camera or its SD card stolen with unencrypted video on it, especially if the video includes faces or licence plates etc.
From an Axis viewpoint, Opperman says the real cost of a system happens over time, and 'a smaller than expected cost is in the procurement and deployment'. This is why he focuses on cost over time.
"When intelligence is harnessed to produce saving over time while mitigating the security risks (cyber and physical), then only can one understand the real value of a solution with streamlined and optimised components."
Wired expenses
Then there is also the cost of connecting cameras to power supplies, as well as the cost of networking more remote installations. Opperman says that edge devices, with enhanced processing, normally require more electricity than 'dumb devices', however, they do offer savings because of their decision-making capabilities and enhanced processing capabilities to streamline compression of video.
Ye adds that edge storage makes sense in off-grid application scenarios. For example, infrastructure is often underdeveloped in rural and remote areas, hampered by steep costs and long deployment periods, which make edge storage difficult, time-consuming, and costly.
"Hikvision's solar-powered camera setup kit is designed for reliability in the field, monitoring power levels and automatically switching to power-saving mode when battery power is low. This means it can work continuously for up to 7 days in cloudy and rainy weather when fully charged. This 4G camera further packs a 64 GB eMMC (embedded MultiMedia Card), ensuring continuous video recording even if there is an interruption to the SD card."
What's on offer
As usual, we end off with some insight into the edge solutions both companies have on offer at the moment.
"Axis has adopted a strategy to roll our deep learning, enhanced processing capabilities out across our M, P and Q line video products," says Opperman. "We have done this in a way that aligns with our cybersecurity and sustainability commitments. There are not simply one or two products to highlight, but rather a strong message that we believe edge computing and cloud computing in harmony is the future."
"We believe a hybrid approach presents more options for our potential customers. It is also important to mention that end-to-end encryption is supported, our devices are also power efficient and our compression technologies, like Zipstream, save on cost and improve or enhance streaming and storage requirements. All of these factors together are what we believe to be the Axis difference."
Hikvision offers a range of products and solutions for edge processing and storage in video security applications, and recently it added the eDVR Series into its portfolio. "Powered by embedded solid state drive (eSSD) technology, the eDVRs are compact, durable, easy-to-use, and energy efficient," says Ye.
"To make storage as efficient as possible, the Hikvision eDVRs use variable bitrates – with more storage allocated temporarily for complex scenes. When there is nothing going on in the camera view, the bitrate is reduced dramatically, saving storage resources and extending the continuous recording time of the device."
"To ensure that the storage time is as predictable as possible, the eDVRs look at bitrate trends over the previous hours and days and allocates storage resources accordingly, in a properly measured way. This means that the device uses a variable bitrate in the short term, depending on the changing security scene, but a fixed code rate is used over the longer term to ensure video images are stored for the required timeframe before they are overwritten (typically for at least 2 weeks of continual recording)."
For more information contact:
• Axis Communications, +27 11 548 6780, terri.miller@axis.com, www.axis.com
• Hikvision South Africa, +27 87 701 8113, support.sa@hikvision.com, www.hikvision.com
Credit(s)
Further reading:
Pentagon appointed as Milestone distributor
Elvey Security Technologies News & Events Surveillance
Milestone Systems appointed Pentagon Distribution (an Elvey Group company within the Hudaco Group of Companies) as a distributor. XProtect's open architecture means no lock-in and the ability to customise the connected video solution that will accomplish the job.
Read more...
---
Embracing next-generation surveillance for safer cities
Surveillance Integrated Solutions AI & Data Analytics
With the South African government highlighting the importance of building smart cities by integrating advanced technologies to make them more resilient and liveable, the role of next-generation network video and surveillance technologies cannot be ignored.
Read more...
---
From the editor's desk: A sad but exciting goodbye
Technews Publishing News & Events
Welcome to the final monthly issue of SMART Security Solutions. This is the last issue of the year and the last monthly issue we will print. The SMART Security Solutions team wishes all our readers and advertisers a relaxing festive season and a peaceful and prosperous 2024.
Read more...
---
Hik-Connect for Teams released
Hikvision South Africa Products & Solutions Surveillance
Hikvision has released an update for its security management platform; Hik-Connect for Teams not only meets the specific needs of individual users, but also caters to various medium-sized businesses (SMBs) and multi-site management scenarios.
Read more...
---
The human factor side of video management systems
Leaderware Editor's Choice Surveillance Risk Management & Resilience
A video management system (VMS) is central to, and the most vital element to any control room operation using CCTV as part of its service delivery, however, all too often, it is seen as a technical solution rather than an operational solution.
Read more...
---
A simple system for complex protection
Surveillance AI & Data Analytics IoT & Automation
Reconeyez is a company that provides autonomous wireless visual verification systems with built-in artificial intelligence. Running on batteries, each device includes communication capabilities, creating a mesh network between the various devices, linking them to the control room.
Read more...
---
Revolutionise your security with integrated solutions
Secutel Technologies Products & Solutions Surveillance
By merging the capabilities of SecuVue and Secutraq, Secutel has forged a robust system empowering users to fine-tune analytics and harness facial recognition, pose detection, and XFS, among other features.
Read more...
---
All aspects of data protection
Technews Publishing Editor's Choice Information Security Infrastructure AI & Data Analytics
SMART Security Solutions spoke to Kate Mollett, Senior Director, Commvault Africa, about the company and its evolution from a backup specialist to a full data protection specialist, as well as the latest announcements from the company.
Read more...
---
Effective access control
Flow Systems Access Control & Identity Management Products & Solutions
Flow Systems has introduced its new Extra Heavy Duty Industrial Rising Vehicle Barrier, which provides a high level of protection. It is a traditional-looking control barrier with the benefits of high-level physical protection.
Read more...
---
Edge could help transform South Africa's healthcare
Axis Communications SA Infrastructure
Edge computing has emerged as a game-changing technology for many industries, and the healthcare sector is no exception. In particular, South Africa's healthcare industry could significantly benefit from the potential of this technology.
Read more...
---