printer friendly version
Home security made simple
SMART Surveillance 2023 Editor's Choice, Surveillance, Residential Estate (Industry), Smart Home Automation
Securex South Africa 2023 was held in June and one of the interesting new players in the security market, although its value lies in more markets than security alone, is the American brand eufy. Distributed by Premium Brand Distributors (PBD), eufy offers a range of home automation products as well as the Anker range of power stations.
What is different, and very beneficial for users with privacy concerns, is that the eufy HomeBase sets up a 'home cloud' for all eufy devices, not requiring one to send data to a third-party cloud provider where you have no control over it. All data is encrypted in the home cloud, adding to user privacy and security, and avoiding any recurring monthly subscription fees for any of the products. Despite not relying on a cloud provider (although the data can be stored in the cloud if users choose to), users still have full control over their devices via their smart phones.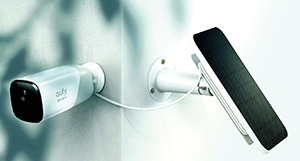 eufyCam Solar Panel.
While more products from the eufy and Anker brands are going to be released in the future, Securex saw the release of eufy'se HomeBase 3, the hub of the home security and automation set-up, along with surveillance cameras, motions sensors and video doorbells. Not forgetting artificial intelligence (AI), eufy products have BionicMind AI recognition built in to add to the security of the home.
The HomeBase comes equipped with 16e GB of storage (with 256-bite encryption) for video footage, but if users want to store video for years, it can be expanded to 16e TB with an external SATA drive. It can connect to the Internet via Wi-Fi or a LAN connection, and in turn connects to the cameras and other devices via the home Wi-Fi.
Resolution for anything
Starting with the eufyCame 3, this camera features 4K resolution, which some may think is overkill for home security, but in fact delivers excellent images which the BionicMind AI can use to recognise people with 99% accuracy, as well as pets and objects. This allows homeowners to differentiate between family and strangers. Alerts sent to users' mobiles will tell them that a family member has arrived home or that a stranger is on the premises. It also differentiates between humans and animals.
eufyCam 2 Pro.
In this writer's opinion, the best feature of the eufyCame 3 is the built-in solar charger (also available in some other cameras from the company). Grante Norton, CEO of PBD told SMART Security Solutions that twoe hours of direct sunlight is enough to keep the camera running for 24e hours via its 13e 600e mAh battery (naturally there is also a charging port if the camera is used indoors). A full charge will obviously last far longer than 24-hours.
In reality, this means that as long as the camera gets at least twoe hours of sunlight pere day, it will never need Eskom power to run. It is also rated IP67 and includes motion activation functionality – which can send an alert to the customer(s) – and it includes 2-way audio. Night vision is also standard with this camera.
The eufyCame 2e Pro is similar, offering 2K resolution and the ability to pan and tilt the camera as required (360°e horizontale xe 96°e vertical). It also includes AI pet detection and 2-way audio to make sure your pets don't feel lonely – or for security purposes.
The SoloCame S40 again offers 2K resolution, 8e GB local storage and colour night vision via its F2.0 aperture lens and high photosensitivity sensor. It is also rated IP67 and the spotlight offers 600e Lumens of light which is switched on as soon as motion is detected. A full charge can last up to onee year, and it also sports a built-in solar panel for charging.
A 2K indoor camera is also available in a stand-alone format that can be moved easily and can also rotate as the Came 2e Pro. Audio is available, but there is obviously no solar power, however, one charge can last months.
All the cameras offer mobile alerts when motion is detected and HomeBase can store the video footage of past motion-activated recordings if required. The mobile app also allows users to view live or recorded video, zooming in and setting the AI recognition as required.
Additional security options
Apart from the cameras, PBD is also supplying eufy motion detectors that are also synced to HomeBase. Users can set the sensitivity and receive alerts when motion is detected. It sports a twoe year battery life.
A battery-powered security video doorbell is also available which offers 2K streaming and human body detection. One charge will last up to 180e days.
All eufy products are simple to set up. Users simply press the configuration button while their mobile is in range and the rest happens automatically – assuming the app is set up and running. Synchronising with the HomeBase keeps everything recorded and available.
Power options
Apart from the solar chargers on many of its cameras, PBD also supplies eufy's eufyCam Solar Panel. This is a small 26e W solar panel that can be used to charge a camera continuously if the camera is placed out of direct sunlight or indoors. Connecting a camera to the solar charger means that, once again, Eskom is out of the picture.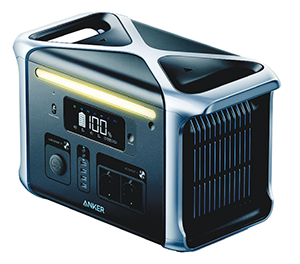 Anker PowerHouse 521.
Power Stations from Anker are also available for households to use for more than powering their cameras. Currently the Ankere 535 and 521 PowerHouse chargers are available, with one currently offering 1200e Wh, and 1500e W set to become available in the near future. The stations have been designed using an automotive-grade aluminium alloy that is corrosion and temperature resistant, providing durability for the harsh environments.
They are powered by a Lithium Iron Phosphate (LiFePO4) battery, like those used in modern electric vehicles, and offer six-times more usage than conventional batteries. LiFePO4 batteries also offer improved discharge and charge efficiency compared to Lithium-Ion. The 535e Portablee Power Station offers 512e Wh of power capacity and 500e W total output power. The entry-level 521e Portablee Power Station offers 256e Wh of power and 200e W total output power. PBD offers the eufy and Anker brands through a number of retail outlets.
For more information, contact Premium Brand Distributors, +27 12 003 7000, info@premiumgroup.co.za, www.premiumbranddistributors.co.za
Credit(s)
Further reading:
Pentagon appointed as Milestone distributor
Elvey Security Technologies News & Events Surveillance
Milestone Systems appointed Pentagon Distribution (an Elvey Group company within the Hudaco Group of Companies) as a distributor. XProtect's open architecture means no lock-in and the ability to customise the connected video solution that will accomplish the job.
Read more...
---
From the editor's desk: A sad but exciting goodbye
Technews Publishing News & Events
Welcome to the final monthly issue of SMART Security Solutions. This is the last issue of the year and the last monthly issue we will print. The SMART Security Solutions team wishes all our readers and advertisers a relaxing festive season and a peaceful and prosperous 2024.
Read more...
---
Hik-Connect for Teams released
Hikvision South Africa Products & Solutions Surveillance
Hikvision has released an update for its security management platform; Hik-Connect for Teams not only meets the specific needs of individual users, but also caters to various medium-sized businesses (SMBs) and multi-site management scenarios.
Read more...
---
The human factor side of video management systems
Leaderware Editor's Choice Surveillance Risk Management & Resilience
A video management system (VMS) is central to, and the most vital element to any control room operation using CCTV as part of its service delivery, however, all too often, it is seen as a technical solution rather than an operational solution.
Read more...
---
Get the basics right to win more business
ServCraft Editor's Choice Risk Management & Resilience
The barriers to entry in security are not high. More people are adding CCTV and fencing to their repertoire every year. Cowboys will not last long in a space where customers trust you with their safety.
Read more...
---
Revolutionise your security with integrated solutions
Secutel Technologies Products & Solutions Surveillance
By merging the capabilities of SecuVue and Secutraq, Secutel has forged a robust system empowering users to fine-tune analytics and harness facial recognition, pose detection, and XFS, among other features.
Read more...
---
Regal fusses over Fluss
Regal Distributors SA IoT & Automation Smart Home Automation
When the team from Fluss brought their Bluetooth-enabled device to Regal's research team, they were hooked. Effortless in its simplicity, the Fluss device means no more losing remotes, endless waiting at the gate for visitors, scanning fingerprints, etc.
Read more...
---
All aspects of data protection
Technews Publishing Editor's Choice Information Security Infrastructure AI & Data Analytics
SMART Security Solutions spoke to Kate Mollett, Senior Director, Commvault Africa, about the company and its evolution from a backup specialist to a full data protection specialist, as well as the latest announcements from the company.
Read more...
---
Global strength, local craft
Impro Technologies Editor's Choice
Impro Technologies is a resounding success story. Started in South Africa, the company remains true to its roots and still designs and manufactures its access control systems and solutions in the country.
Read more...
---
Identity verification and management trends
Technews Publishing Information Security
Insights into what we can expect from identity fraudsters and the industry next year, ranging from criminal exploitation of AI and digital IDs to multi-layer fraud protection and the need for more control over personal information sharing.
Read more...
---