printer friendly version
Women in Security: The drive to succeed
SMART Surveillance 2023 Editor's Choice, Surveillance
As a woman in the security industry in South Africa for over 23 years, I have experienced first-hand the challenges and triumphs that come with pursuing a career in a traditionally male-dominated field. I am proud to be part of a growing community of women who are breaking barriers, challenging stereotypes, and making a significant impact in the security sector.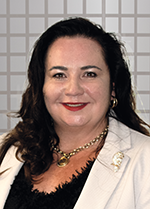 Colleen Glaeser.
I've been privileged to live out my passion for the safety of my community and country. In this piece, I will share my personal journey, offer advice, and inspire other women who aspire to forge their path in this industry.
Embrace your strengths
In a field where physical strength is often valued, it is crucial to recognise and embrace the unique strengths that we, as women, bring to the table. Our empathy, intuition, and exceptional communication skills allow us to build trust, diffuse tense situations, and connect with people on a deeper level. Embracing these strengths and using them to our advantage can make a tremendous difference in our professional success.
Seek mentorship and support
Throughout my career, mentorship and support have played a vital role in my growth and development. Surround yourself with individuals who believe in your potential and can offer guidance and support. Seek out mentors who have walked a similar path and can provide insights, advice, and encouragement. Their wisdom and experiences can be invaluable in navigating the challenges and uncertainties that may arise.
Challenge gender stereotypes
I've faced many challenges over my career. One of the greatest challenges we face as women in the security industry is overcoming gender stereotypes. It is essential to challenge these biases head-on by demonstrating our competence, expertise, and dedication. Let your work speak for itself and prove that gender is not a limitation. By consistently delivering exceptional results and breaking down barriers, we can change perceptions and pave the way for future generations of women in security.
Continuous learning and professional development
In a dynamic and ever-evolving industry like security, continuous learning and professional development are crucial. Stay updated with the latest trends, technologies, and best practices. Seek out training opportunities, certifications, and workshops that can enhance your knowledge and skills. By staying ahead of the curve, you not only empower yourself but also become a valuable asset to your organisation.
Build a supportive network
Connect and network with other women in the security industry. Building a supportive network of like-minded individuals who understand the unique challenges we face can be empowering. Share experiences, exchange ideas, and collaborate on projects. Together, we can create a strong support system that uplifts and encourages one another to reach new heights of success.
Inspire the next generation
As women in security, we have the power to inspire and shape the future. Take every opportunity to mentor and support young women who aspire to join the industry. Share your story, highlight your achievements, and be a positive role model. Encourage them to pursue their passions and assure them that their voices matter. By empowering the next generation, we ensure a more diverse and inclusive security industry.
Remember, you have the power to make a difference in the security industry and beyond.
For more information, contact AxxonSoft Southern Africa & SADC, +27 10 442 4284, southern.africa@axxonsoft.co.za, www.axxonsoft.com
Further reading:
Pentagon appointed as Milestone distributor
Elvey Security Technologies News & Events Surveillance
Milestone Systems appointed Pentagon Distribution (an Elvey Group company within the Hudaco Group of Companies) as a distributor. XProtect's open architecture means no lock-in and the ability to customise the connected video solution that will accomplish the job.
Read more...
---
Hik-Connect for Teams released
Hikvision South Africa Products & Solutions Surveillance
Hikvision has released an update for its security management platform; Hik-Connect for Teams not only meets the specific needs of individual users, but also caters to various medium-sized businesses (SMBs) and multi-site management scenarios.
Read more...
---
The human factor side of video management systems
Leaderware Editor's Choice Surveillance Risk Management & Resilience
A video management system (VMS) is central to, and the most vital element to any control room operation using CCTV as part of its service delivery, however, all too often, it is seen as a technical solution rather than an operational solution.
Read more...
---
Get the basics right to win more business
ServCraft Editor's Choice Risk Management & Resilience
The barriers to entry in security are not high. More people are adding CCTV and fencing to their repertoire every year. Cowboys will not last long in a space where customers trust you with their safety.
Read more...
---
Revolutionise your security with integrated solutions
Secutel Technologies Products & Solutions Surveillance
By merging the capabilities of SecuVue and Secutraq, Secutel has forged a robust system empowering users to fine-tune analytics and harness facial recognition, pose detection, and XFS, among other features.
Read more...
---
All aspects of data protection
Technews Publishing Editor's Choice Information Security Infrastructure AI & Data Analytics
SMART Security Solutions spoke to Kate Mollett, Senior Director, Commvault Africa, about the company and its evolution from a backup specialist to a full data protection specialist, as well as the latest announcements from the company.
Read more...
---
Global strength, local craft
Impro Technologies Editor's Choice
Impro Technologies is a resounding success story. Started in South Africa, the company remains true to its roots and still designs and manufactures its access control systems and solutions in the country.
Read more...
---
From damage management to false alarm prevention
Dallmeier Electronic Southern Africa Transport (Industry) Surveillance Logistics (Industry)
Video surveillance is undergoing an exciting evolution; today's IP-based solutions can be fully integrated into digital systems. With the increasing integration of artificial intelligence (AI); logistics, in particular, can make processes more transparent and exploit previously untapped potential.
Read more...
---
South Africans play a role in becoming scam victims
Editor's Choice Risk Management & Resilience
The South African fraud landscape is becoming increasingly risky as fraudsters and scammers look to target individuals with highly sophisticated scams, in an environment where it is becoming increasingly difficult for lawmakers and authorities to bring these criminals to justice.
Read more...
---
Service orientation and attention to detail
Technews Publishing Editor's Choice Risk Management & Resilience
Lianne Mc Hendry evolved from working for an accounting firm to an accomplished all-rounder familiar with the manufacturing, distribution, and system integration aspects of the security industry value chain.
Read more...
---