printer friendly version
Edge vs server analytics
SMART Surveillance 2023
Surveillance
In today's fast-paced digital era, organisations are harnessing the power of video analytics to gain valuable insights and enhance their security measures. Two prevalent approaches have emerged for processing video data: edge-based analytics and server-based analytics. Each has its own set of advantages and disadvantages, and it's crucial for organisations to evaluate their requirements and consider real-life examples to make informed decisions.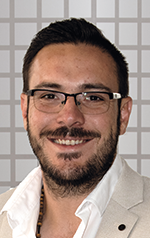 Carlos De Almeida.
This article explores the pros and cons of these approaches, referencing AxxonSoft video management software, as well as organisations that manufacture NVRs and cameras with edge-analytics. We will also discuss the global trend of leveraging cloud services such as AWS or Azure for video management software and address the impact of challenges like load shedding on cloud solutions in South Africa.
Empowering distributed intelligence
Edge-based analytics refers to the process of performing video analytics at the edge devices themselves, such as cameras or network video recorders (NVRs). This approach offers several benefits. First, it reduces bandwidth consumption by processing video data locally, transmitting only relevant information to the server. This efficient use of network resources is especially valuable in scenarios with limited bandwidth or in remote locations.
There are many organisations that leverage edge-based analytics to enable distributed intelligence for their clients. Their software utilises advanced algorithms directly on the cameras or NVRs, enabling real-time event detection and response without relying heavily on centralised processing. This approach is particularly useful in applications such as perimeter security or critical infrastructure protection where immediate action is necessary.
Centralised processing for advanced insights
In contrast, server-based analytics involves sending video data to a centralised server or cloud infrastructure for processing and analysis. This approach offers significant advantages in terms of scalability, computational power, and advanced analytics capabilities. With powerful server hardware and cloud services like AWS or Azure, organisations can leverage sophisticated algorithms, machine learning, and deep learning techniques to extract valuable insights from vast amounts of video data.
AxxonSoft utilises components such as NVRs as part of their video surveillance solutions and adopts server-based analytics to provide centralised management and analysis. These solutions allow for post-event investigation, long-term storage, and advanced forensic analysis. For instance, facial recognition, object detection, or behaviour analysis can be performed more accurately and efficiently when the computational burden is shifted to powerful servers or the cloud.
Global trend: cloud solutions
The global trend in video management software leans toward cloud-based solutions. Companies are increasingly looking to leverage cloud services like AWS, Azure and many more to deploy and host their video management software. Cloud solutions offer flexibility, scalability, and simplified maintenance compared to traditional on-premises deployments.
Cloud-based video management software allows organisations to access their video data from anywhere, at any time, using various devices. It enables centralised management, facilitates collaboration, and streamlines system upgrades and maintenance. Moreover, cloud solutions offer robust data security with encryption, access controls, and redundancy measures built into the infrastructure.
Load shedding challenges
South Africa faces unique challenges, such as frequent power outages due to load shedding. These interruptions can significantly impact the availability and reliability of cloud solutions. In such scenarios, organisations relying solely on cloud-based video management software might face difficulties accessing their video data or maintaining continuous surveillance operations during power disruptions.
To mitigate these challenges, a hybrid approach that combines edge-based analytics and server-based analytics can be employed. By deploying edge devices capable of performing video analytics locally, organisations can ensure continuous monitoring and event detection even during power outages. The locally processed data can be synchronised with the cloud once the power is restored, ensuring seamless operation and data integrity.
Finding the right balance
When considering edge-based analytics versus server-based analytics, organisations must evaluate their specific requirements and constraints. Edge-based analytics excel in scenarios with limited bandwidth, real-time response needs, and decentralised architecture. On the other hand, server-based analytics offers advanced analytics capabilities, scalability, and centralised management.
While cloud solutions offer numerous benefits, organisations operating in regions prone to power outages, like South Africa, must carefully consider the impact of such challenges on continuous surveillance operations. Combining edge-based analytics with server-based analytics can provide a robust solution that ensures uninterrupted monitoring, even in the face of power disruptions.
The choice between edge-based analytics and server-based analytics is not a binary decision. Organisations must analyse their unique requirements, consider real-life examples like AxxonSoft, or manufactures like Dahua and Hikvision, and evaluate the impact of regional challenges such as load shedding. A balanced approach that combines the strengths of both methodologies can empower organisations to achieve optimal video analytics performance, scalability, and operational resilience in an increasingly interconnected world.
For more information, contact AxxonSoft Southern Africa & SADC, +27 10 442 4284, southern.africa@axxonsoft.co.za, www.axxonsoft.com
Credit(s)
Further reading:
Pentagon appointed as Milestone distributor
Elvey Security Technologies News & Events Surveillance
Milestone Systems appointed Pentagon Distribution (an Elvey Group company within the Hudaco Group of Companies) as a distributor. XProtect's open architecture means no lock-in and the ability to customise the connected video solution that will accomplish the job.
Read more...
---
Embracing next-generation surveillance for safer cities
Surveillance Integrated Solutions AI & Data Analytics
With the South African government highlighting the importance of building smart cities by integrating advanced technologies to make them more resilient and liveable, the role of next-generation network video and surveillance technologies cannot be ignored.
Read more...
---
Hik-Connect for Teams released
Hikvision South Africa Products & Solutions Surveillance
Hikvision has released an update for its security management platform; Hik-Connect for Teams not only meets the specific needs of individual users, but also caters to various medium-sized businesses (SMBs) and multi-site management scenarios.
Read more...
---
The human factor side of video management systems
Leaderware Editor's Choice Surveillance Risk Management & Resilience
A video management system (VMS) is central to, and the most vital element to any control room operation using CCTV as part of its service delivery, however, all too often, it is seen as a technical solution rather than an operational solution.
Read more...
---
A simple system for complex protection
Surveillance AI & Data Analytics IoT & Automation
Reconeyez is a company that provides autonomous wireless visual verification systems with built-in artificial intelligence. Running on batteries, each device includes communication capabilities, creating a mesh network between the various devices, linking them to the control room.
Read more...
---
Revolutionise your security with integrated solutions
Secutel Technologies Products & Solutions Surveillance
By merging the capabilities of SecuVue and Secutraq, Secutel has forged a robust system empowering users to fine-tune analytics and harness facial recognition, pose detection, and XFS, among other features.
Read more...
---
Safer roads to a sustainable future
Dahua Technology South Africa Surveillance
With the ever-increasing number of vehicles on the road, it is imperative to constantly improve the quality of transportation monitoring and traffic management in urban and rural areas.
Read more...
---
From damage management to false alarm prevention
Dallmeier Electronic Southern Africa Transport (Industry) Surveillance Logistics (Industry)
Video surveillance is undergoing an exciting evolution; today's IP-based solutions can be fully integrated into digital systems. With the increasing integration of artificial intelligence (AI); logistics, in particular, can make processes more transparent and exploit previously untapped potential.
Read more...
---
Marshall Security partners with Blacklight to introduce Reconeyez to KZN
News & Events Surveillance Power Management
Marshal Security has joined forces with Blacklight Group to launch Reconeyez, a cutting-edge battery-powered surveillance platform with mesh network capability, in the KwaZulu-Natal market.
Read more...
---
Professional mobile video management in your pocket
Dallmeier Electronic Southern Africa Surveillance
With the SeMSy Mobile Client for its Domera and Panomera cameras, Dallmeier is now launching a solution that combines the functional and security requirements of professional organisations with the user-friendliness and simplicity of consumer apps.
Read more...
---