printer friendly version
Olarm launches the Olarm LINK
Issue 4 2023 Perimeter Security, Alarms & Intruder Detection, News, Products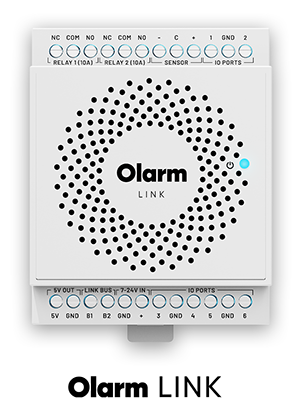 Olarm has announced the Olarm LINK, the latest addition to its range of smart security products. Building on the success of smart-enabling, monitoring and controlling alarm panels and electric fences, Olarm has used its expertise in smart automation to create a new solution for Olarm customers to integrate their gates, garage doors, pumps and other electrical products with their Olarm APP and Olarm PRO communicator.
With the Olarm LINK, users can now smart-enable and control more devices from their phone, with AI-based state detection and real-time notifications.
Next-generation smart monitoring
Olarm LINK offers end users and response companies powerful compatibility for more possibilities, turning almost any motorised device into a digitally controlled, AI-enabled smart device.
"Customer usability, simplicity and reliability are at the heart of Olarm. The Olarm LINK includes our SmartInput AI technology, enabling us to build smart integrations into gates and other traditionally dumb devices. Paired with Olarm PRO, the system creates remote control and management solutions that are load shedding resilient," said Chris Hall, Olarm Commercial Director.
The Olarm LINK
The Olarm LINK broadens the scope of what the Olarm PRO and Olarm PRO 4G smart communicator can connect to, transforming everyday objects into valuable smart devices using SmartInput AI to create a simple and easy integration for approved devices with two-way app functionality.
"We saw the need in the market for a multi-purpose smart controller that solves diverse integration requirements in a single device," said Justin Zondagh, Olarm's CTO.
The Olarm LINK provides end users with smart sensing and control over multiple systems through a single app. A popular use case is for controlling gates and garage doors. Olarm LINK not only does that but, also knows when they were opened and by whom.
For alarm receiving centres, estates and monitoring companies can now add multiple sensing Inputs and outputs to a variety of products over a wide geographic area with real-time information. All are connected to customers' Olarm APP for unified control.
How the Olarm LINK works
The Olarm LINK can be used for a wide range of applications:
● Devices: gates, garage doors, lights, booms, doors, pumps and more.
● Monitoring status: open, closed, AC fail, battery status, tamper and alarm.
● Controlling a device: on, off, latch, pulse, open and close.
Main features include:
● Seamless smart property to control room experience.
● Six I/O Ports and two relays.
● DIN rail mountable with tamper detection.
● Multiple communication technologies, including 2G, 4G and Wi-Fi (paired with an Olarm PRO).
● Wi-Fi enables customers to connect in areas where mobile coverage is unreliable, such as during load shedding.
● Olarm-managed SIMs remove the hassle of managing top-ups and prepaid sims.
● Can be configured to route signals into your control room via contact ID.
● Remote OTA (over-the-air) firmware updates.
● Reliable connectivity: 5-layer connectivity – maximum reliability during power outages and network failures.
● Additional value: Integrate with existing systems for a security-first smart solution.
● Easy Installation: Simple to install using Olarm's online training and support.
● Monitor and control: manage access and see device status.
What happens during load-shedding?
Olarm is manufactured and engineered in South Africa, where the need for reliable connectivity is well understood, especially during times of regular power outages. In order to achieve reliable connectivity, the Olarm LINK leverages the Olarm PRO's range of connectivity technologies, including Olarm-managed 4G SIM cards and Wi-Fi. The Olarm-managed SIM cards are included as part of the Olarm subscription, so you need not worry about purchasing or expiring data.
Olarm PRO & Olarm LINK are available direct from Olarm and distribution partners.
Credit(s)
Further reading:
Automated, real-time traffic analysis and ML-based mitigation
IT infrastructure Products
NetScout Systems has launched Adaptive DDoS Protection for its Arbor Threat Mitigation System (TMS) to dramatically improve the detection of distributed attacks that dynamically change vectors and target numerous destination IP addresses at once.
Read more...
---
Turkish university installs IDIS surveillance
CCTV, Surveillance & Remote Monitoring Products
IDIS video streamlines complex surveillance systems for learning institution, upgrading a 350-camera system with 24/7 control room monitoring to transform security for Social Sciences University of Ankara (ASBU).
Read more...
---
Five ways to reduce your cyber insurance premiums
Security Services & Risk Management News
With the global costs of cybercrime expected to soar to $13 trillion within the next five years, cyber insurance is booming as organisations try to mitigate the risk of financial losses.
Read more...
---
Long-distance connectivity with Simplex ES Net Life Safety
Johnson Controls Global Products Fire & Safety Products
ES Net Network Bridge allows fire alarm system data to be transmitted across distant buildings via a customer's existing network infrastructure, improving system-wide monitoring and control in facilities and campuses where life safety networks are often widely dispersed.
Read more...
---
Visitor management via QR code
ATG Digital Access Control & Identity Management Products
ATG Digital has launched its QR Code Reader to enhance access control's security and efficiency. The new QR Code Reader enables seamless, contactless access control, creating an efficient user journey.
Read more...
---
District secures activity centre
Paxton Access Control & Identity Management Products
Paxton's Net2 access control solution is a user-friendly and flexible networked access control system, which made installing and managing access control security at an activity centre straightforward.
Read more...
---
Collaboration delivers integrated and holistic security
Guardian Eye CCTV, Surveillance & Remote Monitoring News Integrated Solutions
Guardian Eye and Lytehouse have partnered to integrate their speciality solutions and provide a holistic security offering that overcomes the fragmentation of security systems and services.
Read more...
---
Manage security systems remotely
Hikvision South Africa CCTV, Surveillance & Remote Monitoring IT infrastructure Products
Hikvision launched a new generation of smart managed switches that, in conjunction with the Hik-Partner Pro mobile app, enable installers to remotely deploy and configure security systems with comprehensive operation and maintenance capabilities.
Read more...
---
From overwhelm to oversight
Editor's Choice Cyber Security Products
Security automation is vital in today's world, and Microsoft Sentinel is a widely adopted, but complex answer. ContraForce is an easy-to-use add-on that automatically processes, verifies and warns of threats round-the-clock.
Read more...
---
Synology enhances functions for advanced surveillance integration
Technews Publishing CCTV, Surveillance & Remote Monitoring IT infrastructure Products
With the capability to function as both an API client and server, Surveillance Station offers a versatile platform for integration, whether it's embedding video streams into other platforms or overlaying external data onto recorded video.
Read more...
---