printer friendly version
Supporting local manufacturing
Issue 4 2023 Industrial (Industry), IT infrastructure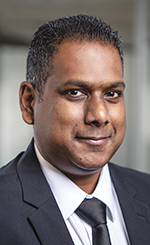 Esenthren Govender.
Technology is fast becoming the biggest business enabler within the manufacturing industry and as the exclusive strategic partner for global cloud enterprise software company IFS in sub-Saharan Africa, Esenthren Govender, Solutions Executive at Technodyn says that the company delivers 'the perfect moment of service' to meet the growing customer demands of their manufacturing clients.
"We believe you must understand a client's industry before you can layer a technology solution over their pain point. Our solutions are connected to a single data model and use digital innovation to enable customers to be their best at that moment of service. Our core products are structured around and within the IFS cloud platform."
"Critically, these solutions can help improve operations by orchestrating the delivery of the right people, tools and equipment to an asset and delivering the intelligence needed to help companies be smarter about what work to do and when it needs to be done. Further, they help to minimise downtime and maximise the profitability of assets by reducing the cost of managing these assets and extending their viability and lifespan."
He adds that these solutions are delivered in three ways:
• Cloud hosting: Hosted in the IFS cloud, you connect to the service, and we do the rest.
• On-premises: We provide software artefacts like containers and database scripts, which you install and operate in the cloud or on-premises.
• Remote: We provide pre-packaged IFS Cloud software, which you operate on a supported cloud or on-premises platform software.
Smart Security: Where are your customers?
Govender: We serve customers in many industries, including aerospace and defence, energy utilities and resources, construction and engineering, manufacturing, service industries, and telecommunications. They are also across the African continent, with multiple sites and operations.
Smart Security: How do you manage to overcome the skills shortage in the technical arena?
Govender: We have a range of comprehensive training, enablement, and certification programmes that assist our partners and customers in upskilling on the IFS solution stack. As part of the desire to support skills upliftment, we empower youth by training and advancing their knowledge on the IFS platform. We have also partnered with customers to ensure their internal staff can manage and maintain the solutions deployed.
Smart Security: Are you finding increasing competition from new players in your market? What do you offer to differentiate your solutions from the crowd?
Govender: IFS is a global company, working with some of the world's largest businesses and delivering leading products praised by customers and analysts. Technodyn brings local understanding to this global partnership. We work with customers at the coalface to unpack their specific demands. In short, we bring what is globally successful to being locally relevant.
From an organisational perspective, we believe that we have the following five key differentiators:
• Industry depth – Domain-specific expertise, industry-focused accelerators, reports, and tools to clients in a specific industry (like manufacturing) to benefit from the efficiencies promised by the technologies we deliver.
• A single technology platform which allows access to a host of the IFS industry-leading solutions through a single product built on a common platform.
• Innovation embedded – Because the latest technologies, such as AI and ML, are embedded into the IFS products, customers can innovate from day one.
• Cloud or on-premises – We offer customers a choice of deployment model, whether in their cloud, the IFS Cloud, or on-premises depending on the choice of deployment.
Smart Security: How have you overcome the supply chain challenges of the past few years? Is the problem resolving itself, or will we still have to deal with these issues in 2023?
Govender: The supply chain challenges have had an impact on our customers and have ultimately evolved the way business operations are executed. They are now looking for a partner that can help them enable an agile supply chain while ensuring quality standards are adhered to. This is something I believe that both IFS and Technodyn deliver well.
We provide a platform where part alternatives, shipment lead times, demand forecasting and optimisation of the entire supply chain can be modelled to present 'What if' scenarios and help unpack the business's impact. These can be fine-tuned periodically to ensure the company can adapt to changes in the economic environment. This has been quintessential in helping our clients get on top of the challenges thrown at them throughout the supply chain crisis.
Further reading:
Five reasons why your board should push cybersecurity 'boundaries'
Security Services & Risk Management IT infrastructure
From a technological perspective, micro-segmentation of your IT security environment can be viewed as a way to identify, isolate and curtail the reach of any threat – even once it is in your network.
Read more...
---
Plan to use AI? Get your data ready
Integrated Solutions IT infrastructure
Artificial Intelligence (AI) is often perceived as an intelligent system that can handle any task. However, this notion crumbles when the AI is given poorly formatted or incorrect data. You cannot simply provide a few spreadsheets or databases to AI and expect it to work flawlessly.
Read more...
---
Paratus signs re-seller agreement with Starlink for Africa
News IT infrastructure
Pan-African telco and network services provider Paratus Group announced it has entered an agreement as a distributor for Starlink's high-speed services across the African continent, available immediately in Mozambique, Kenya, Rwanda and Nigeria.
Read more...
---
The state of edge security report
News IT infrastructure
Edge computing has grown from being a niche use case in a handful of industries to offering a major opportunity for enterprises across industries to spread computing power around the world.
Read more...
---
Smart manufacturing redefined
Hikvision South Africa CCTV, Surveillance & Remote Monitoring Industrial (Industry)
AI and intuitive visualisation technology allows managers to monitor manufacturing sites, production, and operational processes, and to respond in real time in the event of an issue – helping to drive efficiency and productivity.
Read more...
---
CHI selects NEC XON as trusted cybersecurity partner
News Cyber Security Industrial (Industry)
CHI Limited, Nigeria's leading market player in fruit juices and dairy products, has engaged in a strategic cybersecurity partnership with NEC XON, a pan-African ICT systems integrator.
Read more...
---
Manage security systems remotely
Hikvision South Africa CCTV, Surveillance & Remote Monitoring IT infrastructure Products
Hikvision launched a new generation of smart managed switches that, in conjunction with the Hik-Partner Pro mobile app, enable installers to remotely deploy and configure security systems with comprehensive operation and maintenance capabilities.
Read more...
---
Synology enhances functions for advanced surveillance integration
Technews Publishing CCTV, Surveillance & Remote Monitoring IT infrastructure Products
With the capability to function as both an API client and server, Surveillance Station offers a versatile platform for integration, whether it's embedding video streams into other platforms or overlaying external data onto recorded video.
Read more...
---
Simplify adoption of Generative AI
News IT infrastructure Products
Nutanix simplifies adoption of Generative AI with Nutanix GPT-in-a-Box, an AI infrastructure solution that accelerates customers' path to GPT and LLMs while keeping organisations in control of their data.
Read more...
---
Veeam's route to immutability
News Cyber Security IT infrastructure
National and international data protection and ransomware recovery experts gathered to exchange data protection and ransomware recovery best practise that bolster cyber resilience at VeeamON Tour: Expand 2023.
Read more...
---