printer friendly version
Accenture Technology Vision 2023
Issue 4 2023 Editor's Choice, News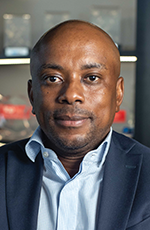 Kgomotso Lebele.
New research from Accenture finds that generative AI and other rapidly evolving technologies are ushering in a bold new future for business as physical and digital worlds become inextricably linked.
The Accenture Technology Vision 2023, When Atoms Meet Bits: The Foundations of Our New Reality, explores the technology trends underpinning the convergence of the physical and digital, as businesses look to accelerate enterprise reinvention in the here and now.
"The next decade will be defined by three mega technology trends - cloud, metaverse and AI – which collectively will collapse the distance of our digital and physical worlds," said Paul Daugherty, Group Chief Executive of Accenture Technology. "While generative AI will have a far-reaching impact, leaders must dive in now to achieve its full promise, as it will require significant investments in data, people, and customising foundation models to meet organisations' unique needs.
The meteoric rise of ChatGPT has captivated the world's attention on the power of generative AI to augment human capability. Accenture estimates as much as 40% of all working hours will be supported or augmented by language-based AI. Among business leaders, 99% of South African respondents agree that AI foundation models will play an important role in their organisation's strategies over the next three to five years.
Accenture's Technology Vision 2023 identifies four trends that are key to unlocking this new shared reality:
• Generative AI: Advancing human capability as a co-pilot, creative partner or advisor, nearly all South African executives agree that generative AI will spark significant creativity and innovation (98%) and usher in a new era of enterprise intelligence (97%).
• Digital identity: The ability to authenticate digital users and assets – the foundation for traversing digital and physical worlds – is now seen by 79% of local executives as a strategic business imperative, not just a technical issue.
• My data, your data, our data: AI cannot reach its full potential until companies figure out data. That means breaking down data silos and modernising their data foundations. In fact, 93% of South African executives believe data is becoming a key competitive differentiator within organisations and across industries.
• Our forever frontier: Feedback loop between science and technology is getting faster, with each accelerating the advancement of the other, in ways that 67% of South African respondents believe could begin to unlock the world's grand challenges.
"The next wave of business transformation will create the foundations of a new reality – a shared reality that seamlessly converges the physical lives we've been leading with the digital lives we've been rapidly expanding," said Kgomotso Lebele, Technology Lead for Accenture in Africa. "Looking at generative AI, right now scores of people are using it to generate purely digital images and content, but we already see how it's poised to shape the future of science, enterprise data, how we design and manufacture products, and so much more."
Building on years of research and client work, Accenture has established a company-wide team, the Generative AI and Large Language Model (LLM) Centre of Excellence, bringing together 1600 professionals dedicated to generative AI and leveraging the depth and experience of more than 40 000 AI and data professionals across Accenture. To help guide and inform business leaders, Accenture has published A New Era of Generative AI for Everyone, an in-depth study of generative AI/LLM that provides actionable insights on how leaders can best use this disruptive technology.
For more information on this year's report, visit www.accenture.com/technologyvision
Further reading:
Stadium security with Panomera
Editor's Choice CCTV, Surveillance & Remote Monitoring Integrated Solutions Entertainment and Hospitality (Industry)
To be able to better identify and track perpetrators and thus reduce financial and non-material damage in a soccer stadium, the operator opted for a video security solution from Dallmeier.
Read more...
---
Five ways to reduce your cyber insurance premiums
Security Services & Risk Management News
With the global costs of cybercrime expected to soar to $13 trillion within the next five years, cyber insurance is booming as organisations try to mitigate the risk of financial losses.
Read more...
---
What South Africans need to know about smart devices
Technews Publishing Editor's Choice
We live in a world surrounded by smart devices, from our pockets to our driveways and living rooms.
Read more...
---
Collaboration delivers integrated and holistic security
Guardian Eye CCTV, Surveillance & Remote Monitoring News Integrated Solutions
Guardian Eye and Lytehouse have partnered to integrate their speciality solutions and provide a holistic security offering that overcomes the fragmentation of security systems and services.
Read more...
---
From overwhelm to oversight
Editor's Choice Cyber Security Products
Security automation is vital in today's world, and Microsoft Sentinel is a widely adopted, but complex answer. ContraForce is an easy-to-use add-on that automatically processes, verifies and warns of threats round-the-clock.
Read more...
---
Elvey Group and Technoswitch part ways
Elvey Security Technologies Fire & Safety News
The Elvey Group (a division of the Hudaco Group of Companies) is relinquishing its distributorship of the Technoswitch brand, following Hudaco's acquisition of Brigit Fire.
Read more...
---
SMART Surveillance Conference 2023
Technews Publishing Editor's Choice CCTV, Surveillance & Remote Monitoring Conferences & Events
Some people think the future is all about cloud technologies, but the SMART Surveillance conference demonstrated that AI is making edge surveillance much more attractive, over distributed sites, than ever before.
Read more...
---
Has your business planned for the worst?
Editor's Choice Cyber Security Security Services & Risk Management
Incident response is a specialised part of security, like a hospital's intensive care unit: IR kicks in when the organisation detects a breach of its systems to stop criminals from doing more damage.
Read more...
---
Making a difference with human intelligence gathering
Kleyn Change Management Editor's Choice
Eva Nolle believes that woman should stand their ground as they often bring an entirely different skill set to the table, which enhances the overall service delivered.
Read more...
---
Milestone celebrates women in security
Milestone Systems Technews Publishing Editor's Choice News Conferences & Events
The Milestone Systems' African team wanted to express their appreciation for the incredible contributions of the women in the security industry and held a breakfast in honour of the hard-working women in the industry on 8 August.
Read more...
---